If you're just looking for a flashlight to toss in your glove box and forget about, you likely won't be concerned with which brand you're buying. Flashlight enthusiasts do care about the quality of their flashlight, though, especially if they're going to be using them daily for a variety of activities. This could include biking, hiking, camping, or even some tactical situations in paintball games or real military use. For these people, Fenix is one of their top choices, due to their attention to detail and consistent upgrades, which keeps their lights ahead of the competition. If you're interested in what the best Fenix flashlights has to offer in 2022, read on.
Short On Time? Here Is The Bullet List
**Below are our more detailed reviews. Click the links above to see current prices or read customer reviews on Amazon.
Fenix History
Flashlights used to be a mediocre product made of low-quality materials and offering just enough light to see what's right in front of you. In 2004, a group of young men in China decided that flashlights could be made much better, becoming a high-quality tool that could be used in all types of situations.
Of course, they couldn't do this alone since they didn't have all the expertise needed to build these tools. They hired a group of professional engineers who had the skills to design new flashlights, as well as build them. This new company became FenixLight Limited.
Their first flashlight was the L1+, which was a high-intensity flashlight that used only a single AA battery. This was unheard of at the time and paved the way for a new era of quality flashlights by Fenix and their competitors. Many other flashlights in the L line followed, including their L1P, L2P, L1T, and L2T. Fenix also created the P1, which was the brightest and most powerful keychain flashlight created at that time.
What Does Fenix Sell
In the last 15 years, Fenix has become the leading brand in outdoor sport lighting. They manufacture and sell mid- and high-end flashlights, EDC lights, intrinsically safe, bike lights, IR (infrared) lights, right angle lights, headlamps, focusing (zooming) flashlights, and camping lanterns, so you can find the right light for any situation. Their flashlights are great for fun outdoor activities, plus they have also entered the military market with their numerous tactical lights.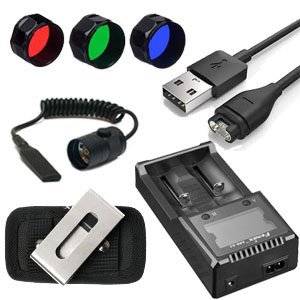 They even have multiple flashlight accessories available, including rechargeable batteries and chargers, diffuser lenses and tips, holsters, filter adapters, belt clips, remote pressure switches, and so much more.
Where Can You Buy Fenix Flashlights?
Fenix is one of the top flashlight brands on the market, so it isn't hard to get your hands on one. They are sold in over 100 countries and regions across the globe, so you don't need to worry about paying international shipping charges to get your favorite flashlight.
You'll find this brand in stores that sell sporting goods or outdoor equipment like REI, and even sometimes Walmart. You can also check out some online retailers or sites like Amazon if you can't find the model you want locally or are interested in a discontinued piece to add to your collection.
Best Fenix Lights in 2022
Brightest Fenix Flashlight
The Fenix LR40R was designed to give you high performance in those situations where the brightest light possible is necessary. This includes search and rescue missions, cave diving, and roadside emergencies.
The LR40R is made of high-strength aluminum with oxidization resistance, with an impact rating of 1 meter and IP68 waterproofing. The lens is toughened ultra-clear glass with an anti-reflective coating. A Cree LED gives you up to 50,000 hours of light.
This flashlight includes a 4 x 18650 rechargeable Li-ion battery pack. A USB Type -C fast charging port allows you to charge the flashlight without removing the battery. The discharging function lets you power your other devices when needed as well.
Spotlight mode gives you 4 output levels and floodlight mode has 5 outputs. Used together, the spot and flood combination has 12,000 lumens of light and a beam distance of 773 meters. Strobe and SOS functions are also available.
Other handy features include the battery level indicator, a fast lockout function, dual side switches, reverse polarity protection, and the digitally regulated output.
Pros:
High-quality construction
Multiple features and modes
Great color rendering
Cons:
Specs:
Weight: 17.6 ounces without battery
Dimensions: 6.06 x 3.15 x 2.01 inches
Lowest Setting: 50 lumens for 44 hours 31 minutes
Highest Setting: 12,000 lumens
Check Amazon
Budget Fenix Flashlight
A budget flashlight like the Fenix E01 will be pretty basic but still has its uses. It's compact, so you can carry it in a pocket or on a keyring. This light is tailstand capable for use as a torch, comes in several colors, and has some decent features.
Aircraft-grade aluminum for the body makes this piece quite durable. The lens is toughened ultra-clear glass that has an anti-reflective coating. This light also includes a waterproof rating of IPX-8, which protects it in up to 2 meters of water. It also has an impact resistance rating of 1 meter.
For the battery, the E01 uses only a single AAA, which is convenient and easy to find. This battery lasts up to 16.5 hours, with an output of 13 lumens, a beam distance of 21 meters, and 115 cd of intensity. Reverse polarity protection keeps the flashlight from failing if the battery is put in wrong. This light is well known as one of the best EDC flashlights since the electronics are potted and the mechanism is simple.
Pros:
Low price
Multiple color options
Tailstand capable
Cons:
Specs:
Weight: 0.49 ounces without battery
Dimensions: 2.8 x 0.56 inches
Lowest Setting: N/A
Highest Setting: 13 lumens for 16.5 hours
Check Amazon
Smallest Fenix Flashlight
Though smaller than the E01 model, the Fenix E05 has a bit more to offer. This little tool uses the same single AAA battery and twisting head to turn it on but it comes with 3 output levels to choose from, including 8 lumens on low, 25 lumens on medium, and 85 lumens on high.
This tiny flashlight is tailstand capable, with a small hole to hook it onto your keychain if needed. It includes a digitally regulated output, which helps to maintain consistent brightness, even when the battery is running low.
The E05 is durable, too, with a premium Type-3 hard-anodized anti-abrasive finish over the aircraft-grade aluminum used for the body. The CREE XP-E2 LED light offers up to 50,000 hours of light. This flashlight is available in Dark Black, Amethyst Violet, and Sapphire Blue.
Pros:
3 output levels
High-quality construction
Tailstand capable
Cons:
Specs:
Weight: 0.44 ounces without battery
Dimensions: 2.62 x 0.59 inches
Lowest Setting: 8 lumens for 15 hours
Highest Setting: 85 lumens for 45 minutes
Check Amazon
Best Tactical Fenix Flashlight
The Fenix PD35 TAC is the tactical edition of the PD35 flashlight. It is compact in size but offers amazing performance and has a ton of great features. It can also be used in both Outdoor Mode and Tactical Mode, depending on your needs.
In Outdoor Mode, there are 6 outputs to choose from, including Eco, Low, Medium, High, Turbo, and Strobe. The light is turned on with the tail switch and you can change the outputs with the stainless steel side switch. In Tactical Mode, everything is controlled with the tail switch for fast operation.
The PD35 TAC is built well, using aircraft-grade aluminum, a Type-3 hard-anodized anti-abrasive finish, a toughened ultra-clear glass lens, and a CREE XP-l LED light. It also includes an anti-roll, slip-resistant design, reverse polarity protection, a low-wattage indicator, and an intelligent memory circuit that remembers the last output used.
Pros:
Dual switches
Outdoor and Tactical modes
Compatible with multiple accessories
Cons:
Not tailstand capable
Heats up fast
Specs:
Weight: 3.1 ounces without battery
Dimensions: 5.4 x 1.0 inches
Lowest Setting: 8 lumens for 140 hours
Highest Setting: 1000 lumens for 1 hour, 10 minutes
Check Amazon
Best Rechargeable Fenix Flashlight
Even the smallest batteries can be expensive when you're constantly changing them out of your flashlight. The Fenix UC30 takes away this extra cost by including a 18650 rechargeable Li-ion battery with this flashlight. There is also a micro-USB charging cable included, that charges the battery without removing it from the flashlight.
The UC30 is built well, using aircraft-grade aluminum with a premium Type-3 hard-anodized anti-abrasive finish for the body and toughed ultra-clear glass with an anti-reflective coating for the lens. There are a couple of rubber switch boots included that protect the USB port when not in use. This flashlight is also impact-resistant and waterproof.
The side switch is a bit hard to find in the dark but includes a battery level indicator that shows either flashing or solid red or green, depending on how much juice is left. This flashlight is tailstand capable, with reverse polarity protection, overheat protection, and a lockout function to prevent accidental button pushes.
Pros:
Lockout mode
Overheat protection
Charges battery within the flashlight
Cons:
Side switch hard to find in the dark
Specs:
Weight: 2.72 ounces
Dimensions: 5.1 x 1 x 0.9 inches
Lowest Setting: 5 lumens for 150 hours
Highest Setting: 1000 lumens for 1 hour 25 minutes
Check Amazon
Best Fenix Flashlight Final Thoughts
With so many flashlight brands on the market, it may be hard to decide which one is the right one for you. Fenix has been around for 15 years and in that time has come up with innovations and upgrades that have set them apart from their competitors, making them one of the top brands around. Take a look at our full Fenix flashlight reviews
Fenix Flashlight Reviews
Fenix VS "Other Brands"
Thank you for visiting BestTacticalFlashlights.net. If you like any of the flashlights that you see in this article, please click on one of the Buy Now buttons to make your purchase on Amazon. As an Amazon affiliate, we make a small commission off any purchase made from a click-through from our website, which is how we are able to provide you with these informative articles. You will not pay more on Amazon by clicking through our website because the price is the same as if you go to Amazon directly. Please take a look at our other flashlight reviews or our torch guides here for all your flashlight needs.