Do you spend time a lot of time working or playing outdoors? Ever tried working while holding a flashlight? Do you find yourself holding your flashlight in your mouth to free up your hands? If so you need to look into purchasing a high-quality headlamp. A headlamp provides you with hands-free lighting options for work and play, but not all headlamps are created equally. To find out what the Fenix HL55 has to offer, continue reading the review below.
Before You Buy
When purchasing a headlamp you want to find one that you can rely on. The last thing you want is to purchase a headlamp that you can't use. Headlamp capabilities vary from one headlamp to the other. Before purchasing one you want to make sure the best headlamp is a high-quality one with the features you need. What features you need will depend on your intended use.
One of the first things you need to look at when choosing a headlamp is lumens. Lumens in headlamps range from 15 to 500 plus. How many lumens you need will depend on use. Selecting a headlamp that offers different brightness levels ensures you have the light you need for the job at hand. Beam type is something else to consider. You have the choice between flood and wide, but some will allow you to switch between both. Other important factors to consider are size, weight, water resistance, runtime, power source, and beam distance.
No products found.
No products found.
Fenix is an industry leader in outdoor lighting and they have decided to start building up their headlamp line. The Fenix HL55 is Fenix's first headlamp powered by a single 18650 battery. With a simple and lightweight design users will enjoy the flood and throw beam combination from a toughened ultra-clear glass lens with an anti-reflective coating.
The Fenix HL55 can use either a single 18650 battery or two CR123A batteries to power the neutral white CREE XM-L2 U2 LED. Runtime is not affected by battery choice. Four brightness levels provide anywhere from 10 to 420 lumens of light. Instant Burst mode provides a quick blast of 900 lumens. All output modes are accessed via the side switch located on the head allows for fast and easy operation. With a maximum beam distance of 380.5 feet, the Fenix HL55's light reaches farther than most. Made from durable aluminum alloy with a premium type III hard-anodized, anti-abrasive finish the all-metal housing can withstand impacts up to 328 feet.
Pros:
900-lumen burst mode
All-function switch
Secure head mount
Easy to use interface
Cons:
Burst mode is hot
No lockout
Specs:
Dimensions: 3.3 inches long x 1.8 inches wide x 1.9 inches tall
Weight: 4.05 oz without battery
Output: 420 lumens on high and 10 lumens on Eco
Runtime: 3 hours and 45 minutes on high and 150 hours on Eco
No products found.
Fenix HL55 Features & Benefits
User Interface
Using a single built-in electric click switch the design of the HL55 is quite simple. Turning the headlamp on requires you to press the power switch. The headlamp will then start up in the last used normal mode. To cycle through output modes the light must be powered on and the switch needs to be briefly pressed. Output modes follow this order: Eco, Low, Mid, High. The headlamp is powered off by holding the switch for half a second. No matter what mode you are the HL55 utilizes a digitally regulated output to maintain constant brightness.
Instant Burst Mode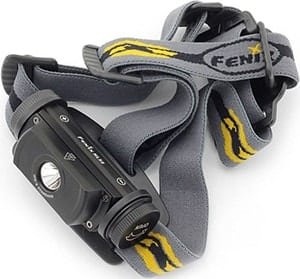 Sometimes you need a burst of extra light. The HL55 features an instant burst mode that provides a brief 900-lumen burst. Burst mode is accessed by pressing and holding the electric click switch for 2 seconds. Burst mode will only last for 30 seconds. Once time is up, the light automatically returns to its previous mode.
Lightweight Design
You want to find a headlamp that is comfortable to wear. Not something too heavy, but something secure enough that you know it won't fall off. The Fenix HL55 offers a lightweight design where even with a 18650 battery the weight feels evenly distributed. The top-strap of the HL55 keeps the headlamp secure and stable while being worn even if the other straps are worn loose. The top-strap is not required, but if you opt to not use it you will need to put more tension on the headband. Fenix uses a ratchet adjuster to position the mount.
Social Proof
After spending hours reading through other reviews of the Fenix HL55 I have come to the conclusion that the HL55 is a high-quality headlamp. The Fenix HL55 offers different brightness levels allowing you to choose the right amount of light for the job at hand. The lightweight design and evenly distributed weight ensure a comfortable fit with or without the top-strap. While the Fenix HL55 is an excellent headlamp it does have its flaws.
The biggest complaint is the amount of heat generated from the Instant Burst Mode. This is due to the combination of the lumen output and the small reflector. Others find the mount digs into the forehead when the headband is adjusted tighter. If you wear a medium or large size hat you might discover that the rear plate isn't curved enough to allow for a tight fit. If you use the top strap and wear the headband loose, neither of these are an issue.
Alternatives
The Nitecore HC90 was designed with outdoor enthusiasts and working professionals in mind. Using either a single 18650 battery or two CR123A batteries the Nitecore HC90 can emit anywhere from 0 to 900 lumens of white light. The Nitecore HC90 features the popular RGB illumination system in addition to the primary white light. The variable sliding switch provides one-handed access to all modes and functions. Slide the switch to switch between red, blue, green, and white light. The switch also controls the variable white output. The housing can be rotated to prevent dead zones.
The Nitecore HC50 is a great alternative to the Fenix HL55 if you need something a little less powerful. The HC50 uses either a single 18650 battery or two CR123A batteries to power the CREE XM-L2 T6 LED. The Nitecore HC50 features both white and red light illumination. The primary white light allows you to choose from five brightness levels ranging from 1 to 760 lumens. The HC50 comes equipped with 4 specialty modes, including police warning signal, SOS mode, location beacon, and red light illumination. With a two-stage camera shutter style button, the HC50 is designed for one-handed operation.
If you need something a bit more powerful than the Fenix HL55, the Zebralight H600 MK III is an excellent choice. Using a single 18650 battery the Zebralight H600 can emit up to 1300 lumens with a cool white CREE XHP35 LED. Using an electronic soft-touch switch you can access the three main brightness levels and beacon-strobe mode. The three main levels have the ability to be further programmed providing you with true lumen versatility. Lumens will automatically step down one level as battery life begins to run low. Battery indicator light alerts you to battery life based on the number of LED flashes.
Fenix HL55 Review Final Thoughts
If you are in the market for a headlamp designed for outdoor enthusiasts and indoor workers alike the Fenix HL55 makes an excellent choice. With the choice of four brightness levels, it's easy to choose just the right amount of light for the job at hand. Plus, Instant Burst Mode gives you that extra light when you need it most. With a 160-degree tilt mechanism, you can easily adjust the lamp to any angle you need. Now that you know what the Fenix HL55 has to offer why not go out there and purchase one today!
Thank you for visiting BestTacticalFlashlights.net. If you like any of the flashlights that you see in this article, please click on one of the Buy Now buttons to make your purchase on Amazon. As an Amazon affiliate, we make a small commission off any purchase made from a click through from our website, which is how we are able to provide you with these informative articles. You will not pay more on Amazon by clicking through our website because the price is the same as if you go to Amazon directly. Please take a look at our our Fenix Flashlight Buyers Guide or all other flashlight reviews or our Best Flashlight Buyers Guides for all your flashlight needs.