Summary
The Fenix PD35 V3.0 Edition is sure to show up on many Birthday, Father's Day, and Christmas Lists. It is really easy to like Fenix Flashlights PD35, this light is crazy bright at such a small size, it is durable and it stands up to the quality standard of other Fenix flashlights. Some reviewers found that this light got a little hot but a little heat is expected from a flashlight of this size with almost 1700 lumens. Please enjoy our Fenix PD35 Review.
Weight: 3 oz (without battery)
Dimensions: 5.28 inches long and 1 inch diameter
Lowest Setting: 5 lumens for 230 hours
Highest Setting: 1700 lumens for turbo
Flashlight Features
Fenix is a very well known company in the flashlight industry and they are known for having great performance for price. They used to be more of a high end value brand but they are moving in the direction of a full premium brand. Overall Fenix flashlights are good buys. The Fenix PD35 V3.0 flashlight is a fully featured flashlight in this size. We chose it as our runner up for the best medium EDC flashlight and the best slim head 18650 flashlight. Here are the Fenix PD35 specs that brought us to those decisions.
Comes with a Luminus SFT40 LED to provide an enormous amount and keep you out of the dark.
This flashlight can take either one 18650 Li-ion rechargeable battery or two 3V CR123A lithium batteries which offers some flexibility and a great green option.
A key feature of the Fenix PD35 V3.0 edition is the digitally regulated output. A feature not on all flashlights this allows the flashlight to keep a constant brightness as the battery drains.
A boot-up battery level indication helps you to know when you need to change your batteries.
The click switch on the PD35 flashlight is a "forward  clicky" meaning you have to option for momentary on which is when you barely push the button the light will come on.
This is a dual switch flashlight that allows you to use the rear switch in a tactical situation for on/off function and side button to switch modes when more relaxed.
Very Durable since it is made of aircraft-grade aluminum that is type III hard-anodized and has a IPX-68 waterproof rating to give you a light that will survive through many conditions.
We enjoy the great design of the Fenix PD35 LED flashlight but some of the features that we particularly like are the dual switch, the size to lumen ratio, and the digitally regulated output. Not many brands put a dual switch on their lights and if they do one of them is cheaply made and is more of a gimmick. The Fenix PD35 has a high quality dual switch system that allows momentary on and the use of different hand positions.
For us the side switch is much better when walking the dog while a tail switch is more natural in a tactical situation. The current upgrade from the previous Fenix PD35 flashlights the Fenix PD35 V3.0 edition maintains the same size while increasing the highest Lumen output by 700 lumens, from 1000 to 1700 lumens. A great update, more light for the same amount of money.
Lastly, the digital regulation makes it so you can count on this flashlight holding its brightness for the expected time. Fenix being a brand that is usually honest with their Lumen ratings it is great to have the digital regulation to keep those brightness levels consistent.
This is one of the premium flashlights by Fenix and is at a higher price point than other flashlights in this category of lights. There are other products in this same category that give very similar performance at a slightly lower price, but most of these brands are not quite as well known and they are building their reputation.
The Fenix PD35 has become one of the flagship models for quality construction and ease of use for their brand. With the PD35 Flashlight you can be assured that you are working with recognized quality.
How It Works
First things first, you got to get your batteries in this light. You can use to use a single 18650 rechargeable Li-Ion battery or two CR123A batteries. You will get the reported output levels from the 18650 battery and it is a great green option but it requires a little more work and investment into expensive batteries and a good charger.
Once you choose your batteries get them in the light by unscrewing the tailcap and entering them with the positive side toward the head of the light. Now, it is time to mess around with the UI.
The On/Off function of the PD35 is done by pressing the tail switch until it clicks. Pushing the tail switch again will turn the light off.
The Fenix PD35 has 5 brightness levels and a strobe mode, once the light is on you use the side switch to cycle through the different brightness modes. The light cycles Turbo, Eco (Economy Extra Low), Low, Medium, High and to enter the strobe mode you need to hold down the side switch for a full second.
A great feature on the Fenix PD35 V3.0 is the intelligent memory circuit that will always turn the light back on at the same brightness level it was last at. We feel that this is a necessary feature in high end flashlights as you want to know that you are going to turn you light on in low in the middle of the night when you need to get around your house.

Another built-in part of the UI is both a safety function due to heat and a Low-Voltage Warning Function. At 1700 Lumens this flashlight can get very very hot, this is one of the biggest user complaints on this light.
The Fenix PD35 LED flashlight will only stay in Turbo mode until it gets too hot and then it will step down to High Mode. Next, the light will stay in High mode until it steps down to Medium. At any time you can click through the side switch to put the light back into Turbo or High. After this the only stepping down you will have are controlled by the Low-Voltage Warning Function.
Evaluation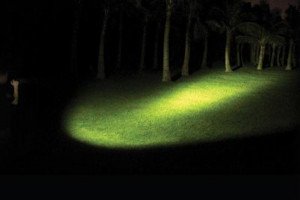 We really like the Fenix PD35 V3.0 edition and feel that it is a great upgrade from the previous model.
With that said, we wouldn't get rid of an older PD35 to get the 2V3.0 edition. While doing the Fenix PD35 Review and looking through many comments and user experiences with this flashlight most users absolutely love this light and are constantly awed by the amount of brightness that they get out of such a small light. The largest complaint that users have is the heat. From our perspective heat is a necessary evil of a pocket sized light with an output of almost 1700 Lumens, and it is not something that surprises us.
But just so you are not surprised when you get the PD35 Fenix, IT GETS HOT IN TURBO. 1700 Lumens is a very large amount of energy for such a small light and energy makes heat. One other complaint that we came across a couple times was that certain users had problems in below freezing temperatures with the light flickering and sometimes not turning on.
Since no product is perfect a few suggestions that we would like to make for the next model of the PD35 flashlight are a moonlight or firefly mode and we would also really like the ability to turn the light on and off with the side switch and be able to change modes with the tail switch, not instead of what it currently is at but we would like both switches to completely control the light.
Closing
Overall we really like the Fenix PD35 V3.0. It provides quite a bit of light in a very small package that is easy to carry and the UI is not complicated.
As with most Fenix products this light does offer a good value to performance ratio. The value for performance ratio is a little lower on this light since this is a higher end flagship product of the brand but we still think it is good.
The Fenix PD35 is a category leader in build quality, brightness, and features. If you are particularly looking for a Fenix light check out our Fenix Flashlight Buyers Guide.
If our Fenix PD35 review helped you make a decision in any way please click through on any of the buy buttons to be sent over to Amazon. We are an Amazon Affiliate website and we get to keep this site running by getting a small commission from the flashlights purchased on Amazon through our site. This all happens at no extra expense to you. Thanks for reading.