Are you struggling to find a compact, rechargeable EDC style of light? Even if you have spent months researching the various EDC lights there are still more choices that you haven't considered, such as the Fenix UC35. The Fenix UC35 makes an excellent EDC light as it is just the right length to fit comfortably in your hand, but small enough to stay out of the way when carried in a pocket or on a belt. Keep reading to find out everything that the Fenix UC35 has to offer.
Before You Buy
When it comes to purchasing a flashlight most people want one that they can use. Not very many people are actual collectors of flashlights. When looking at flashlights such as the Fenix UC35 you are looking at what we call an EDC style of light. These lights are designed to be used for a variety of tasks. EDC lights are not a tactical light or a searchlight, but they can provide those services if needed. EDC lights can be used by anybody; you don't need to have any specialized training to get the most use out of the best EDC light.
When looking at an EDC light you want to consider several factors. Brightness is one of the most important actors, as you want something that will provide plenty of light. Durability is something else to think about, the more durable it is the longer it lasts. If you are working on a limited budget pay attention to price, the more features and extras the light has the more expensive it will be. Knowing what you want in a light ensures you pick the best one.
With a 50,000 hour lifespan, the CREE XM-L2 (U2) LED allows the Fenix UC35 to emit up to 960 lumens. The high powered LED allows the beam to reach a maximum of 656 feet with a maximum beam intensity of 10,000 candelas. Made from aircraft grade aluminum the Fenix UC35 is one of the most durable lights on the market. It can withstand impacts of up to 3 feet. The IPX-8 rating means the light can be submerged for a period of 30 minutes in about 6.5 feet of water.
Pros:
Quick charging via Micro-USB cable
Excellent battery life
Battery indicator switch
5 brightness levels
Cons:
Rubber cap covering USB port tends to fall off
Holster could be better
Specs:
Dimensions: 5.9 inches long and 1.0-inch diameter
Weight: 3.5 oz. without battery
Output: 14 to 960 lumens
Runtime: 150 hours on low to 1 hour and 30 minutes on Turbo
Features & Benefits
Rechargeable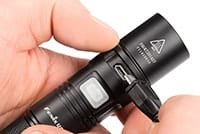 If you have a light that you take with you everywhere you go the last thing you want to cart around is extra batteries. The Fenix UC35, when powered with a single 18650 battery, is fully rechargeable using a micro-USB port found near the head. Unlike previous Fenix lights, the battery no longer has to be removed from the body of the light to recharge. The micro-USB cable can be plugged into any USB port, charger, computer, portable solar panel units, or even a portable battery pack.
User Interface
The Fenix UC35 offers an easy to use interface. The light features a tactical tail cap switch for momentary and constant on. The side switch located on the head of the UC35 is used to select the various outputs. The Fenix UC35 features five different brightness levels. The highest level emits up to 960 lumens for a period of 1 hour and 30 minutes. The Eco setting emits 14 lumens for a period of 150 hours. The light also features a strobe mode at 960 lumens. The variety of output levels allows for the light to be used in a variety of settings, including outdoor activities and daily use. The digitally regulated output feature ensures the light maintains constant brightness
Fenix Batteries
When you purchase the Fenix UC35 bundle you will receive a Fenix 3200 mAh 18650 battery. The custom Fenix battery is the best choice to use with your Fenix UC35 as it will provide you with the best results. With the Fenix battery, you will get the best runtimes with your light. A downfall to most rechargeable batteries is as you use them they lose their ability to store power. The Fenix batteries, though are a bit different. If properly charged these batteries can hold 70% of their original capacity after 500 full charge and discharge cycles.
Social Proof
After spending hours researching the Fenix UC35 online, I have to say that I would strongly recommend this flashlight to others. It is one that I would personally add to my own arsenal of flashlights and use on a regular basis. My opinion of the Fenix UC35 seems to be held by several others who are also passionate about flashlights. I ran across several reviews from reputable sites that expressed the same opinions on the quality of the Fenix UC35. All the reviewers wrote glowing reviews, but several made sure to mention a thing or two that the light was lacking.
Alternatives
As I mentioned earlier the Fenix UC35 is an improvement upon the Fenix PD35. The Fenix PD35 is a lower priced option to the UC35, but it also has fewer features. The PD35 and UC 35 can both emit up to 960 lumens, but the PD35 has a better beam dance and intensity. Both lights can use CR123A batteries or a single 18650 battery, but that is where the similarities end. The PD35 does not offer micro-USB recharging. If you wish to use the 18650 rechargeable batteries with the PD35 you must take the battery out to recharge. Check out our Fenix PD35 here.
For those of you that are looking for a compact, light around the same size as the Fenix UC35, but one that is a little brighter the Nitecore MH12 is a great choice. The Nitecore MH12 features the same CREE XM-L2 U2 LED and is powered by the same batteries, but it can reach up to 1000 lumens. The runtime on the Nitecore MH12 is better than the Fenix UC35. On the lowest setting, the battery will last up to 520 hours before needing a recharge. The Nitecore MH12 offers 4 brightness levels that range from 1 lumen up to 1000 lumens. Unlike the Fenix UC35, the Nitecore MH12 features three concealed modes for emergency situations.
If you were to look at the Fenix UC35 and the UC30 side by side, it is almost impossible to tell them apart. Both lights offer the same 960 lumens with a CREE XM-L2 U2 LED. The UC30 and the UC35 offer micro-USB charging and reverse polarity protection to prevent damage from improperly installed batteries. In comparing the two lights there are only 2 major differences. The UC30 offers 4 brightness levels plus strobe where the UC35 offers 5 levels plus strobe. The lower price of the UC30 makes it an excellent choice for those who want a do everything kind of light on a budget. Check out our Fenix UC30 Review here.
Fenix UC35 Review Final Thoughts
Everybody needs to have at least one EDC light in their home, as well as in their car. The rechargeable Fenix UC35 is an excellent choice for those of you that no longer wish to carry around extra batteries. The micro-USB charging cable, which comes with the light, can be plugged into any USB port allowing you to charge the light even if you are on the go. The compact design allows the light to fit comfortably in your hand during use and keeps it out of the way when being stored, a feature that everybody wants in an EDC light. While there are several EDC lights available the rechargeable Fenix UC35 gives you everything you need and more. Now that you have seen what the Fenix UC35 has to offer, what are you waiting for, go out and purchase one today!
Thank you for visiting BestTacticalFlashlights.net. If you like any of the flashlights that you see in this article, please click on one of the Buy Now buttons to make your purchase on Amazon. As an Amazon affiliate, we make a small commission off any purchase made from a click through from our website, which is how we are able to provide you with these informative articles. You will not pay more on Amazon by clicking through our website because the price is the same as if you go to Amazon directly. Please take a look at our Fenix Flashlight Buyers Guide or all other flashlight reviews or our Best Flashlight Buyers Guides for all your flashlight needs.