(Last Update: November 6, 2020)
Are you looking for the world's brightest flashlight or brightest headlamp?
A flashlight with high lumens? For this massive article, we decided to organize the brightest flashlights by battery type and quantity.
But, before we get started we need to cover the different ways that light output is measured for flashlights and decide on one of the measurements. One more side note is that we try to provide both the brightest LED flashlight in 2022 based on battery and a budget alternative that is particularly high lumen but at a better price point.
For this particular article that was not always possible since some of the most powerful flashlights were also in the lowest general price range and any of the considerably lower priced options were not bright for the category.
We also made a point to separate by brightest single cell lights and then multiple battery lights. Also remember to get the best out of these lights you will want some good high drain batteries. Enjoy your search for the highest lumen flashlight these are our top picks.
These are all lights that come from trusted brands that do not make exaggerated claims to their lumen ratings and they have quality control. Some manufacturers claim huge numbers just for marketing. Let's see who is the king.
Short On Time? Here Is The Bullet List
Brightest Keychain Flashlight
Brightest AAA/10440 Flashlight
Brightest AA/14500 Flashlight
Brightest CR123A Flashlight
Brightest 18650 Flashlight
Brightest 18650 Headlamp
Brightest 21700 Lights
Brightest 26650 Flashlight
Most Powerful Flashlight (Highest Lumens & Bigger)
**Below are our more detailed reviews. Click the links above to see current prices or read customer reviews on Amazon.
5 Brightest Lights Right Now
| Rank | Brand & Model | Lumens |
| --- | --- | --- |
| 1 | Imalent MS18 | 100000 lumens |
| 2 | Acebeam X70 | 60000 lumens |
| 3 | Imalent MS12 | 53000 lumens |
| 4 | Imalent R90TS | 36000 lumens |
| 5 | Acebeam X80GT | 32500 lumens |
How Is Brightness Measured?
The flashlight industry is quickly trying to standardize how flashlights are rated with the ANSI FL1 standards. In the FL1 standards, there are 3 different ways that light is measured.
The three methods are output which is measured in Lumens, Beam Distance which is measured in meters and measures the distance a beam will travel before it reaches 0.25 lux which is the amount of light of the full moon on a clear night. Lastly is Peak Beam Intensity which is measured in candela and tells the brightest point of the beam.
To determine the world's brightest flashlights we chose to use the overall Light Output measurement of Lumens.
Both the Beam Distance and the Peak Beam Intensity can be greatly changed based on the angle and size of the reflector that is used. Lumens is a straightforward level of the overall output.
With that said the flashlight with the most Lumens will not necessarily be the flashlight that will shine the farthest. If you are specifically looking for a flashlight to shine a far distance check out our throw flashlight article.
Remember that LED flashlights are tools and when you are looking for a flashlight you need to first consider what you want it to do. Some extremely bright flashlights are too bright for some jobs.
You do not want the same output levels for a tactical flashlight situation as you do for camping. The last thing to consider when looking at the Lumen number that a flashlight has is that FL1 standards measure the amount of light that comes out of the front of the LED flashlight not the theoretical max output of the LED emitter.
Some of the not as reputable flashlight manufacturers will either completely lie about the number of Lumens that their lights produce or they will state the maximum output of the LED emitter as listed by the LED manufacturer.
Types of Flashlights with High Lumens Considered
There are a few different types of light sources that can be used in flashlights. Currently, the most common lights are LED emitters. Most older lights were incandescent which means that there is a metal filament that heats up and produces light, most of these are not as crazy bright as the current generation of super bright LED emitters and they are not as durable so we did not use any of these flashlights.
The third type is HID lights which stand for High-Intensity Discharge. These bulbs have gas trapped in a quartz capsule and when electricity passes through it the gas lights up. If you want more specific information about HID bulbs to check here. The only reason we did not consider HID flashlights is because they are very expensive, the cheapest quality HID flashlights start around $300. With all that said this article is completely made up of LED flashlights.
We also decided to cover handheld lights and headlamps since both are popular options.
Brightest Keychain Flashlight
Having a flashlight on your keychain is quite handy in emergency situations. The compact size and great features offered by the RovyVon A3 make it even more convenient to have on hand. This light is easily one of the brighter compact flashlights around.
This little flashlight is durable, with hard-anodized aluminum alloy for the body. This material is 1.5m impact resistant, won't discolor, and even comes with an IPX-65 rating, so your flashlight won't be destroyed after a bit of rain. There is a CREE P-G3 S5 LED light, which gives you three brightness options, high, medium, and low, plus strobe light. The high mode gives you 550 lumens, which will illuminate a large area. You just press the button to cycle through the options.
Inside the flashlight is a Lithium Polymer battery, which doesn't have the longest life when you're using the high setting, but fully recharges in about 30 minutes using the micro-USB port near the keychain loop. This little piece includes a clip for attaching it to a hat for use as a headlight when needed. It can point forward or backward. It also comes in two colors, Gun Grey and Lucky Red.
Pros:
Water-resistant
Compact size
Rechargeable
Cons:
Specs:
Weight: 0.49 ounces
Dimensions: 2.14 inches in length and 0.57 inches in diameter
Lowest Setting: 1 lumen for 2.5 hours
Max Setting: 550 lumens for 37 minutes
Brightest Flashlight By Battery
Brightest AAA Flashlight (10440 Li-ion)
There are many reasons why you might want a flashlight that runs on AAA batteries. The main two are that the batteries are easy to find and that they are also very small. Most manufacturers do not recommend the use of 10440 batteries in AAA lights and in fact so actually say it is dangerous.
A AAA Alkaline battery will run at 1.5 Volts while a 10440 lithium ion battery is 3.6 Volts. If your flashlight can handle the power of the 10440 battery it will have a significant boost in its Lumen output.
Before you buy some 10440 batteries check out candle power forums to see what others have experienced with the same flashlight that you have. Since you are looking for the brightest flashlight you might also be interested in some batteries to go with that new flashlight.
Here are our recommendations for AAA size batteries. First, decide if you are going to go with rechargeable or not, primary batteries.
For rechargeable batteries in this size, the best battery by far is the Eneloop AAA Ni-MH and as long as you are spending money on good batteries you should also have a good charger. For Ni-MH batteries we like the La Crosse BC-700. This charger is of high quality, easy to use, and works with AA and AAA batteries.
If you get a cheaper charger the main thing is to make sure that it charges each battery independently and not in pairs.
For primary batteries the best are the Energizer L92 Lithium batteries, not to be confused with Li-ion these are not rechargeable. The L92's are all-around superior to standard alkaline batteries.
1 x AAA Budget:
The Lumintop IYP07 is compact and lightweight, fitting nicely in your pocket using the handy clip on the side. It has a one-hand operation using the metal tail switch to turn it on, plus you can either press this button or twist the head to select the output you need. There are three to choose from, going from medium to low to high as you push the button.
This slim flashlight is made of hard-anodized aluminum with an anti-abrasive finish. It is IP68 waterproof, so you can fully submerge it up to 2m. It also has a 1.5m impact-resistance rating, making it one of the more durable flashlights around.
Though the flashlight only has an output of 80 lumens on its highest setting, it has an intensity of 553cd and a distance of 47m, so it will still be bright enough to light your way on a dark night or illuminate a flat you're changing on the side of the highway. This little light also includes a diffuser, which you can use to make a soft beam for reading or lighting up a room during a power outage.
One-hand operation
Submergible
Spare O-rings and diffuser included
Cons:
Specs:
Weight: 0.81 ounces
Dimensions: 3.21 inches long and 0.57 inches in diameter
Lowest Setting: 1 lumen for 40 hours
Max Setting: 80 lumens for 30 minutes
1 x AAA:
The SureFire Titan Plus is an improvement over the original SureFire Titan. The Surefire Titan Plus improves the convenience and functionality of the original SureFire Titan. With the SureFire Titan Plus, users will get twice the output with the light's ability to emit a maximum of 300 lumens.
The ultra-compact light offers three brightness levels to choose from. The high-performance LED is paired with a specially-developed reflector to provide a perfect MaxVision Beam. The MaxVision Beam is a smooth and wide beam that is evenly dispersed making it ideal for close-range activities.
Powering the light on and off or switching between levels is done by twisting the head switch counterclockwise for low output or to activate the light. To switch to a higher output you must rotate the switch clockwise and then counterclockwise again within one second.
The virtually indestructible light offers a nickel-plated brass body with a heavy-duty removable pocket clip. The tail cap offers a key-ring attachment as a secondary carrying option. The SureFire Titan Plus is powered by a single AAA NiMH battery, but can also be powered by a single disposable AAA alkaline battery.
Pros:
Extremely compact
Removable pocket clip
Weather-resistant
Cons:
Specs:
Weight: 2 oz. without battery
Dimensions: 3.375 inches long and 0.58-inch diameter
Lowest Setting: 15 lumens for 7 hours
Max Setting: 300 lumens for 1 hour
2 x AAA:
This Acebeam flashlight is sleek and compact, with aerospace-grade aluminum allow on the body that is mil-spec hard-anodized to keep it fully intact. The textured knurling helps you maintain your grip, even when sweating. This flashlight also includes impact resistance up to 2m and is IPX68 water-resistant as well.
The Samsung LH351D LED technology gives you up to 400 lumens on the high setting, with 1300 candela and a range of 72m. There is also a medium setting of 250 lumens and a low one of 5 lumens as well, with an optical lens that gives you a soft, yet balanced, beam on all settings. A high color-rendering Nichia 219C LED version that's been designed for medical personnel or first responders is also available.
The PT10-GT includes a built-in micro-USB charging port for the 10,900 lithium-ion battery that comes with it. You can also use 2 AAA batteries instead of charging it isn't an option. Other great features include the one-touch tail switch and a convenient pocket clip for taking it with you everywhere you go.
Pros:
Rechargeable
Impact-resistant
Lightweight
Cons:
Specs:
Weight: 1.48 ounces with battery
Dimensions: 5.3 inches long and 0.55 inches in diameter
Lowest Setting: 5 lumens for 28 hours
Max Setting: 400 lumens for 30 minutes
Brightest AA Flashlight (14500 Li-ion)
In this battery size, we still recommend using Ni-MH instead of 14500 lithium ion batteries since most manufacturers of these size lights do not have equipment with the ability to handle the higher voltage. Again if you choose to put a 14500 battery in one of these lights please research to see if others have had success.
For the AA size batteries are recommendations are exactly the same as for the AAA batteries except in a different size. For rechargeable the Eneloop AA Ni-MH batteries are the best and we like to match that with the La Crosse BC-700 charger.
And for primary batteries we like the Energizer L91 AA Lithium Batteries.
1 x AA:
Using a CREE XP-L2 EasyWhite LED, the Zebralight SC5w MKII offers a 3-step MacAdam ellipse tint deviation and a CRI of 83 to 85. The Zebralight SC5W MKII is powered by a single AA battery and can emit a maximum of 550 lumens for up to 3 minutes. Once three minutes have passed the Zebralight SC5w MKII automatically steps down to 407 lumens to prevent overheating.
The XP-L2 provides users with a neutral white beam with a 10-degree hot spot and an 80-degree spill. An aluminum unibody casing with a natural hard anodized finish makes this a durable light with an IPX-8 rating.
With the Zebralight SC5w MKII, users have the choice of three brightness levels, as well as beacon and strobe mode. Each of the three main levels can be further programmed to two sub-levels. The second sub-level also has the ability to be further programmed to create more levels.
Users are alerted to current battery power levels via a battery indicator light. The light will automatically step down to lower levels depending on the current battery power. A smart user interface offers a durable electronic soft-touch switch to provide almost instant access to all the various settings.
Pros:
Tail standability
IPX-8 rating
Preinstalled pocket clip
Cons:
Specs:
Weight: 1.8 oz. without battery
Dimensions: 3.2 inches long and 1.0-inch diameter
Lowest Output: 3.2 lumens for 4 days
Max Output: 550 lumens for 3 minutes/407 lumens for 30 minutes
1 x AA Budget:
The Lumintop EDC05 is a bright little flashlight with a decent price tag to match. It uses a Cree XP-L LED that comes in both cold white or neutral white options. It gives you a maximum of 800 lumens using a 14500 Lithium-ion battery or up to 400 lumens when used with a cheaper AA battery. It also has a decent runtime of up to 12 hours on the highest setting.
There are three main modes to choose from, including high, medium, and low. There are also a few extra modes for added convenience. These are the Moonlight, Strobe, SOS, and Beacon modes, so you have the right lighting for any situation.
The EDC05 is durable, with an aerospace-grade aluminum housing and an HAIII anti-abrasive finish. The clip is titanium that's been coated with stainless steel. This flashlight is also IPX-8 waterproof, so it can be submerged in 2m of water for up to 30 minutes. The magnetic tail allows you to stick it to any metal surface for hands-free use.
Pros:
Magnetic tail cap
Multiple modes
Moonlight mode
Cons:
Specs:
Weight: 1.76 oz. without battery
Dimensions: 3.4 inches long and 0.8 inches in diameter
Lowest Setting: 100 lumens for 12 hours
Max Setting: 200 lumens for 0.4 hours
2 x AA:
The Armytek Partner A2 V3 uses two AA batteries to power a CREE XP-L White LED. Users can expect a maximum of 700 lumens with a peak beam intensity of 5080 candelas and a maximum beam distance of 143m. The Armytek Partner A2 V3 uses TIR-Optics to provide a smooth beam that doesn't give off the tunnel vision effect after hours of use.
For easy one-handed use, the Armytek Partner A2 V3 features an electronic side switch, as well as a tail cap switch. Constant output ensures the light never flickers regardless of the mode being used. The light offers 6 brightness levels, two strobe modes, and a monetary on mode.
Made from aircraft-grade aluminum with a premium type III hard-anodized anti-abrasive finish, the Armytek Partner A2 V3 offers the highest dust and waterproof rating available with an IP68. This allows the light to be submerged up to 10m for thirty minutes without suffering any damage.
The Armytek Partner A2 V3 comes with a multi-color LED indicator light, which serves as a low battery indicator, as well as a temperature indicator. With the Armytek Partner A2 V3, batteries with a flat contact can be used without any problems. An over-discharge circuit is included to prevent damage to the light when using unprotected batteries.
Pros:
Mountable
Removable clip
Mode memory
Cons:
Specs:
Weight: 2.68 oz. without battery
Dimensions: 6.57 inches in length and 1.0-inch diameter
Lowest Setting: 2 lumens for 17 days
Max Setting: 700 lumens for 50 minutes
2 x AA Budget:
The Lumintop Tool25 is an upgraded version of the top-selling Tool AA EDC. It is compact and lightweight, but strong enough to handle even your roughest adventures. Made of aircraft-grade aluminum with a military Type III HA finish, this one is extra durable.
The IP68 rating means it is water and dust-proof, plus this flashlight is impact-resistant up to 1.5m. Other great features include the reversible stainless steel clip, a glow-in-the-dark o-ring, and an aluminum smooth reflector.
The tail switch turns on the light, plus allows you to cycle through the three modes, or you can use the twistable light head to select these outputs. There is also a mode memory for these three settings. You also have both strobe or turbo options, the latter of which includes over-heat control that decreases the output after 1 minute. The Cree XP-L HD LED gives you up to 500 lumens with a beam distance of up to 91m.
Pros:
Low price
Reversible clip
Over-heat protection
Cons:
Turbo mode incompatible with Ni-MH batteries
Specs:
Weight: 1.2 ounces without battery
Dimensions: 5.45 inches long and 0.73 inches in diameter
Lowest Settings: 12 lumens for 45 hours
Max Settings: 500 lumens for 1 hour (accumulated)
Brightest CR123A Flashlight
Moving into flashlights that are designed to run on a higher voltage these lights can handle both the lithium and Li-ion batteries and get a considerable boost in lumen rating because of it.
CR123A batteries are the standard camera battery size and they are about half the size of the 18650 Li-ion battery. Because of the sizes of these batteries, most flashlights that take and even amount of the CR123A batteries can take 18650 batteries.
When shopping for CR123A batteries stay clear of any of the manufacturers that have 'fire' in their name, these are usually cheap and poorly made.
We generally try to stay with U.S. manufacturers since they have a more consistent quality. Our current favorites are the Streamlight CR123A batteries since they are made by a flashlight maker and they are U.S. made.
EDC CR123:
Though it is extremely small, the Acebeam TK16 is an extremely bright flashlight. It has a maximum of 1800 lumens that are produced using 3 CREE XPG 3 LEDs. These combine with the TIR optics to create an efficient light transmission. The wide beam and huge throw light up the area in front of you, so there are no surprises on a dark night.
There are two main modes, the Power and the Eco. Each one includes low, medium, high, turbo, strobe, and moonlight modes as well, with higher lumen levels in the Power Mode, though the rest of the settings are equal in both modes. You can use either an RCR123 or a CR123A battery in this little flashlight, whichever you prefer.
This flashlight has a streamlined body, a slim head, and ergonomic knurling to give you a firm grip. Aircraft-grade aluminum adds durability, as does the water- and impact-resistance. There is a low battery voltage warning that causes flickering in the light. The detachable clip makes it easy to carry with you.
Pros:
Detachable clip
Low battery warning
Power and Eco modes
Cons:
Battery must be removed for charging
Specs:
Weight: 2.67 ounces without battery
Dimensions: 2.61 inches long and 0.9 inches in diameter
Lowest Setting: 0.5 lumens for 6 days
Max Setting: 1800 lumens for 45 minutes
Brightest 18650 Flashlight
For 18650 Li-ion batteries, we stick with batteries built around the Samsung 35E cores. Our current favorite is the Nitecore NL1835HP. You will also need a charger if you choose to go with Li-ion batteries, we like the Xtar VC2 Plus. The VC2 Plus is a great charger at a good price and it also has a USB connection and use it as a battery pack.
When we get into these 18650 single cell lights they are some of the brightest compact led flashlights you can get.
1 x 18650:
The EagleTac TK3L Pro is a compact led flashlight that includes a 18650 6500mAh lithium-ion battery. This battery is rechargeable using a Type-C USB charging circuit and cable that works with the included wall charger or an optional USB 5V 2A car charger. It features a built-in voltage adjuster that lowers the output when the battery life is low.
There are two buttons, a white and a black. The white one allows you to program a start-up output level or switch between one of the five brightness options. The black button lets you chose instant strobe or the max power, depending on your needs.
The CREE XHP70.2 P2 LED gives you a beam distance of up to 211 yards and a level up to 3000 lumens. For the body, CNC-machined aluminum is used, with a smooth aluminum reflector and multiple layers of anti-reflective coating on the water white lens. The crenelated stainless steel bezel adds lens protection while the flat magnetic tail cap gives you hands-free use.
Pros:
Standable tail cap
Rechargeable
Programmable
Cons:
Specs:
Weight: 6 ounces with battery
Dimensions: 5.4 inches long and 1.3 inches in diameter
Lowest Setting: 15 lumens for 200 hours
Highest Setting: 3000 lumens for 0.6 hours
1 x 18650 Budget: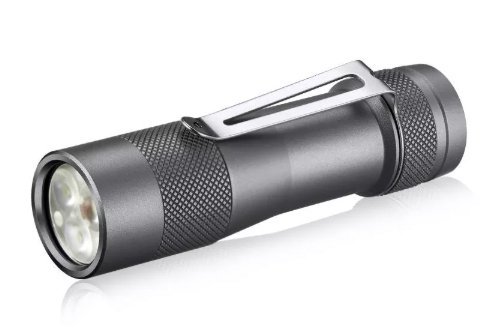 With an aluminum body, a hard-coat anodized finish, an IPX8 water-resistant rating, and a standard TIR optical lens, this is one of the most durable, yet compact flashlights around.
It uses a single 18650 Li-ion battery, which is rechargeable and economic, but still gives it enough power to emit up to 2800 lumens of light using the 3 CREE XP-L HI LEDs. The intensity level is also high at 10, 000 cd and a balanced beam distance of 200m.
The flat tail cap holds an electronic switch that gives you one-handed access to the user interface that allows you to program the settings you want. There is a default smooth ramping that gives you instant access to the top mode or a stepped ramping for the more discreet levels. There are also momentary, muggle, or lockout modes, plus functions like the battery check, bike flasher, sunset, and many more.
Pros:
Lockout mode
Programmable UI
Low voltage protection
Great driver
Cons:
Battery needs to be removed to charge
Specs:
Weight: 1.87 ounces without battery
Dimensions: 3.64 inches long and 1 inch in diameter
Lowest Setting: 0.2 lumens for 74 days
Highest Setting: 2800 lumens with 10-second shutdown
18650/18350 :
This flashlight is the upgraded version of the Emisar D4 and is one of the lightest and smallest quad LED lights on the market. It comes in 3 colors, with a variety of LED options available for warm, cool white, or neutral white light. You can also choose one of several LED colors as well to match your specific needs.
Made of CNC-machine aircraft-grade aluminum with Unihead construction and an IP67 rating for protection against water and dust, this little device is a durable tool to have on hand. It also includes an anti-reflective coating on the glass lens, thermal protection, and low battery protection for added convenience.
The electronic soft-touch switch is located near the head, giving you quick access to the Ramping User Interface. Specific clicks let you turn it on or off, set it to moonlight mode or high, as well as the option of muggle/kid mode that keeps the output at the middle levels.
Pros:
Multiple LED options
Compact and lightweight
Thermal protection
Cons:
Specs:
Weight: 2.35 ounces without battery
Dimensions: 3.7 inches long and 1.11 inches in diameter
Lowest Setting: 0.2 lumens
Highest Setting: 4500 lumens
Brightest 18650 Headlamp
18650 Headlamp:
Climbing and cycling are great activities, though you need both hands to get anywhere. That's where a headlamp like the Thrunite TH30 comes in. This is more than just a great LED flashlight, it's a whole system, including a head strap, pocket clip, and even the USB plug and cable to recharge it when needed on the road.
The flashlight itself includes several modes to choose from, including the low, medium-low, medium, and high modes. There are also a few extras, like the firefly, SOS, and turbo. To switch between the modes, you only need to press the button to turn it on, then press and hold it to cycle through the different options. A double-click turns it right to turbo, no matter what mode you're on.
The memory function remembers the last regular mode you were on. When the battery is at 10% or less, the main LED will blink three times, so you always know when to charge it.
Pros:
Low power indicator
Memory function
Rechargeable
Cons:
Specs:
Weight: 4.34 ounces without battery
Dimensions: 4.21 inches long and 1.12 inches in diameter
Lowest Setting: 0.5 lumens for 32 days
Highest Setting: 3350 lumens for 1.5 minutes
18650 Budget Headlamp:
If you need a hands-free lighting option for working, cycling, or any other activity, the Wowtac A2S is a great budget-friendly option. It is well-built, with aircraft-grade aluminum for the body, an IPX-7 waterproof rating, impact-resistance up to 1.5m, and the CREE XP-L V6 LED, all of which combine to make this a durable headlamp for all types of weather conditions.
The A2S is also compact and lightweight, with several modes to choose from. As well as the regular low, medium, and high, there are also firefly, turbo, and SOS. The first three include a memory function, so it always starts at the last setting you were on.
The push-button switch is located on the head, giving you one-handed mode adjustments at all times. When the battery starts to run low, the light blinks twice, letting you know it is time to recharge.
Pros:
Memory function
Simple mode changes
Comfortable
Cons:
Battery must be removed for charging
Specs:
Weight: 3.8 oz without batteries
Dimensions: 4.17 inches long and 1.18 inches in diameter
Lowest Setting: 0.3 lumens for 59 days
Highest Setting: 1050 lumens for 2.7 hours
Brightest 21700 Flashlight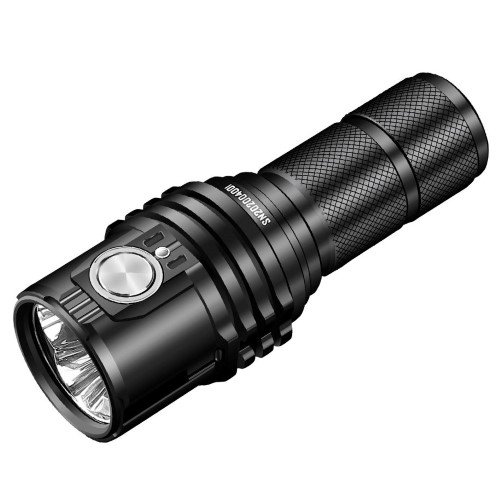 The Imalent MS03 has a lot of power for such a small flashlight. The 3 CREE XHP70 2nd Emitters can blast out a top lumen rating of 13000 lumens. These super lumens are brief but they would really surprise somebody and even though this flashlight is meant to be a floody light it gets 324 meters of throw (over 3 football fields) due to it really high lumens.
This flashlight is made of aluminum alloy combined with stainless steel, with an HAIII anodizing surface finish. The knurling gives you a sure grip while staying comfortable. This with a combination of ultra clear mineral and anti reflective glass and a great reflector make this a super durable and waterproof light. It has an impact resistance of 1.5 meters and is IPX-8 waterproof.
This light has a ramp down process so with the super high lumens it does not destroy the flashlight. The last thing that we think is great is the USB-C charging that helps you recharge the battery way quicker than a standard micro USB port.
Pros:
USB-C charging
Heat dissipation structure
Compact
Cons:
Turbo is only for small bursts of light
Specs:
Weight: 4.13 oz without battery
Dimensions: 4.3 inches long and 1.4 inches in diameter
Lowest Setting: 150 lumens for 27 hours
Highest Setting: 13000 lumens for 45 seconds then 70 min at 2000 lumens
Neals Gadgets 25% off: BTFIMALENTCheck Amazon
Brightest 21700 Headlamp
If you're looking for a lightweight, comfortable headlamp that is versatile enough to use for all of your outdoor activities, the Acebeam H30 may be the one for you. It includes a CREE XHO70.2 white LED for your main modes, the turbo, and max. There is also a XPE2-R2 630nm red light and a XPE2-G3 530 nm green light, which are great for hunting without messing up your night vision. Two switches control the modes and lights, making it easier to set the one you need.
Other features this light has to offer is the aero-space-grade aluminum alloy body with a hard-anodized finish to prevent abrasions, the IPX68 waterproofing, the 1m impact resistance, and a polished smooth reflector for a huge throw of 171m with a peak intensity of 7300cd.
Included is a 21700 LI-ion battery and a two-way USB-C cable, that allows you to charge the battery while it's in the light as well as using the flashlight as a power bank to keep your other devices working as well.
The head strap is made of comfortable nylon that is breathable and reduces chafing. There is also a silicon sweat diverting strip, which keeps you dry while reducing shifting.
Pros:
Automatic temperature regulation
Red and green light options
Comfortable head strap
USB-C for fast charging
Cons:
Specs:
Weight: 2.82 oz without battery
Dimensions: 3.52 inches long and 1.6 inches in diameter
Lowest Setting: 3 lumens for 200 hours
Highest Setting: 4000 lumens for 1.5 minutes
Brightest 26650 Flashlight
For an extremely bright flashlight with a huge beam distance and a lot of power, you can't go wrong with the Thrunite TC20. This flashlight is a bit bigger than some of the other models out there but it still works well as an EDC flashlight.
It includes the CREE XHP 70 2nd generation LED, which gives you a maximum of 3800 lumens a huge beam distance of 320m when you're using the turbo mode. If this is a bit much for you, there are also three regular modes, plus a firefly and a strobe for emergency situations. It is also easy to select the mode you want in a matter of seconds. The memory function maintains the last regular mode you used when you turn it on.
This flashlight has an aluminum body, with weather-resistant seals, an anti-abrasive coating, and drop-resistance. It includes a 26650 Li-ion battery that you can recharge using the USB port right on the flashlight. You can even use the firefly, low, or medium modes while charging for added convenience.
Pros:
Easy operation
Rechargeable function
Long runtime
Cons:
Hard to find the button in the dark
Specs:
Weight: 5.22 oz without batteries
Dimensions: 4.69 inches long and 1.65 inches in diameter
Lowest Setting: 0.56 lumens for 37 days
Highest Setting: 3800 lumens for 130 minutes
Most Powerful Flashlight (Highest Lumens & Bigger)
3 x 18650:
The Sofirn SP36 was designed to meet the needs of BLFers who needed an extremely bright flashlight that can withstand daily use, even in some rugged conditions. It's made of aircraft-grade aluminum alloy, with IPX7 water-resistance, 4 CREE XPL2 natural white LEDs, a smooth reflector, and an illuminated electronic switch. Together, these make a durable flashlight with a peak beam distance of 550m and 50,000cd, with a maximum output of a huge 6000 lumens.
NarsilM 1.2 Firmware has great ramping support for cycling through the modes quickly and intuitively. It is programmable, so you can configure it to your preferences or you can disable the ramping altogether. You can even adjust the thermal controls, the LED locator, and the battery level indicators as you see fit.
Three 18650 batteries power this compact flashlight, plus can be recharged using the Type-C port on the flashlight. The charging cable is included as well for added convenience.
Pros:
Integrated power indicator
Advanced temperature regulation
Tail stand capable
Cons:
Specs:
Weight: 15.38 oz with batteries
Dimensions: 4.92 inches long and 1.93 inches in diameter
Lowest Setting: 0.5 lumens for 45 days
Highest Setting: 6000 lumens for 45 minutes
4 x 18650:
This model is the upgraded version of the original AceBeam X80, with the same frame size but a lot more power. It includes an amazing 18 CREE XHP50.2 LED lights, giving users a huge 32,500 output in the turbo max mode. The lower modes are still quite bright, with 200 lumens for the low mode that lasts up to 34 hours and a 4000-lumen strobe light. It has a distance of up to 369m and 34,000cd for the intensity.
The Acebeam X80GT is built to last, too, using aircraft-grade aluminum with a premium Type III hard-anodized anti-abrasion finish, ultra-clear tempered glass with an anti-reflective coating for the lens, and a smooth reflector to give you the best output possible. It also includes a streamlined design and tactical knurling.
This flashlight is perfect for military and law enforcement personnel, as well as for search and rescue, hunting, or even self-defense purposes. As well as the flashlight, there are a ton of accessories included as well, including a holster, lanyard, extra batteries, and even a handle for more versatile use.
Pros:
Submergible up to 30m
18 LEDs for high output
Includes multiple accessories
Cons:
Gets very hot at maximum output
Specs:
Weight: 11.64 ounces without batteries
Dimensions: 4.63 inches long and 2.56 inches in diameter
Lowest Setting: 200 lumens for 34 hours
Highest Setting: 32,500 lumens for 1.5 minutes
8 x 18650:
It's not easy to make a flashlight that emits up to 60,000 lumens with a 1,115m beam without having it burn up in your hand but Acebeam has managed this feat with the X70. It uses a CREE XHP35 Hi chip combined with 12 XHP70.2 LEDs and powered by 8 Sony VTC6 18650 Li-ion batteries in a rechargeable pack. A complex reflector focuses the beam for a huge throw with an intensity of 311,000cd.
Of course, this much power runs hot, which is why the X70 is equipped with a removable handle that contains a cooling fan to disperse the heat quickly. Other safety features include the built-in safety control circuit, over-heat protection, and over-charge protection on the battery pack and a built-in temperature controller that adjusts the output according to the temperature and work status.
To ensure durability in all situations, this flashlight is made of aerospace-grade aluminum alloy with a hard-anodized anti-abrasion finish, a tough ultra-clear lens with an anti-reflective coating, integrated Precision Digital Optics technology, and it is IPX8 waterproof up to 10m. This model even includes tripod socket compatibility for hands-free use.
Pros:
Durable build
Eco and power modes
Cooling fan in the removable handle
Cons:
Fan battery can't be re-charged
Specs:
Weight: 64.16 oz with battery
Dimensions: 11 inches long and 4.6 inches in diameter
Lowest Setting: 625 lumens for 24 hours
Highest Setting: 60,000 for 55 seconds
Worlds Brightest Flashlight:
With the 18 CREE XHP70 LEDs and the bright plating process optical reflector, the Imalent MS18 gives you a shocking 100,000 lumens (beast) and a range of up to 1350m when used on the highest output, way brighter than every one of its competitors. Far surpassing its brothers the Imalent DX80, Imalent MS12, and Imalent MS03 which at one time were also the brightest flashlights in the world. Of course, there are seven more output options available when you don't need to light up your entire state.
Built into the flashlight are several other great features, like the safety self-testing intelligent charging circuit, switch indicator lights, a thermal control module, and a high-efficiency constant current circuit to maintain the brightness. It also includes a heat pipe cooling system combined with inlet and outlet fans to disperse the heat.
Aerospace-grade aluminum with a Type III hard-anodized finish and IPX-5 waterproofing keep it working even in the worst conditions. The MS18 also has an ergonomic design with an excellent grip, with a high-grade side pressure switch. The battery pack holds 8 21700 batteries that can be recharged without removing them from the flashlight.
Pros:
High-efficiency constant current circuit
Eight output levels
Solid construction
Cons:
Specs:
Weight: 67.02 oz with battery
Dimensions: 10.43 inches long and 5.08 inches in diameter
Lowest Setting: 700 lumens for 14 hours 52 minutes
Highest Setting: 100,000 lumens for 60 seconds
What Is Most Powerful Brightest Flashlight?
Through all of our research and reviews, we have decided that the brightest LED flashlight by Lumens currently is the Imalent MS18 with a class dominating 100,000 Lumens, what a beast.
It is clearly the most powerful light. Just because the Imalent MS18 might be the brightest flashlight in the world ever does not mean that it is the right flashlight for you, though.
The first thing to consider is what you are going to be doing with the light and decide the size that you need. From there you should consider the types of batteries you are willing to work with and within those batteries decide on the highest lumen flashlight.
Remember to get the best out of these lights you will want some good high drain batteries. In most cases, you will get a large jump in output from li-ion batteries as opposed to alkaline or Ni-MH. Please take these considerations into account before purchasing a flashlight, we want you to be happy with your purchase.
Thank you for spending your time reading our brightest flashlight review article. We sincerely hope that you will be able to use this information while deciding which flashlight you want to buy.
If you are looking for more information on our favorite flashlights check out our list of best of articles here. New to flashlights? Check out our Flashlight Buyers Guide. If we helped you please share this article and also click through one of our links to make your purchase.
This site is part of the Amazon affiliate program and we are paid a small commission on each purchase that comes through our site with no extra cost to you. This is how we can continue to run this site and get flashlights for review.