Summary of Fenix E12 Review
The Fenix E12 flashlight is the next generation/follow-up light to the popular Fenix E11. The E12 Fenix has many design modifications from the Fenix E11 and in most respects is a completely different light. The small size, durability, and high brightness of this light make it a favorite among the Every Day Carry (EDC) crowd. Most people like the design changes in the E12, but some of the changes are up to personal preference. We like the changes but understand some of the complaints against this light. Please enjoy our Fenix E12 Review.
Weight: 1 oz without battery

Dimensions: 3.54 inches long and 0.75 inch diameter

Lowest Setting: 8 lumens for 40 hours

Highest Setting: 130 lumens for 1.5 hours
Flashlight Features
Fenix is a very well known company in the flashlight industry and they are known for having great performance for price. They used to be more of a high end value brand but they are moving in the direction of a full premium brand. Overall Fenix flashlights are good buys. The Fenix E12 flashlight is a great small flashlight. These specifications along with both our and other reviewers led us to pick this light as our best small budget AA flashlight.
The Fenix E12 Cree XP-E2 LED is a great emitter for this size light.

This light uses a single AA battery as a power source (Ni-MH or Alkaline), making batteries easy to find.

Fenix Flashlights E12 has a digitally regulated output so it will maintain a consistent brightness through the life of the battery.

Reverse polarity protection makes it so batteries can not be installed incorrectly

The switch on the Fenix E12 is a tail switch that controls on and off and it is also used to cycle through the three different modes that are available.

This light comes with a TIR lens that has higher efficiency by placing the light at the focus point of the parabolic lens.
Very Durable since it is made of aircraft-grade aluminum that is type III hard-anodized and has a IPX-8 waterproof rating to give you a light that will survive through many conditions.
The Fenix E12 is a pretty standard light for this class. The Cree XP-E2 is a nice led that provides a little more throw than the XP-G2 that is in similar sized lights. It is also nice to have digital regulation in a light of this size. Digital regulation makes it so the flashlight is usable for the majority of the life of the battery. Having a waterproof rating of IPX-8 is also very good for this size of a light. IPX-8 means that it should be able to survive continuous use under 2 meter of water. A noticeable change from the Fenix E11 is that this light is able to tail stand since the tail switch does not protrude past the protective button rails.
How It Works
When choosing batteries for the Fenix E12 you can use either Ni-MH batteries or Alkaline Batteries. We really like Eneloop Ni-MH batteries in our lights since we can recharge them and they have a very slow drain. To put the battery in the Fenix E12 you unscrew the head of the light.
The Fenix E12 LED flashlight comes with a very simple UI button is a reverse clicky which means that when you push the button on back the light will not turn on until you hear a click and then release the button. Some people really like forward clickys which allow you to do a momentary on but we do not really mind one way or the other for this type of light. This light come with 3 brightness levels and no special blinking modes. We really like it when EDC size lights start off on low as this light does. The Fenix E12 cycles low-medium-high with quick presses of the button. Just to mention a cool trick that works with all reverse click flashlights as long as they do not have a memory is that when the light is on if you hold down the button a little longer than normal and then release it will go back to the first brightness level of the light. For this light if you are in medium or high mode and you long press it will drop you down to low without having to turn the light off and then back on. Essentially you are triggering the flashlights reset period.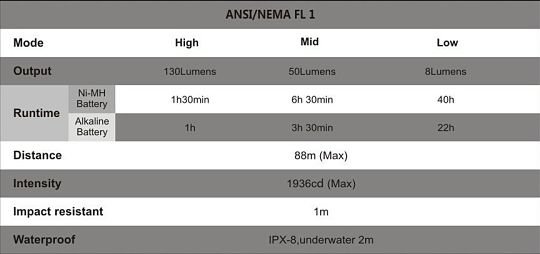 Evaluation
The Fenix E12 is a great AA EDC light, the addition of a low mode is a welcome appearance over the previous E11. Most people find the upgrade from the E11 to the E12 very good, a few people miss the ability to set the flashlight to a certain brightness setting based on the head twist. Overall we also like the E12 for an EDC light. In our Fenix E12 test we found the light to be a little on the blue side but this could just be the sample that we got. It is not the smallest AA clicky light but it is on the smaller side. Fenix provides a nice balance between cost and performance and this light is no exception. For what this light is meant to be it fulfills almost all of the basic needs. If we were to make any suggestions to this light we would like to see some sort blinking mode so this flashlight that can tail stand could be used like a traffic flare or a signaling device. Another thing that Fenix just completely left off of this light that is usually standard for this size is a pocket clip. More than any other comment we found other users wishing there was a Fenix E12 clip.
Closing
Overall we like the Fenix E 12 and it has earned a spot on our best small flashlights article. As an EDC light this flashlight hits most of the needs that somebody would want aside from not having a pocket clip. This light offers pretty good performance at the price point. Other lights that we really like with a single AA battery are the Olight S15 and the Eagletac D25A which are both almost twice as expensive and the Nitecore MT1A that is a few bucks more. The Fenix E12 is a great budget light that is easy to like. If you are particularly looking for a Fenix light check out our Fenix Flashlight Buyers Guide.
If our Fenix E12 review helped you make a decision in any way please click through on any of the buy buttons to be sent over to Amazon. We are an Amazon Affiliate website and we get to keep this site running by getting a small commission from the flashlights purchased on Amazon through our site. This all happens at no extra expense to you. Thanks for reading.