(Last Update: February 2, 2021)
What Makes The Best EDC Flashlight?
The term EDC stands for Every Day Carry. When we are looking for the best EDC flashlight in 2022, we have multiple things to consider. A flashlight is a very useful tool. They can be useful to find things in a dark room or they can be a powerful tool in self-defense.
What is important to remember is that a flashlight that you do not have with you is a flashlight that is not useful at all. In order to have this flashlight with you at all times it needs to fit into your style and not slow you down. So our top picks are all internally rechargeable flashlights so if you have the cable and a USB connector you can charge it.
Size is very important, the smaller the light the easier it will be to keep with you at all times but the less useful it will be as a striking device in self-defense. The flashlight has to be durable, you want this flashlight to work when you need it.
Lastly, lumen output is something that you will want to consider. If you want the highest lumens check this article where we go over the most powerful flashlights by battery.
If it does not look like we have what you are looking for here then check out our top level guide that goes over all of our other best flashlight articles.
Get This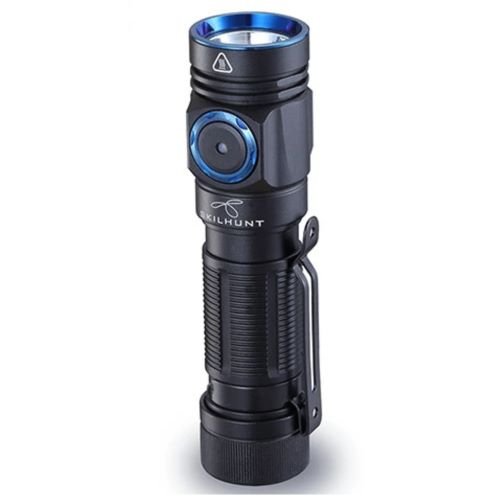 Skilhunt M150
Adaptable – Use 14500 rechargeable Li-ion or normal AA
Magnetic Internal Recharging
Great Light Color
Smaller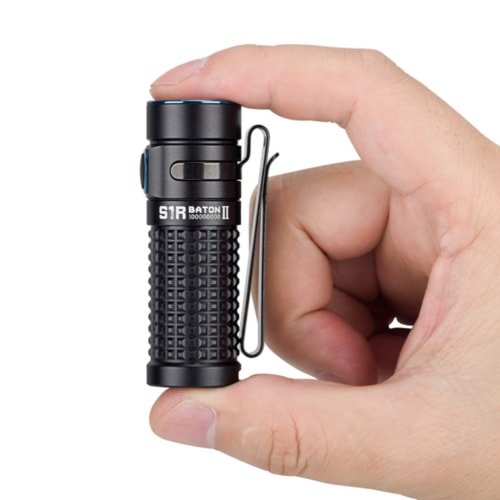 Olight S1R II
Very Small
Magnetic Internal Recharging
Crazy Bright For Size (1000 Lumens)
Bigger
Olight Baton Pro
Small For Power (2000 Lumens)
Magnetic Internal Recharging
Olight Craftsmanship
Short On Time? Here Is The Top EDC Bullet List
We give multiple buying options so you can decide what will fit you best but we recommend buying from one of the smaller specialty shops like Killzone Flashlights to keep small USA shops running.
Button Cell & AAA & AA
By Size
**Below are our more detailed reviews. Click the links above to see current prices or read customer reviews on Amazon.
Best EDC Flashlight in 2022
Best EDC Flashlight – Keychain Flashlight: Button Cell & AAA
Keychain flashlights come in two main forms, the first is the flat single led version that uses a watch type battery which is called a button cell. The second uses a single AAA battery and has a keychain loop on the end of the body. Due to power output of the watch batteries they do not get very bright but they have extreme portability and durability so they deserve to be mentioned.
Best Tiny EDC Flashlight: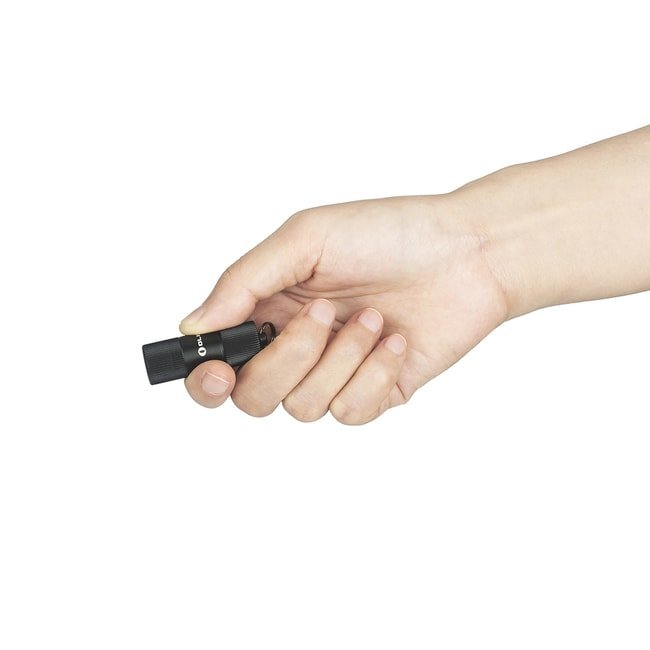 The Olight i1R 2 EOS is the upgraded version on the i1R EOS. One of the biggest improvements on this tiny flashlight is the new max output of 150 lumens. This powerful upgrade is due to new technology in the form of a 5-sided glowing Chip-Scale LED. The light offers dual modes, with the max being 150 lumens and the lowest setting being 5 lumens. Using a separate micro-USB cable fully charge the Li-ion battery without taking it apart in a matter of 75 minutes.
The compact size of the i1R 2 EOS creates the ideal keychain light for an everyday carry option. The light is about as slim as your pinky finger and weighs less than an ounce. Operating this small light is done by twisting the head. Twist slightly to operate the light at its lowest and twist a little more to reach maximum output. The balanced beam of light offers a max throw of 40 meters. The extremely durable light offers an IPX8 rating and has been drop tested at 1.5 meters.
Pros:
Rechargeable
Easy operation
Fast and easy charging
Cons:
Charging cable not included
Specs:
Weight: 0.46 oz. with battery
Dimensions: 1.73 inches long and 0.58-inch diameter
Lowest Setting: 5 lumens for 6 hours
Highest Setting: 150 lumens for 3 5 minutes
Olight Code:10%offCheck Amazon
Best Keychain EDC Flashlight:
RovyVon A5X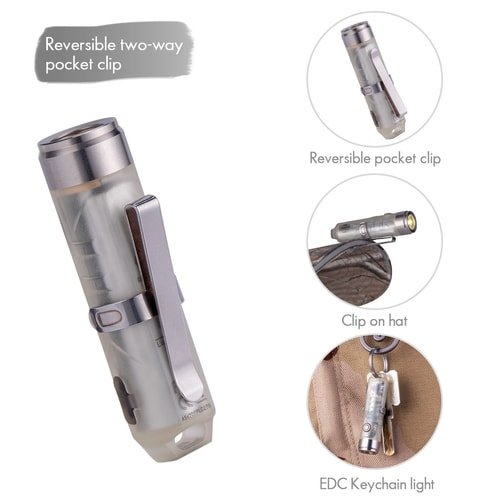 With the RovyVon, users will enjoy the upgraded design being offered. The light features a CREE XP-G3 LED with the ability to reach a maximum of 650 lumens. After about a minute and a half on its highest mode, the light automatically steps down to prevent overheating. The RoyVon A5X comes with 8 different settings, including 4 main brightness settings for general use and 4 side light settings for special operations, such as night vision and emergency signals. Memory mode ensures the light remembers the last mode used, as long as it was for longer than three minutes.
Users will enjoy the upgraded push-button operation and its small size. The light is slim and lightweight enough to hook to a keychain or slide in a pocket without being a burden. The USB rechargeable light comes equipped with a Li-polymer battery that takes up to 90 minutes to charge fully. The upgraded RovyVon A5X's battery lasts three times longer than previous models with a runtime of up to 66 hours on its lower settings.
Pros:
Rechargeable
Battery indicator light
Easy operation
Memory mode
Cons:
Must remove lens housing to recharge batteryGrows hot to touch
Specs:
Weight: 0.62 oz with battery
Dimensions: 2.14 inches long and 0.57-inch diameter
Lowest Setting: 3 lumens for 66 hours
Highest Setting: 650 lumens for 1.5 minutes
EDC Keychain Flashlight Runner-Up:
Nitecore TIP 2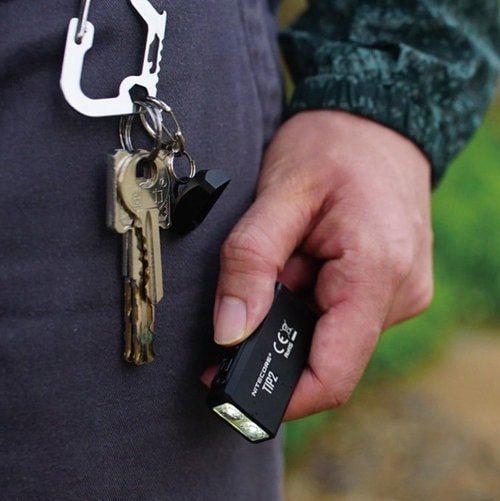 With the Nitecore TIP 2 users will enjoy twice the power as previous models as the light illuminates over 100 yards and reaches up to 720 lumens with its CREE XP-G3 S3 LED. The light's body is shorter than your average car key, so it's almost unnoticeable when hooked to key chains or other locations. To ensure full waterproof protection, always close the magnetic cover over the USB port.
The easy-to-operating key-chain-style flashlight uses a side power switch to turn the light off and on. The second switch on the body of the light is a mode light and allows users to select between four brightness levels. By default the light comes in Demo Mode, the Nitecore TIP 2 shuts off after 30 seconds to help conserve battery life and is great for EDC or quick use. Users must reconfigure this setting to Daily Mode to allow the light to stay on until it is turned off. Use the included charging cable to recharge the battery with any USB power source quickly. The battery lasts for up to 55 hours, depending on the setting used.
Pros:
Easy to operate
Charging indicator
Magnetic tail cap
Cons:
Specs:
Weight: 1.35 oz. with batteries
Dimensions: 2.46 inches long and 1.06-inch diameter
Lowest Setting: 1 lumen for 55 hours
Highest Setting: 720 lumens for 15 minutes
Check Going GearLonghorn TacticalCheck Amazon
Best AAA EDC Flashlight: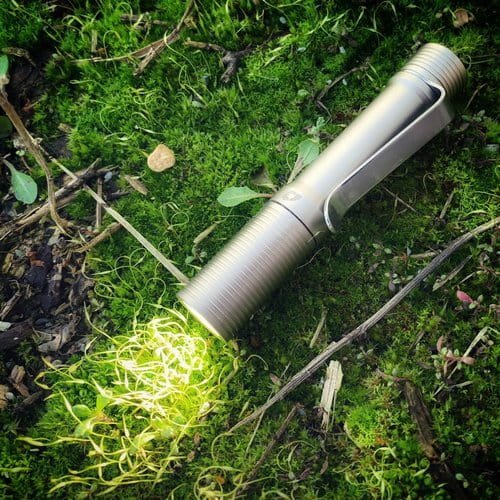 With the FourSevens Preon P1 Mk III, the EDC style of light users will experience the amazing quality of light at an affordable price. The clear natural light emitted from the Preon P1 Mk II allows you to see colors the same as you would on a bright, sunny day outside thanks to its 92+ CRI Nichia 219C emitter. The Preon P 1 Mk III offers 6 different user modes, plus a mode memory. Mode memory allows users to set a variety of different modes for everyday use, which they can then quickly access.
This flashlight uses either disposable lithium AA batteries or rechargeable NiMH AAA batteries. Do not use lithium-ion or alkaline batteries inside the light. The compact light is small enough to fit in your palm, powerful enough to provide up to 100 luminous light. Say goodbye to accidental activation, as the newly designed Preon utilizes a new rubber tail-cap. The redesigned pocket clip no longer has grooves to tear your pockets, and the tension on it is perfect for holding the light securely in place.
Pros:
Affordable
Configurable modes
Secure clip
Cons:
Pocket clip on the large size
Specs:
Weight: 0.62 oz. w/out battery
Dimensions: 3.4 inches long and 0.57-inch diameter
Lowest Setting: 1 lumen for 50 hours
Highest Setting: 100 lumens for 30 minutes
Top Budget AAA EDC Flashlight: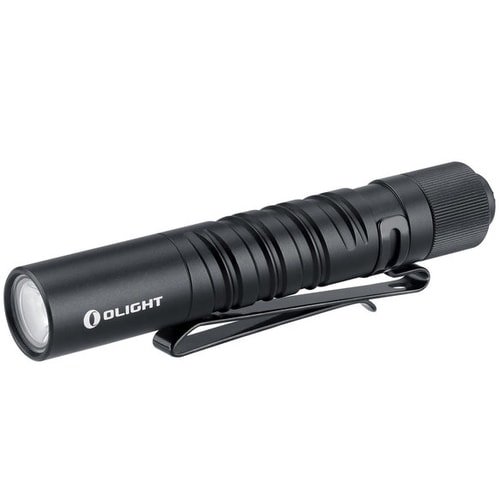 If you are looking for an affordable and easy to use keychain-sized light, look no further than the Olight i3T EOS. The compact size and slim design make it possible to add the light to any keychain, plus it's durable and reliable, so it will always work when you need it. This smaller light is perfect for up-close tasks as it produces a brighter beam with a wide hotspot thanks to its TIR optic lens. The double helix knurling located on the body of the Olight i3T EOS allows for better gripping and less chance of dropping.
Using a single AAA battery, the Olight i3T EOS produces a maximum of 180 lumens of light with a low of 5 lumens. The light only offers two brightness modes. The single tail cap switch controls everything the light has to offer, including the momentary-on feature. The single switch makes the light easy to operate even in the dark, no cycling through modes, and the light always starts in the lowest mode.
Pros:
Two direction pocket clip
Multiple brightness levels
Easy to operate
Cons:
Pocket clip breaks easily
Specs:
Weight: 1.45 oz w/out battery
Dimensions: 3.5 inches long by 0.59 inches wide
Lowest Setting: 5 lumens for 16 hours
Highest Setting: 180 lumens for 21minutes
Olight Code:10%offCheck Amazon
Best AA EDC Flashlight: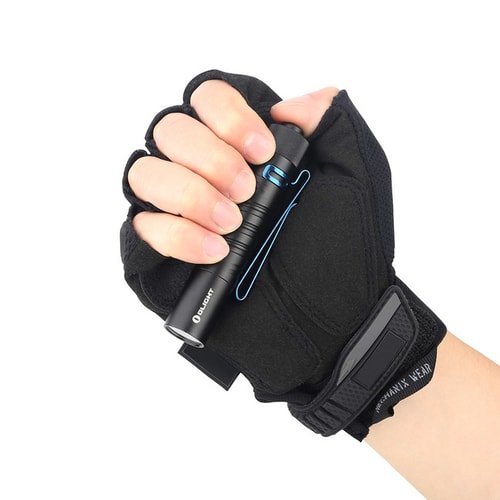 The Olight i5T is a compact, lightweight, and powerful light that produces a maximum of 300 lumens with a defined wide hotspot, making it the ideal choice for up-close illumination. The light utilizes a PMMA Optic lens and is controlled via a single tail cap switch. The high-performance cool white LED is powered by a single AA alkaline battery, you may also use an AA NiMH battery, but do not use a Li-ion battery as it will ruin the light.
With two different operating modes, the i5T EOS in mode one offers three brightness levels, while the second mode offers one brightness mode ideal for everyday use in and around the house. With an IPX8 rating, the light can be fully submerged in up to two meters of water without any permanent damage. The double helix knurling on the body offers an improved grip and a unique style and excellent ventilation.
Pros:
Tail switch
Two-way pocket clip
User-friendly interface
Versatile carrying options
Cons:
High mode doesn't last long enough
Specs:
Weight: 2.12 oz. with battery and pocket clip
Dimensions: 3.74 inches long and 0.70-inch diameter
Lowest Output: 15 lumens for 20 hours
Highest Output: 300 lumens for 3 minutes
Olight Code:10%offCheck Amazon
Top Budget AA EDC Flashlight: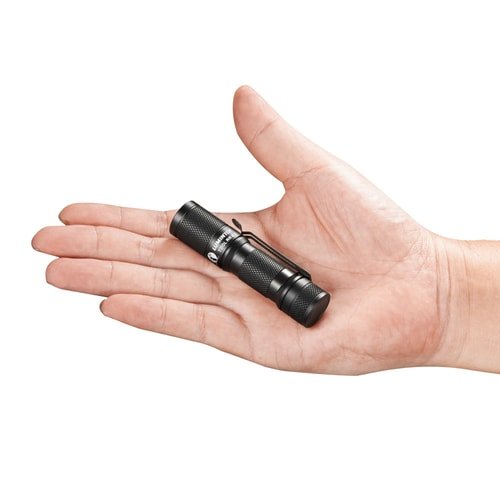 Users love how functional the Lumintop Tool 2 is, plus it offer4s a very friendly user interface. The light utilizes a CREE XPL-HD LED that is powered by a single AA 14500 battery. The Lumintop Tool 2 can emit up to a maximum of 650 lumens with the option of four brightness levels and a strobe mode. All of the modes and brightness levels are accessible through the clicky tail switch. The base of the light twists to turn the light on or off. With a true memory mode, the Lumintop Tool 2 turns on in the last mode used, no more cycling through modes each time you turn the light on.
With the Lumintop Tool 2, users enjoy its ability to run on regular alkaline AA batteries, in addition to the 14500. Using regular alkaline AA batteries, the light runs for up to 60 hours on its lowest setting. As a reliable and durable light, the Tool 2 has an IP68 Waterproof rating and is able to be submerged in two meters of water and can withstand up to 1.5-meter drops without any permanent damage. The light operates reliably under temperatures ranging from -4 to 131°F and provides a built-in smart IC system to prevent any damage from overheating, over-voltage, and over current.
Pros:
User friendly interface
Reversible pocket clip
Extremely compact 
Cons:
Specs:
Weight: 0.83 oz w/out battery
Dimensions: 3.52 inches long and 0.73-inch diameter
Lowest Output: 16 lumens for 37 hours
Highest Output: 650 lumens for 33 minutes
Check Neals GadgetsCheck BangGoodCheck Amazon
Best EDC Flashlight For Most Under 3″: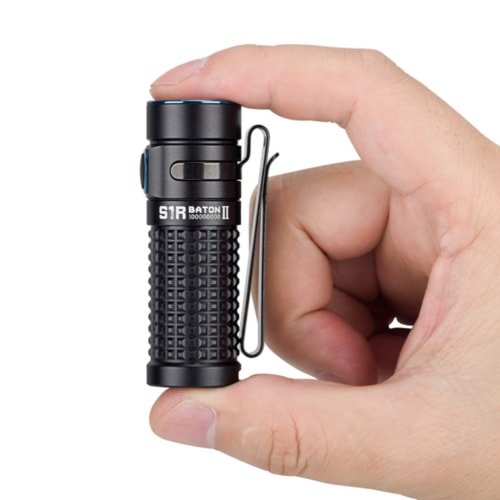 The Olight S1R II is a second-generation light as it's an upgraded version of the S1R Baton. The newly improved version offers an affordable price with numerous upgrades. The most talked-about upgrade is the lumen output, as the Olight S1R II can reach up to 1000 lumens for 1.5 minutes and then steps down to 300 lumens to prevent any overheating. The high-performance CW Led is paired with the TIR optic lens to offer amazing clarity with a well balanced hot spot.
Another improvement in this light is its ability to use a single IMR16340 rechargeable battery; it's the first in the Olight line to have this ability. The light is also compatible with CR123A and RCR123A batteries, but the built-in recharging feature only works when using the IMR16340—using anything but the IMR16340 battery limits lumen output to 60. The side switch allows users to switch between various brightness levels but also serves as a battery indicator light while the light is powered on.
Pros:
Rechargeable
Multiple battery options
Lockout mode
Cons:
Very limited time on turbo
Specs:
Weight: 1.8 oz with battery
Dimensions: 2.48 inches long and 0.83-inch diameter
Lowest Setting: 0.5 lumens for 8 days
Highest Setting: 1000 lumens for 1.5 minutes
Olight Code:10%offCheck Amazon
Brightest EDC Flashlight Under 3″: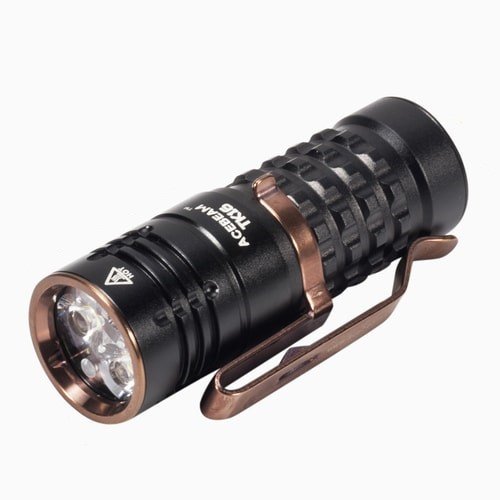 One of the most unique things about the Acebeam TK16 is that it meets everybody's different demands, as it offers three different LED options. In all three options, the LED is paired with TIR optics to project a longer throw with a broader beam. The three LED choices are Osram LED, CREE XPG3 LED, and the Luminus SST-20 LED. Interestingly, despite the small size of this EDC style, light users enjoy the outputs and modes offered by much larger flashlights. The body offers ergonomic, deep knurling for a secured grip with or without gloves.
The Acebeam TK16 comes with a customized Acebeam IMR1634NP-550A Li-Ion battery, but it is also compatible with a CR123A battery. Using the included customized battery provides better results and more options. With the CR123A, users only have the option of a single mode, while the customized battery provides access to both Power and Eco mode. Lumens output and runtimes are different based on the LED option chosen and the battery used.
Pros:
Two battery options
Lockout function
Low voltage indicator
Cons:
Specs:
Weight: 1.31 oz. w/out battery
Dimensions: 2.61 inches long and 0.91-inch diameter
Lowest Setting: 0.5 lumens for 6 days
Highest Setting: 1300 lumens for 45 minutes
Check Going GearCheck KillzoneCheck Amazon
Top Budget EDC Flashlight Under 3″:
The Wowtac W1 features an XP-G2 LED paired with an orange peel reflector to produce a beam with a maximum distance of 413 feet with a peak beam intensity of 4000 candelas. The light can emit a maximum of 562 lumens for one minute before it steps down to 275 lumens. Users will enjoy the six brightness modes available to choose from, including a strobe mode. The light is solidly built and works well in both indoor and outdoor settings.
This EDC style light is designed to use a rechargeable 16340 battery, which offers to recharge through its micro-USB port. The lightweight and compact design of the light allows it to be easily carried in pockets, backpacks, or purses without being weighed down. This mini-sized flashlight offers a magnetic tail cap or a two-direction clip to provide you with a hands-free option. With an IPX8 rating and impact resistance ability up 1.5 meters, the Wowtac W1 is durable and reliable.
Pros:
Charging indicator 
Rechargeable
Tail standing
Cons:
Specs:
Weight: 1.04 oz. w/out battery
Dimensions: 2.68 inches long and 0.96-inch diameter
Lowest Setting: 0.5 lumens for 29 days
Highest Setting: 562 lumens for 1 minute
Best EDC Flashlight For Most 3-4″: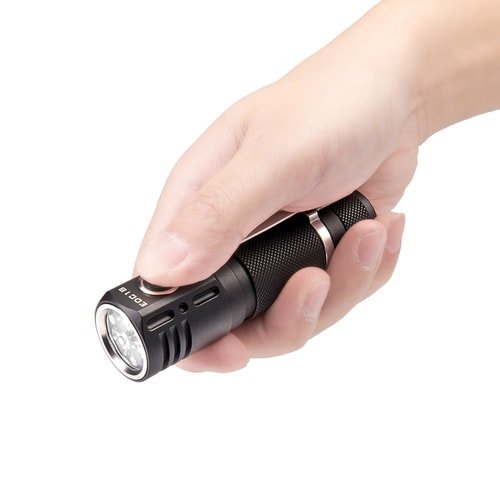 Don't let the size of this compact light fool you, as the Lumintop EDC18 can emit a maximum of 2800 lumens of light for a brief period. The Lumintop EDC18 uses 3 CREE XPL-HI LED in cold white paired with a triple TIR optical lens to provide users with a bright, smooth, and wide beam. The light also comes with a glow in the dark diffuser giving users the ability to soften the beam and make it easier to find the light in the dark.
Powered by a single unprotected, flat top 18650 battery, the Lumintop EDC18 offers adjustable output modes. User interfaces offered with the included firmware for this light step ramping, smooth ramping, muggle, momentary, turbo, and lockout modes. The side control switch is comfortable and easy to use, plus offers a back-up light that is constantly on as long as the battery is in and charged. Other features of the Lumintop EDC18 that users enjoy include a magnetic tail cap, a pocket clip. Battery check and other lighting modes such as party strobe, lightning storm, and bike flasher, among others.
Pros:
Durable
Ramping lumens
Magnetic tail cap
Cons:
Battery charger not included
Specs:
Weight: 2.7 oz. w/out battery
Dimensions: 3.69 inches long and 1.09-inch diameter
Maximum Output: 2800 Lumens
Check Neals GadgetsCheck Amazon
Overall Top EDC Flashlight 3-4″:
Zebralight SC64c LE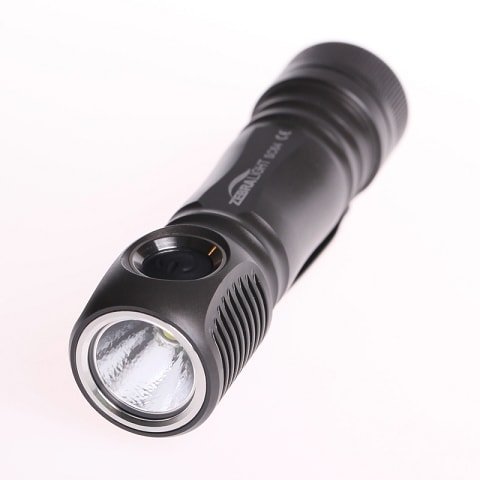 Users of the Zebralight SC64c LE, which is very similar to the Zebralight SC64, enjoy the Samsung LH351D LED that provides a high CRI (90+). The limited-edition light offers three main brightness levels, and each level can be further programmed into two different sub-levels. The light also offers a beacon and strobe mode. Based on the main brightness levels, the Zebralight SC64c LE emits a maximum of 828 lumens using a rechargeable 18650 battery.
The Zebralight SC64c LE uses a single unprotected 18650 battery; make sure it measures 65 to 65.2 mm long. The light comes with built-in battery protection to constantly monitor current, voltage, and temperatures. The battery indicator light allows the LED to flash a specified number of times to alert users to the battery power. The soft-touch electronic switch is paired with a smart user interface to provide quick and easy access to all brightness levels and modes. The Zebralight SC64c LE automatically steps down from high to medium and medium to low to help preserve battery life when the capacity is low.
Pros:
IPX8 rating
Thermal regulated outputs
Programmable brightness levels
Cons:
Specs:
Weight: 1.3 oz. w/out battery
Dimensions: 3.64 inches long and 0.96-inch diameter
Lowest Setting: 1.9 lumens for 18 days
Highest Setting: 828 lumens for 2 hours
Top Budget EDC Flashlight 3-4″:
The Wowtac A6 features a high performance LED that emits a maximum of 1460 lumens of light for up to 571 feet. Users can select from up to six different brightness modes, including strobe, turbo, and firefly. Turbo mode emits a burst of bright light and then steps down to a lower lumen output to prevent any overheating. The Wowtac A6 is equipped with memory mode, so the light turns on in the last mode used unless it was turbo, strobe, or firefly.
During charging of the 18650 powered light, the indicator light will glow red and once fully charged switches to blue. If the indicator light flashes purple, something is wrong with the charging. The compact and lightweight Wowtac A6 is waterproof up to 2 meters for 30 minutes and can withstand drops of to 1.5 meters. The unique knurling found on the body of the light helps prevent any accidental slips and allows for a comfortable grip.
Pros:
Memory mode
IPX8 rating
Charging indicator
Cons:
Specs:
Weight: 3.8 ounces w/out battery
Dimensions: 3.8 inches long and 1.0-inch diameter
Lowest Setting: 0.5 lumens for 104 days
Highest Setting: 1460 lumens for 2 minutes
Best EDC Flashlight Over 4″:
The portable and rechargeable Baton Pro is the newest version of the side-switch LED offered by Olight. Using a cool white high-performance LED, the Olight Baton Pro offers a maximum output of 2,000 lumens. The LED is paired with an 18 mm diameter TIR optic lens, which is about 28% larger than the previous generation of optic lens. The new and improved TIR optic offers better light quality with a balanced and soft beam. The LED and optic lens work together to provide a maximum throw of 144 yards.
A single 18650 lithium rechargeable battery powers this newly designed light. The side switch, which controls the light, also serves a battery indicator light and alerts you to how much power is left, so you know when to recharge. Recharging is done with Olight's magnetic USB charging system. The Olight Baton Pro provides users with five brightness levels to choose from. The highest brightness level will automatically step down after one minute to prevent overheating.
Pros:
Rechargeable
IPX8 rating
Stainless steel pocket clip
Cons:
Specs:
Weight: 3.77 oz. with battery and pocket clip
Dimensions: 4.25 inches long and 0.98-inch diameter
Lowest Setting: 5 lumens for 9 days
Highest Setting: 2000 lumens for 1 minute
Olight Code:10%offCheck Amazon
Top Budget EDC Flashlight Over 4″:
If you are after an extremely powerful light, you can use indoors or outdoors look no further than the Wurkkos FC11. This light uses a Samsung LH351D 5000K 90CRI emitter paired with an orange peel reflector to provide up to 1300 lumens of light for 157 yards. The light is controlled via a side switch and offers 6 adaptive modes, including turbo and strobe. With the Wurkkos FC11, users have two modes: Group 1 provides stepped modes while Group 2 offers a ramping mode.
A single rechargeable 18650 Li-ion battery powers the Wurkkos FC11. Recharging is done through the included USB-C through the hidden USB-C port. This new recharging design allows for faster and easier charging, as you don't need to take the light apart to charge the battery. The body of the light offers 200% the strength of other flashlights thanks to its casting process and airplane aluminum housing. The magnetic tail cap provides a hands-free option while the pocket clip allows for easy carrying.
Pros:
 Affordable
Rechargeable
Tail standing
Cons:
Specs:
Weight: 2.29 oz. w/out battery
Dimensions: 4.57 inches long and 1.06-inch diameter
Lowest Setting: 59 lumens for 45 hours
Highest Setting: 1300 lumens for 1.5 minutes
What You Want in the Best EDC Flashlight
Size of the EDC Flashlight
Size is probably the most important factor in a Everyday Carry flashlight. You need to first consider how you are going to carry the flashlight. Are you going to keep it in your pocket, on your belt, in a holster, or in a purse?
There are nice flashlights that fit on a keychain, flashlights that are the shape of pens, and there are larger lights that come with pocket clips.
The size of the flashlight is mostly dependent on what battery the flashlight uses. Some micro flashlights use watch type batteries but most flashlights use larger batteries like AA, AAA, CR123A or CR2 batteries. We have dedicated buyers guides for most battery types also here is the buyers guide for AAA flashlights.
There are benefits to each battery type, it is easy to find the standard size batteries in rechargeable options but the specialized batteries offer higher performance. As far as self-defense with a flashlight goes the amount of light is very important. If you can see everything in your environment and you can blind an attacker, you will have a have a great advantage over any attacker.
The second use of a flashlight in self-defense is as a striking tool – slightly larger flashlights will work better for this.
We will section off EDC flashlights based on length:
Micro EDC flashlights are under 2 inches
Mini EDC flashlights are under 3 inches
Small EDC flashlights are under 4 inches
Medium EDC flashlights are between 4 and 6 inches
You need to first decide what size will be the best EDC flashlight for you.
Durability of the EDC Flashlight
If you are carrying a flashlight with you everyday, it will have to survive a beating.
This is the reason you do not want a cheap flashlight.
You want a flashlight that can take a beating everyday and still work when you need it, a flashlight that you could count on in a survival situation. Materials are important along with things like being shock resistant, waterproof, and having a lens that is shatterproof and scratch resistant.
Material of EDC Flashlight
The most commonly used material for tactical flashlights is an anodized aluminum body, specifically Type III hard anodized. Other commonly used materials are titanium and stainless steel which are both more expensive than anodized aluminum.
All three of these materials are very strong and durable. Titanium has the best weight to strength ratio, being as strong as steel but 45% lighter and twice as strong as aerospace aluminum body while only being 60% heavier. Stainless steel is very strong but it is also the heaviest. Aluminum is a nice middle ground of weight, durability and cost.
Shock Resistance of EDC Flashlight
Part of the ANSI FL1 standards includes impact resistance. This measurement is the height in meters that the flashlight could be dropped from onto cured concrete and still work perfectly without any cracks or breaks.
Being shock resistant also focuses on the type of light emitter that is used. LED lights have taken over the flashlight market largely because they are cheap, have a longer lifespan, and are shock resistant. Incandescent bulbs were expensive, hard to replace, and not shock resistant.
Water Resistance of EDC Flashlight
Another one of the ANSI FL1 standards is being waterproof, this is the IPX rating. The three IPX Ratings that frequently show up on flashlight are IPX4, IPX7, and IPX8. IPX4 means that the flashlight is splash resistant.
IPX4 is probably fine if you are in an urban environment and this is just in your pocket, just don't forget it in the wash. IPX7 means that the flashlight can be submerged up to one meter for 30 minutes. Lastly IPX8 means that the flashlight can be submerged below one meter (manufacturer states) continuously.
Lumens of EDC Flashlight
The most important part about a flashlight is obviously the light that comes out of it. You want a light that will give you a tactical advantage in a self-defense situation and one that will be able to throw the light a far beam distance in a dark parking lot or alley.
A minimum of 60 Lumens of light output is recommended to be able to disorient an attacker but 120 Lumens is needed to temporarily blind someone.
Batteries For The Best EDC Flashlight
We have done lots of research to find the best batteries for your EDC flashlights. Not all batteries are created equal. Getting a high quality battery can dramatically increase your runtime and brightness. Below are the top batteries by type, all you need to do is decide if you want to use rechargeable batteries or primary (non-rechargeable) batteries.
AAA & AA
A real favorite among the flashlight crowd, both at candlepowerforum and budgetlightforum, is the Eneloop Ni-MH AA and Eneloop Ni-MH AAA rechargeable batteries. The eneloop batteries have a low self discharge, have an above average voltage under load, and can withstand battery neglect better than other brands.
If you are going to spend money on a good flashlight and batteries then you should also get a good charger to take care of those batteries. Our favorite for Ni-MH is the La Crosse BC-1000.
For primary batteries the best are the Energizer L91(AA) and L92(AAA) Lithium batteries. These are not Li-ion rechargeable batteries! The Energizer batteries have a longer run time and more output than standard alkaline batteries, the only downside is that they are more expensive.
CR123A
CR123A are tiny Lithium batteries. These batteries put out 3 Volts as opposed to the 1.2-1.7 volts of the standard sized batteries.
Flashlights that are specifically designed to handle Lithium batteries can run the LED bulb to much higher lumens. The key to CR123A batteries is to get the from a US manufacturer, all of the US manufacturers are producing batteries that are very similar in quality.
Our favorites are the Streamlight CR123A batteries since they are from a high quality flashlight manufacturer and they have a reputation to uphold i the flashlight community.
The Best EDC Flashlight Conclusion
I hope that you were able to find all of the information that you needed to choose the best EDC flashlight for you. EDC is really dependent on what you are willing to actually carry with you everyday. The best flashlight is the one that you have with you all of the time.
If you like any of the flashlights that you see in this article or in any of our other articles, please click one of the Buy Now buttons to make your purchase on Amazon.
As an Amazon affiliate we make a small commission off any purchase made from a click through from our website, which is how we are able to provide you with these amazing informative articles. Clicking through from our website will not cause you to pay more on Amazon, as the price is the same if you go to Amazon directly – the difference is the commission that we receive. 
Please take a look at our other Best Flashlight articles. If you are new to flashlights and are not sure about some of the lingo here please visit our flashlights 101 guide.