Why A Penlight?
The best penlight in 2022 could come in handy for many reasons. The people that need a penlight the most are probably doctors and nurses because they use them to check people's pupils during physicals. Some of the brightest penlights have very high lumens, so doctors and nurses will need to use low brightness to avoid blinding the patients.
Another reason to have a pen flashlight is that it can be great for self-defense and having a flashlight is always a good idea if you are walking around a night. Most of the manufacturers of quality penlights also manufacture tactical flashlights.
Short On Time? Here Is The Bullet List
**Below are our more detailed reviews. Click the links above to see current prices or read customer reviews on Amazon.
A tactical flashlight pen will not be as bright as many of the other flashlights on this site, but they have the added benefit of being easy to conceal since they are as small and look like pens or pencils.
Penlights are great options as EDC flashlights (everyday carry) since they will easily fit in shirt, pants, or even suit pockets. Most LED penlights use AAA batteries because of the thickness and they will not be able to have the same lumens or battery life (run time) as larger, more specialized batteries or even AA battery flashlights.
If you are looking for AAA batteries we like the rechargeable Eneloop AAA Ni-MH with the Opus BT C3100.
For non-rechargeable batteries, the Energizer L92 Lithium batteries are the best. If you do not want to deal with rechargeable batteries we recommend seeking out an internally rechargeable penlight, but there are not many.
Many pen sized flashlights are really durable and tough with an aircraft aluminum body, so they can be used as a weapon (kobutan) similar to a tactical pen – but with the added benefit of a blinding light.
What Do Nurses Use A Penlight For?
There are a few things that doctors and nurses check for when they shine a pen sized flashlight in your eye. The first thing that they check for is if the pupils react to the light. If they do not react to the light, it could mean that there has been some sort of brain injury.
The second thing they check for is to see if the pupils act as one, that is if both eyes react the same way even if the light is in only one eye. Your eyes should act as one, if not then the nurse needs to do more tests.
Lastly, nurses look at the color of the whites of the eye and the condition of the blood vessels. There are penlights here that can be used in the medical profession, but we have another article on the best medical penlight if you specifically want a light for the medical field.
The Best Penlight in 2022
Best Penlight with Pen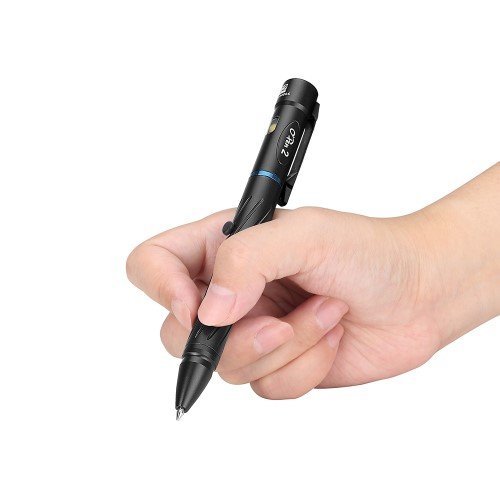 The Olight O'Pen was probably our favorite penlight of all time and we were really sad when they discontinued it.
What was so great about the O'Pen was that it was designed to look like a real pen. It did not have a real writing pen inside of it but it look really classy and still had a nice flashlight inside of it.
Recently Olight has come out with the O'Pen 2. The O'Pen 2 is a complete redesign and they decided to make it so it actually has a pen inside of it. It is designed to still look like a high quality pen with a slick L-type bolt action to push the pen out. For the light they decided to go with a small 120 max lumen light that runs off of a 3.7 Volt Lithium Polymer Battery that is built into the upper half of the pen.
Since the flashlight and the pen are essentially two separate pieces it allows you to unscrew the two and use the pen and the light separately. Matched with the fact that the O'Pen has 4 brightness modes you will be able to get 10 hours at 5 lumens which would be enough to read with and write with the pen.
Pros:
USB C fast charging
Pen and Light
Looks like a pen
Cons:
Specs:
Weight: 1.34 oz. with battery
Dimensions: 5.7 inches long and 0.5-inch diameter
Lowest Setting: 5 lumen for 10 hours
Highest Setting: 120 lumens for 20 min
Best Penlight for Professionals
Foursevens was recently purchased by Prometheus Lights, which is a well-known light manufacturer with remarkable attention to detail. The Preon is their Foursevens flagship EDC flashlight, with the P2 doubling the lumens of the P1. This penlight is built well, with quality professional-grade materials. This includes mil-spec components that are a must for aerospace or medical use. This EDC even includes a stainless steel pocket clip that holds tight to your pocket and won't fall apart.
Another great feature of this penlight is the six mode options. These include low, medium, high, strobe, SOS, and beacon. There is a mode memory that allows you to set specific modes for a wide variety of uses throughout the day. The high color-rendering LED light inside keeps everything you point at crystal clear rather than distorted.
The Preon P2 MK III is lightweight and compact, so you can carry it around with you all day long without sacrificing too much of your pocket space. You can also tuck it into a purse or stick one in your glove compartment, so you always have the right light when needed.
Pros:
Mode memory
Professional-grade construction
Sturdy pocket clip
Cons:
Specs:
Weight: 2.56 oz. without battery
Dimensions: 6.4 inches long and 0.7-inch diameter
Lowest Setting: 1 lumen for 90 hours
Highest Setting: 210 lumens for 1 hour
Check Amazon
Best Penlight for Professionals (Runner Up)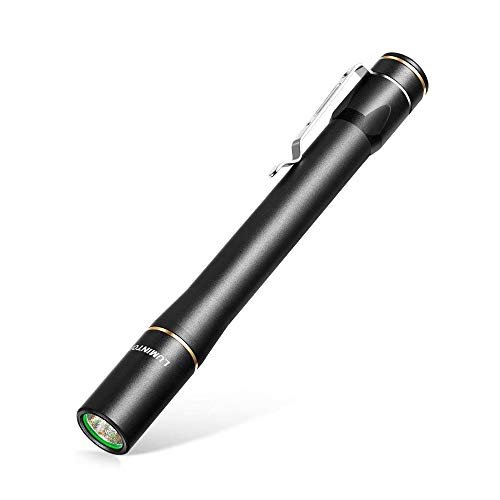 Available for an affordable price the Lumintop IYP365 is a great choice for those looking for an excellent penlight without spending a lot of money. The IYP365 uses a high CRI NICHIA 219CT to produce a light that produces as close to natural colors as possible in a variety of settings.
The Lumintop IYP365 offers a constant current circuit so the light produces the same level of brightness despite the battery power level.  Made from an aircraft-grade aluminum alloy and a hard-anodized HAIII military grade finish the lightweight penlight offers an IPX-8 rating along with 1.5-meter impact resistance.
The high CRI LED is paired with a precision aluminum alloy orange-peel reflector to provide a smooth and balanced beam. The Lumintop IYP365 offers a one-handed design with its single tail switch design. The tail switch powers the light on and off and allows users to quickly switch between 3 brightness levels. The Lumintop IYP365 can emit a maximum of 125 lumens on its highest setting and a low of 1.5 lumens.
Pros:
Three output modes
One-handed operation
Fully submersible for sterilization
Cons:
Clip makes it hard to take out
Specs:
Weight: 0.81 oz. without battery
Dimensions: 5.03 inches long and 0.57-inch diameter
Lowest Setting: 1.5 lumens  for 50 hours
Highest Setting: 125 lumens for 35 minutes
Check Amazon
Best Penlight for Tactical Use (or Mechanics) 
Acebeam PT10-GT
The Acebeam PT10-GT penlight is a durable tool, made of aluminum with Type II Military Spec anodizing to resist abrasions and keep it from falling apart in your pocket or hand while you use it. It also has an IPX68 rating for water resistance, plus it has an impact resistance of up to 2 meters, so it won't shatter if you happen to drop it. There is a pocket clip that holds tight to your pocket and can be removed whenever needed. This would probably also be our pick for the best penlight for mechanics.
This tactical pen light includes a Samsung LED light that gives you 1300 candela for its peak beam intensity. It also provides you with a beam distance of 72 meters and up to 400 lumens on its high setting. Making it one of the brightest penlights. If this is a bit too bright for you, there are also medium and low settings to choose from. All three of these modes can be reached with a few simple clicks of the tail button.
Included with the PT10-GT is a 10900 lithium-ion battery, which is rechargeable using the micro-USB charging port. You can also use a couple of AAA batteries if the Li-ion one is charging. This penlight is lightweight, compact, and simple to use for professionals or everyday needs. This would definitely be the top throwing light in this round-up.
Pros:
Simple configuration
High quality
Stylish look
Cons:
Must remove the battery to recharge
Specs:
Weight: 1.47 oz with batteries
Dimensions: 5.26 inches long by 0.55-inch diameter
Lowest Setting: 5 lumens for 28 hours
Highest Setting: 400 lumens for 30 minutes
Check Amazon
Best Penlight for Budget Minded
UltraTac A7P
Being on a budget doesn't mean you can't still get your hands on a decent flashlight, as the UltraTac A7P will prove. This little tool is extremely durable, with an aluminum body that holds up against all types of conditions. The anodized coating resists corrosion and abrasions, so it will look great for a long time, even if you're using it for work-related activities. An IPX8 waterproof rating allows for full submersion without damaging the penlight.
The polycarbonate lens is scratch-resistant for clear lighting at all times. There is a CREE XPG 2 LED light underneath the lens, providing you with a maximum of 200 lumens of output. You can choose either the low or high mode, using the simple tail button to choose the one you need. This little penlight is easy to use, with a one-hand operation.
The only flaw is that the pocket clip is a bit flimsy for rugged use, though it still works when attaching it to your pocket, shirt, or belt and is removable when you don't need it. This penlight is lightweight, compact, and uses 2 AAA batteries for up to 18 hours of light.
Pros:
Great low price
Waterproof
One-handed operation
Cons:
Specs:
Weight: 0.64 oz. without battery
Dimensions: 4.8 inches long and 0.7-inch diameter
Lowest Setting: N/A
Highest Setting: 200 lumens
Check Amazon
Best Penlight for Slim Fit
With the Coast A9R only measuring 0.37 inches in diameter it is one of the slimmest penlights in the industry. Despite its ultra-slim design, the Coast A9R penlight doesn't sacrifice beam quality. The LED and reflector used in the Coast A9R offer the perfect inspection beam. The beam provides a bright light with no dark spots that are capable of lighting up an area of 9 meters. The beam has the ability to reach up to 20 meters, but the further out you go the more you lose the edge-to-edge brightness. The light only offers one setting of 54 lumens.
Rather than relying on disposable batteries, the Coast A9R offers users the chance to have a rechargeable penlight. The A9R comes with a lithium polymer rechargeable battery that can be recharged using different power sources. Recharging the battery is done via the Pro-Flex charging cap that fits over the head of the light. The recharging can be done using USB, AC, or DC power. The stainless steel penlight offers a tough and durable design. The light offers an IPX-4 rating and can withstand 1-meter drops.
Pros:
Rechargeable
Slim design
Easy to use
Cons:
Neck point of light is weak
Specs:
Weight: 2.1 oz. with battery
Dimensions: 6.2 inches long and 0.37-inch diameter
Highest Output: 54 lumens for  3 hours
Check Amazon
Best Penlight for Unique Design:
Featuring a lithium-ion battery that is USB rechargeable the Streamlight Stylus Pro COB offers a sleek and compact design that can be used in a variety of settings. One of the great things about the Stylus Pro COB is the convenient pocket clip and top switch design. The top switch allows for quick and easy switching between the brightness modes. An aluminum alloy body offers a Type II Military Spec anodizing to improve the durability of the light and protect it from abrasions.
Many professionals enjoy the Streamlight Stylus Pro COB as it produces a bright light that is evenly diffused allowing it to be an ideal choice for up-close tasks. The light offers three different modes: high, low, and flash. High power mode emits 160 lumens for up to 23 meters, while low emits 40 lumens up to 11 meters. The push-button tail switch offers a charging indicator light, as well as a tail-end magnet for hands-free use. The Streamlight Stylus Pro COB has an IPX-4 rating and is impact-resistant tested up to 1 meter.
Pros:
Charge indicator light
Tail-end magnet
Rechargeable
Cons:
Specs:
Weight: 2.2 oz. with batteries
Dimensions: 6.64 inches long and 0.63-inch diameter
Lowest Setting: 40 lumens for 8.5 hours
Highest Setting: 160 lumens for 3 hours
Check Amazon
Best Penlight Final Thoughts
There are many different uses for penlights. If you are looking for an EDC light, use in a professional situation, maybe the best penlight for mechanics you know, LED pen flashlights are a very nice choice for everyday carry. As you can see there are flashlights that use batteries aside from the standard AAA but unless you are specifically trying to find something super slim, we recommend the AAA lights. We hope you were able to find a pocket-size flashlight to fit your needs.
If you like any of the flashlights that you see in this article or in any of our other articles, please click one of the Buy Now buttons to make your purchase on Amazon.
As an Amazon affiliate, we make a small commission off any purchase made from a click-through from our website, which is how we are able to provide you with these amazing informative articles. Clicking through from our website will not cause you to pay more on Amazon, as the price is the same if you go to Amazon directly – the difference is the commission that we receive. Please take a look at our other Best Flashlight articles. If you are new to flashlights and are not sure about some of the lingo here please visit our flashlight buyers guide.