Survival flashlights are just as the name suggests, they can be essential to your survival. In fact, they are an essential part of any survival kit. However, when putting together your bug out bag, you don't want to use just any old flashlight you have lying around the house. You want to include the best survival flashlight in 2022.
So, how do you know what the best prepper flashlight? When it comes to looking for the best emergency flashlight there are multiple things that you need to consider. Some of the top being durability and water resistance.
Short On Time? Here Is The Bullet List
Uses Non-Standard Batteries (RCR123A, 18650, etc…)
Uses Standard Batteries (AA, AAA, etc…)
**Below are our more detailed reviews. Click the links above to see current prices or read customer reviews on Amazon.
Accessories are one of the first things to consider because without them all you have is just a plain LED flashlight. As you start to look closer at all of the choices you have, you will start to notice the better ones come with more than just a bright light or a long lasting battery. For a long life flashlight you might want to look at what the lowest setting available is and make sure it is an led flashlight, incandescent bulbs might just burn out. An LED light source is just way better and efficient
Many survivor flashlights come with different colored lenses such as green, red, and blue. Each of these colored lenses are used for a different purpose. Diffusers, which create a soft ambient light from the extra bright light, are also something to look for.
Other accessories that you might want to keep your eye out for include weapon mounts, extra o-rings, holsters, a remote pressure switch, strike bezel for self defense, and among many others. Other things you need to consider are battery options and how many lighting modes the model offers. After all, if the flashlight you are looking at for your survival kit only offers one light mode, it isn't going to be one of the better survivor lights. You need your flashlight to be useful in more than one scenario when shtf.
Rechargeable or Primary Batteries?
One of the biggest debates you will run across when it comes to survivor lights is what batteries to use in them. Survivalists everywhere have strong opinions on whether or not rechargeable or primary batteries are better.
When it comes to primary batteries, most survivalists agree that you need to stay away from the alkaline batteries. Sure alkaline batteries are easy to find, you can pick some up in just about any store or gas station out there. However, these batteries also have a rather short shelf life, on average they last about five years before they start losing power.
Another problem with primary alkaline batteries is they have a tendency to leak. Most dedicated survivalists who rely upon primary batteries find the primary lithium batteries to be the best choice, as they offer more power and a longer shelf life. After all, lithium batteries have been proven to hold at least 90% of their charge for longer than five years.
Many survivalists feel that when it comes to batteries rechargeable batteries are the way to go. Rechargeable batteries pose fewer problems than primary batteries. With rechargeable batteries you have the choice between Li-Ion, and Ni-MH. Most survivalists prefer the Li-Ion batteries because of their longer shelf life.
While not quite as popular as Li-Ion batteries, more survivalists are starting to use Ni-MH. One of the advantages to Ni-MH is they are available in the same sizes and similar voltage as alkaline batteries, which means they can be used in the same flashlights as alkaline batteries. A big downside of rechargeable batteries is that they drain themselves pretty quickly.
Ways To Use A Survival Flashlight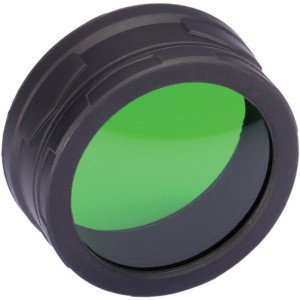 Honestly, a survival torch can be used for a variety of things. One of the most common things it is used for is providing light in an crisis situation.
Whether you have broke down on the side of the road or the power goes out inside your home, your survival light is the perfect way to provide the light that you need. With the right accessories, you can have your choice between bright light and soft ambient light.
Different colored filters can also be used for different types of light. Blue filters provide the best light for reading maps at night, red filters preventing the destruction of your night vision, and green filters are ideal for hunting at night. Different color lights can help with bushcraft.
Survival flashlights can also be used for self-defense in the form of a billy club. Even people who carry around other means of protection, such as a firearm or pepper spray, find survival lights to be useful as they can deliver a powerful blow to both humans and animals during the course of an attack.
Usually the best shtf flashlights come with strobe patterns built in that can be used for signaling purposes. Whether you are trying to flag down a search party during an emergency, another vehicle, or just members on your hiking party the strobe patterns do all the work for you. Before moving on to the top survival flashlight remember that the flashlight that you have on you is the best flashlight, so please check out our article on keychain flashlights that are super small and easy to carry.
How To Use This Guide:
When coming up with a best of guide for preppers and survival situations in regards to flashlights the main thing that kept coming up was the type of battery to use. After you decide if you want to work with primary (non-rechargeable) or rechargeable batteries you need to decide on the size battery you want to use.
We prefer rechargeable batteries and they are available in all kinds of sizes.
We broke this guide down by "Standard" and "Non Standard" sizes. Standard size batteries are the typical AA, AAA batteries that we all know we can pickup in any random store, if you want these to be rechargeable you will probably go with Ni-MH.
Non Standard size batteries are the sizes that are outside of the AA, AAA type batteries. These are usually Li-ion batteries and some examples are CR123A, RCR123A, 18650, etc. As you scroll through the list you will clearly see that "Standard" or "Non Standard" is in the headline. Thanks and enjoy.
Best Main Survival Flashlight in 2022
Main Light (Non Standard):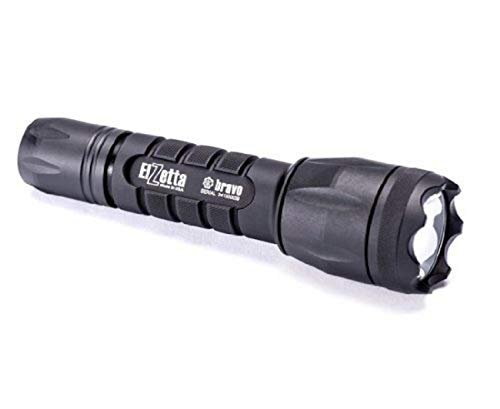 The Elzetta Bravo is not the brightest light on the market but is still one of the best lights available today. For us the Bravo is the best survival light because it is virtually indestructible. When it comes to the best survival light, you need something durable that you can always depend on. The Elzetta Bravo features a 7/8-inch thick optical lens and fully potted electronics. The sealed circuit boards and soldered joints lock every piece into place, so no fear of loose wires or connections.
Powered by two non-rechargeable CR123A batteries the Elzetta Bravo has the ability to emit 650 lumens for a little over an hour. The manufacturers opted for the non-rechargeable CR123A batteries as they are the best to use in crisis situations, as they are the most durable of all batteries. With the Elzetta Bravo, users have the higher lumen output compared to other Elzetta lights due to the Automatic Voltage Sensing Head. The head features multiple different lens options allowing you to change the beam patterns on the lights lowest setting. Twisting the tailcap allows for users to swap between beam patterns, pushing the tailcap button powers the light on or off.
Pros:
Easy to use
Virtually indestructible
Fully potted electronics
Cons:
Batteries can be hard to find
Specs:
Weight: 6.2 ounces without batteries
Dimensions: 5.6 inches long and 1.45 inch diameter
Lowest Setting: 15 lumens for 60 hours
Highest Setting: 650 lumens for 1 hour and 30 minutes
Check Amazon
Budget Main Light (Non Standard):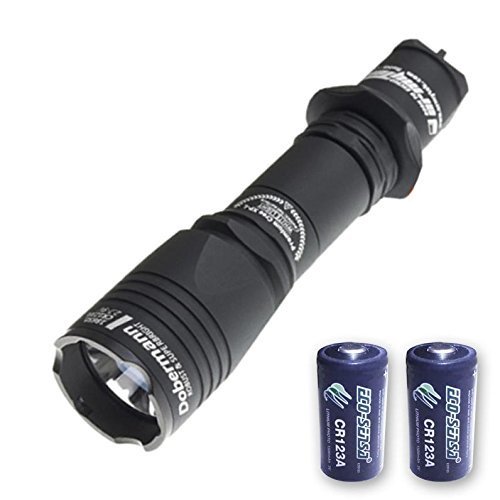 When looking at a light it is hard to find a budget option since the whole point is that your life depends on it. So, the budget lights in the section are not as budget as some other buyers' guides. This year we have decided on the Armytek Dobermann Pro V3 for our "budget" option. It is considerably less than the non-budget option but still is super durable and reliable. The Dobermann Pro V3 uses a Cree XHP35 emitter that put out up to 1400 lumens with a beam distance up to 395 meters. The light is rated at IP68 which is the highest IP rating available, the 6 means that it is dust tight up to 8 hours and the 8 means it is waterproof up to 3 meters for 30 seconds (Armytek rates theirs at 50 meters…). Adding to the durability these lights us double o-rings for water proofing and they compound the electronic driver in an aluminum capsule to make it shock resistant. The light has a tactical setting and a hunting setting each with different modes. There are 2 strobe modes, 2 firefly modes, 3 main modes (low, med, high), and 2 turbo modes.
The light has the ability to run off of a single 18650 Li-ion battery or for 2 battery options you can use 18350 Li-ion, RCR123/16340 Li-ion, or CR123A. A tad over five and a half inches long it is easy to carry with you. With the button being on the bottom you are not able to tail stand to get a lantern effect but if only low light is needed then the crenelated bezel will let light through when it is light down on a surface. Overall a great light that you can trust at a decent price. If you have access to these batteries then with the super low 0.15 lumen setting we would say this is one of the longest lasting flashlights.
Weight: 4.05 oz without batteries
Dimensions: 5.51 inches long and 1.33 inch diameter
Highest Setting: 1400 lumens for 1 hour
Lowest Setting: 0.15 lumens for 200 days
Check Amazon
Main Light (Standard Size): 
The Fenix FD45 utilizes a CREE XP-L HI Neutral White LED that is a touch on the warm side. The LED does an excellent job at showing proper outside and doesn't turn everything yellow even with it being a little on the warm side. Users will see a peak beam intensity of 27225 candelas with a peak beam distance of 1082 feet with the FD45. With the Fenix FD45 users have the ability to adjust the focus of the highly efficient TIR optical focus lens' beam with the rotary neck interface. This feature can take some getting used to, so don't be afraid to play around with it until you get it just right.
Made from durable aircraft grade anodized aluminum the Fenix FD45 uses a digitally regulated output to ensure constant brightness despite battery power levels. Powered by 4 x AA batteries the FD45 offers the choice of 5 brightness levels along with SOS and Strobe modes. Control of this light is done via a single side switch easy to use interface. The FD45 also features a lock out function to prevent the light from becoming accidentally activated. To prevent the light from obtaining a high surface temperature Fenix uses an intelligent overheat protection inside their lights.
Pros:
Easy to use interface
Multiple battery options
Lock out mode
Cons:
Specs:
Weight: 7.26 oz with battery
Dimensions: 4.79 inches long and 1.57 inch diameter
Lowest Setting: 5 lumens for 200 hours
Highest Setting: 900 lumens for 1 hour 30 minutes
Check Amazon
Budget Main Light (Standard Size): 
This version of the Thrunite TN4A uses a CREE XP-L V6 LED rather than the CREE XP-L HI LED. The difference between these two LEDs is the TN4A's ability to emit a maximum of 1150 lumens with the XP-L V6 compared to 1050 lumens with the XP-L HI. Powered by 4xAA batteries the Thrunite TN4A offers silent operation through an advanced electronic side switch. The switch powers the light and allows users to switch between the various operating modes. Thrunite claims the light has a maximum beam distance of 326 meters, but independent tests conducted on the light measure the maximum distance at 346 meters.
Users of the Thrunite TN4A have the choice of four main brightness settings, in addition to strobe and firefly modes. One of the most talked about features of the TN4A is its ability to provide instant access to firefly mode from the off position, as this ability helps to preserve night vision. Thrunite uses an intelligent temperature control setting to prevent the light from overheating, as the light will lower the current once the temperature reaches 176 degrees Fahrenheit. Users will be pleased to discover the Thrunite TN4A offers a battery indictor light that alerts you when the batteries need to be replaced, as well as a memory function that allows the light to be turned back on based on the last setting used with the exception of Turbo, Strobe, and Firefly. If you are going for standard batteries with the 0.5 lumen setting this is a really long lasting flashlight.
Pros:
Battery indicator
Memory function
Overheat protection
Cons:
Specs:
Weight: 7.71 oz. without batteries
Dimensions: 4.3 inches long and 1.79 inch diameter
Lowest Setting: 0.5 lumens for 80 days
Highest Setting: 1150 lumens for 56 minutes
Check Amazon
Best Backup/EDC Survival Flashlight
Backup/EDC (Non Standard): 
With the HDS Systems EDC Tactical users will have advanced rotary control that allows them to select anywhere from 0.2 to 250 lumens. The rotary control requires users to twist the knob of the flashlight to adjust the brightness of the light. Even with rotary control the HDS Systems EDC Tactical also offers click button control for various features, including momentary on and instant access to maximum brightness. The HDS Systems EDC Tactical flashlight features a XP-G2 LED with a pure white cool hotspot and offers several customizable modes.
Potted electronics and a sealed gold plated switch allow for maximum reliability even under extreme conditions. The light features an ultra clear glass lens with anti-reflective coatings that is virtually unbreakable. The HDS Systems EDC Tactical flashlights utilize constant power regulation to prevent unwanted fluctuations in brightness. Users have the choice between rechargeable and non-rechargeable lithium ion batteries with the added bonus of the rechargeable batteries being protected from sudden death and over-discharge. With thermal management the light body will never grow too hot to handle.
Pros:
Battery capacity indicator
Automatic Turn Off
Momentary on
Cons:
Specs:
Weight: 3.6 oz without battery
Dimensions: 3.7 inches long and 1 inch diameter
Lowest Setting: 0.2 lumens for a long period of time
Highest Setting: 250 lumens for 2 hours
Check Amazon
Budget Backup/EDC (Non Standard): 
If you are in the market for a backup EDC light that offers bright light with amazing performance, look no further than the Armytek Prime C1 Pro USB. The Armytek Prime C1 Pro uses a powerful CREE XP-L LED to emit a maximum of 970 lumens on Turbo for up to 180 yards. Armytek uses Active Temperature Control to monitor the internal temperature of the light to alert users of high temperatures through a high temperature indicator. Controlled via a side switch with a multicolor state indicator the Armytek Prime C1 Pro offers 8 brightness levels, plus 3 strobe modes.
Powered by a single rechargeable battery the light comes with a magnetic USB charging cable for easy charging from any USB power source. To recharge the light users will need to unscrew the tail cap a ¼ of a turn and connect the magnetic charger directly to the tail cap. While charging the charging cable will display red, once charged the light will turn green. Charging cable will also blink red to alert users of improper charging connection. The built-in indicator light alerts users to battery levels and temperature warnings.
Pros:
Rechargeable
Comfortable to hold
Built-in indicator light
Cons:
Hard to tell light body is 3 pieces
Specs:
Weight: 2.19 oz without battery
Dimensions: 4.8 inches long and 0.97 inch diameter
Lowest Setting: 0.4 lumens for 60 days
Highest Setting: 970 lumens for 30 minutes
Check Amazon
Backup/EDC (Standard Size): 
Featuring a CREE XP-L LED the Armytek Partner A1 offers a beam distance of up to 115 meters. Using an impact resistant glass lens with an anti-reflection and sapphire coating the TIR optics provides a smooth beam with no sharp edges. With the Armytek Partner A1 beam users will not experience tunnel vision even with continued use. Powered by either a single AA battery or a 14500 Li-ion battery the Armytek Partner A1 can emit a maximum of 500 lumens. The tactical switch that controls the entire light allows for easy and comfortable operation.
Armytek offers a solid and impact-resistant body for the Partner A1. This body ensures that the flashlight will continue working even after harsh impacts or falls from 10 meters or less. The Armytek Partner A1 offers the highest waterproof and dustproof rating there is. Even when submersed in 10 meters of water the light will continue to work without suffering permanent damage. This light is small and light enough that it can be carried in a pocket, on your belt, or even in a bag. The Armytek Partner A1 is also compatible with weapon mounts and original remote switches.
Pros:
Mountable
Multiple battery options
Amazing beam distance
Cons:
Lockout is done by loosening tail cap
Specs:
Weight: 2.08 oz without battery
Dimensions: 3.64 inches long and 0.96 inch diameter
Lowest Setting: 2 lumens for 8 days
Highest Setting: 500 lumens for 0.8 hours
Check Amazon
Budget Backup/EDC (Standard): 
Using a CREE XPL-HD LED the Lumintop Tool AA can emit a maximum of 650 lumens using a single 14500 battery. The Tool AA also supports regular alkaline AA batteries, which gives the Tool AA the ability to run for 60 hours on its lowest setting. The reliable and durable Lumintop Tool AA can be submersed up to 2 meters, can withstand temperatures between -4 to 131 degrees Fahrenheit, and impacts up to 1.5 meters without suffering permanent damage. Made from aircraft-grade aluminum with anti-slip exclusive knurling the light is easy to hold regardless of the outside conditions.
One of the greatest things about the Lumintop Tool AA is how functional it is. The user friendly interface provides access to four brightness levels and a strobe mode. These modes can be accessed via the tail clicky switch, while powering on or off the light is done by twisting the base of the light. The Lumintop Tool AA features a mode memory that allows you to instantly access the last mode you used, no more cycling through brightness levels to find the right one. A built-in smart IC provides the Lumintop Tool AA with overheat protection, over voltage protection, reverse polarity protection, and over-current protection.
Pros:
User friendly interface
Reversible pocket clip
Extremely compact
Cons:
Specs:
Weight: 0.83 oz without battery
Dimensions: 3.52 inches long and 0.73 inch diameter
Lowest Setting: 16 lumens for 37 hours
Highest Setting: 650 lumens for 33 minutes
Check Amazon
Best Survival Headlamp
Headlamp (Non Standard): 
Using a CREE XHP50 LED with TIR Optics the Armytek Wizard Pro v3 XHP50 is the rechargeable version of the Wizard Pro V3. This light comes with a magnetic charging base, along with a USB charging cable and a single 3200mAh 18650 battery. To recharge the light simply attach the cable to the light and plug the cable into the USB port. One of the great features with this versatile headlamp light is the light offers a solid body without the cumbersome issue of long wires and weak connectors. A removable magnet in the tail cap, along with a removable clip and a lanyard make it possible for this light to a true multipurpose light.
The light itself is compact and lightweight, so when worn as a headlamp, users won't be bothered by a heavy feeling light. The headband is comfortable and stays in place quite well, no issues with slipping even when running. The light offers 8 brightness levels, along with a strobe mode. The Armytek Wizard Pro V3 XHP50 is controlled through a single side switch, which offers easy mode switching and one-handed operation. The body is made from aircraft grade aluminum and can withstand impacts and falls from up to 10 meters and is able to work in depths of 10 meters without suffering any permanent damage.
Pros:
Versatile light
One-handed operation
Rechargeable
Cons:
Specs:
Weight: 2.08 oz without battery
Dimensions: 4.25 inches long and 0.96 inch diameter
Lowest Setting: 0.25 lumens for 200 days
Highest Setting: 2150 lumens for 1 hour
Check Amazon
Budget Headlamp (Non Standard): 
The Skillhunt H03C RC Headlamp offers four different color LEDS in a single light. The main light is a neutral white light using a CREE XM-L2 color LED. The dominant wavelength for the red light is 620-630nm, blue is 450-460nm, and green is 520-530nm. The light can be worn on a comfortable headband to be used as a headlamp, but comes with a removable quick release clip to offer other carrying options. A strong magnet is located in the flat tail cap to allow the light to tail stand. The magnet can also be removed when tail stand is not needed.
The Skillhunt H03C RC can be powered by a single 18650 rechargeable battery or two CR123A or RCR123A batteries. In either case, for best performance you want to invest in high performance batteries. A low voltage indicator is located in the side switch and alerts users to low battery voltage. A location indicator light will allow users to easily find the light in the dark even with the light powered off. The Skillhunt H03C offers new intelligent temperature control technology making the light safer and more stable to use. With one-handed operation via a single side switch the light offers users the choice of various brightness modes and several special operation modes.
Pros:
Versatile light
Rechargeable
Indestructible aluminum body
Cons:
Specs:
Weight: 1.66 oz with battery
Dimensions: 4 inches long and 0.93 inch diameter
Lowest Setting: 7 lumens for 240 hours
Highest Setting: 220 lumens for 4 hours
Check Amazon
Headlamp (Standard Size): 
The Zebralight H53W pairs an orange peel reflector with a CREE XP-L2 EasyWhite LED for a bright and steady beam. With the H53W users will see a beam with a 12 degree hot spot and an 80 degree spill. With the Zebralight H53W users will discover a 3-step tint deviation. The light has the ability to emit a maximum of 330 lumens with a CRI of 80. A battery indicator light, which is started with 4 short clicks, alerts users to current battery power levels through a specified number of flashes.
Powered by a single AA NiMH, alkaline, or lithium battery the Zebralight H53W offers three brightness levels, in addition to a strobe and beacon mode. All three of the main brightness levels can be further programmed into two separate sub-levels. These secondary levels also have the ability to be further programmed allowing users to have customizable brightness levels. To help preserve battery life, the Zebralight H53W will automatically step down from higher power levels to lower levels. The smart user interface uses a durable electronic soft-touch switch to provide users with full control of the light.
Pros:
Extremely compact
Detachable
IPX-8 rating
Cons:
Specs:
Weight: 2.8 oz with battery and headband
Dimensions: 2.9 inches long and 0.86 inch diameter
Lowest Setting: 1.2/1 lumens for 13 days
Highest Setting: 330/276 lumens for 50 minutes
Check Amazon
Budget Headlamp (Standard Size): 
Using a CREE XP-L V6 LED along with an orange peel reflector the Thrunite TH20 provides a very balanced beam. The balanced beam is ideal for use outdoors, but users also have the ability to change the beam to a flood style for indoor tasks. The neutral white version of the Thrunite TH20 is the preferred choice, as it allows for real colors to show through. The Thrunite TH20 is made from an aircraft grade aluminum which adds to the durability of the light, but also helps with heat dissipation. The heat is more evenly distributed allowing for users to use the highest setting for a longer period of time without the light growing too hot to the touch.
When it comes to powering the Thrunite TH20 users have the option of using a single 14500 Li-Ion battery or an AA alkaline battery. Overall lumen output and runtimes will vary based battery choice. AA alkaline batteries are strongly recommended as they perform better than rechargeable in extreme conditions, plus the offer longer runtimes. The lightweight and waterproof Thrunite TH20 offers an adjustable brightness system allowing users to pick their exact brightness level based on the task at hand, plus the light offers a built-in SOS mode. As a headlamp the TH20 is comfortable to wear as it offers a soft rubber band that can be worn directly on your head or around other caps and helmets.
Pros:
"Infinity" brightness levels
Mode memorization
Lightweight
Cons:
No tail-cap lockout
No low battery indicator
Specs:
Dimensions: 2.75 inches long with a 0.96 inch diameter
Weight: 2.68 oz without batteries
Lowest Setting: 0.3 lumens for 14 days
Highest Setting: 250 lumens for 93 minutes
Check Amazon
Best Multiple Carry Survival Flashlight
If you have ever visited our page before, chances are you have seen numerous reviews on the LRI Photon Freedom. We have included this light in several different categories, including Best Keychain Flashlights because this light really is one of the best. This compact is one of our favorite lights and we think you will enjoy it too. We find this light to be one of the most useful lights, so trust us when we say you should have more than one of these on hand. The more LRI Photon Freedoms you have the better because then you can have one in every place that you could ever need a light.
Coming in at just 1.5 inches long this light might be one of the smallest in the EDC market but don't let its small size fool you. The light provides users with a steady 4.5 lumens for over a 12 hour period on just one tiny battery. The LRI Photon Freedom offers four different modes to choose from as well as a Morse Code mode, making it one of the most versatile keychain lights on the market. Even though it is small, it is one of the most durable lights around because it features an IPX-7 rating, a glass-filled polyurethane rating, and an unbreakable LED, which makes it virtually indestructible. With the quick release key ring that comes standard with the light, you can use the LRI Photon Freedom to replace any zipper pulls on bags or jackets. You can also clip it to your cap, computer, clothing, and more with its Hands-Free clip accessory.
Weight: 1.6 ounces
Dimensions: 1.5 inches long and one inch diameter
Highest Setting: 4.5 lumens for over 12 hours
Lowest Setting: Completely variable to zero
Check Amazon
Survival/Bug Out Kit
Once you have purchased your light the next, thing you need to think about is how you are going to power your light. Having one with you is the first step to being prepared, but what happens when those batteries die? Some survivalist carry around a bunch of extra batteries, but what happens if you forget batteries or are stuck out in the wilderness for longer than you had originally anticipated? Basically anything can go wrong and you should always expect the unexpected, which is where the survival/bug out kit comes into play.
In this kit you will want to carry some extra batteries for your light, but you will also want to include three other useful tools that allow you to charge your battery while on the go. The first item on your list is a solar charger. As you might have guessed the solar charger gets its charge from direct sunlight, so you can hang it on your backpack to charge it as you hike.  The other two items are a USB battery and a battery charger.
These three items are going to work together to help ensure your flashlight is always ready when you need it. In theory your solar charger will hang on your backpack to charge as you go about your day, so it is fully charged whenever you need it. Your USB battery, also referred to as a power bank, should be fully charged before you head out, so you can plug your battery charger into the power bank when your batteries need charging.
Once your power bank's charge has been depleted, plug it into the solar charger to recharge. This will make sure your power bank is ready the next time you need it. While this is how it should work in theory, you can also use the solar charger to charge the battery charger along with many other things.
If you are looking for a solar panel that is lightweight, yet powerful, the Enerplex Kickr IV Solar Panel is the ideal choice for you. The panel is made from a patented solar-on-plastics thin film, which makes it extremely lightweight – it only weighs 0.6 pounds. With how lightweight the panel is, you will never even notice it hanging from your pack. Although extremely lightweight, the panel is amazingly powerful. It is 6 watts of true output.
What that means for you is that it will charge a variety of electronic devices as fast as any wall outlet. With it being lightweight, many of you might worry about how durable it is especially because you will be using it outdoors. The Enerplex Kickr IV is extremely rugged. It was designed to withstand extreme conditions, including water, punctures, drops, and even shocks.
Check Amazon
If you are going to be relying on a portable charger while exploring the outdoors you don't want just any old charger. You need a portable charger that will withstand the most rugged conditions and one that will work when you need it to. Enter the Anker Astro 13000mAh Portable Charger. When packing a bug out kit, you want something that is not going to take up a lot of room. The Anker Astro offers a slim design and it packs a lot of power. With up to 13000 mAh of power, you have plenty of power at your fingertips.
Anker Astro uses PowerIQ technology to ensure your device charges as quickly as possible regardless of the device. How this works is the PowerIQ technology allows each port to identify your specific device, and it allows the charging port to speak to the devices charging to improve charging time. The Anker Astro is also one of the more user friendly ones on the market. It relies on a single button to operate. The best part is the button is located perfectly for your thumb to control while it is resting in your hand. This one button allows you to turn the device on or off as well as check the power level and operate the flashlight.
Check Amazon
Battery Charger Ni-MH and Li-ion: 
In order to charge your batteries in the outdoors, you are going to need a reliable battery charger to plug into the portable charger. The Xtar VC2 Plus is currently our favorite option because it offers you reliability at a reasonable price. One of the best features is its ability to revive damaged batteries to help save you money due to its XTAR OV Activation Function. The charger is also compatible with any 5V USB power, so it works perfectly with the USB charger we just featured. The Xtar VC2 will stop charging once the charge has completed plus it has a restart charging function that keeps the batteries safe inside the charger if they are left in overnight. The VC2 is one of the smartest chargers on the market as it offers a countdown timer for each bay, so you will always know how long you have until your batteries are ready. Even better is that both bays will work at the same time even if you are charging one Li-ion and one Ni-MH battery.
Final Thoughts On The Best Survival Flashlight
The best survival flashlight is so much more than a long lasting flashlight, it is can be a lifesaving device. Bug out bag lights can be used to provide bright or ambient light with the right filters and diffusers in an emergency, but they can also be used for self-defense. The heaviest ones make the best billy clubs.
There are even flashlights that can be used to start fires. But, with all of the choices out there how do you find the best emergency flashlight for you. What one you end up with will really depend on what you plan to use it for but durability and water resistance are key. Are you looking for a bug out flashlight or are you looking for something that can also be used as an everyday carry flashlight?
When looking for the best prepper flashlight you need to take into consideration what lighting modes the flashlight offers, as well as what accessories come with the light and what ones can be purchased separately.
No matter what you end up with, we want to thank you for taking the time to read this article you may want to read through our other "Best Of" flashlight articles. If you have any questions about the vocabulary used in this article, please refer to our flashlights 101 guide. For comparison purposes, please use our Flashlight Comparison Guide, where you can sort through the flashlights based on specific specifications.
If you liked what you read, please follow one of our links to Amazon to purchase one of the best survival flashlights. This site is part of the Amazon affiliate program and we receive a small commission from Amazon with no extra cost to you for purchases made through one of our links. Thank you for reading.