(Last Update: February 5, 2021)
Rechargeable flashlights are becoming more and more popular. The best rechargeable flashlight in 2022 will have a dedicated battery that is optimized for that flashlight, driver, and LED. Some of the top flashlights are rechargeable flashlights, period. The most powerful and brightest lights have dedicated batteries that were designed specifically for those lights. Custom batteries allow the flashlights to be smaller and have higher light output.
Short On Time? Here Is The Bullet List:
We give multiple buying options so you can decide what will fit you best but we recommend buying from one of the smaller specialty shops like Killzone Lights or Neals Gadgets. These are smaller shops with great lights. Killzone offers zero-interest payments and Neals Gadgets has some great discounts.
Get This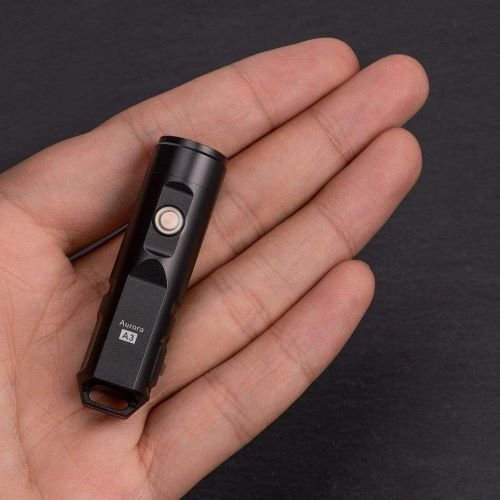 Rovyvon A3x
Tiny 450-650 Lumens
Rechargeable
Great Light Color
Smallest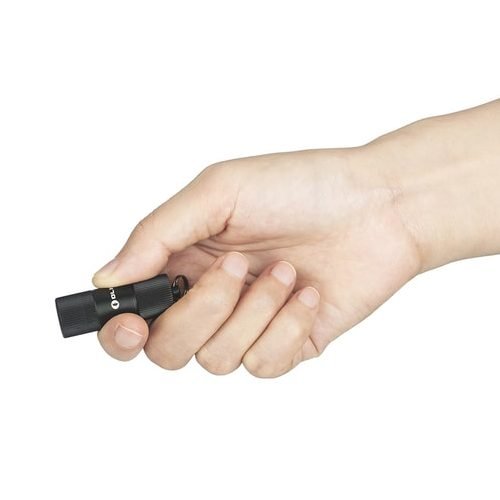 Olight I1R 2 EOS
Very Small
Rechargeable
150 Lumens
More Powerful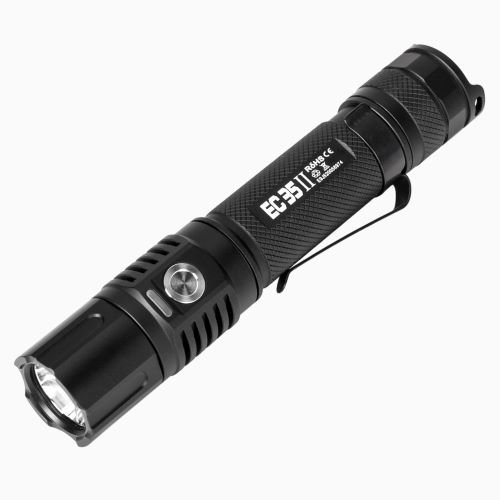 Acebeam EC35 II
1100 Lumens
Rechargeable
Can Be Powerbank
Small Pocket or Keychain Size Lights
Bigger Batteries & More Power
Headlamps
**Below are our more detailed reviews. Click the links above to see current prices or read customer reviews on Amazon.
There are "rechargeable" flashlights on the market that are really just flashlights with rechargeable Li-Ion batteries like 10400, 14500, 16340, and 18650, but they require the batteries to be removed and charged with an external charger. Another option are flashlights that you can put Ni-mh batteries in, but you can not use alkaline batteries.
In this article, we will only cover flashlights that are internally rechargeable or ones that have the ability to charge without removing batteries much like a cell phone. These types of lights add so much convenience to having a light with you. Luckily nowadays you can get internally rechargeable flashlights in most styles and types, from EDC lights to tactical you are covered.
The biggest achilies heal of internally rechargeable flashlights is the charging connection and how they have setup the protection against water.
Most rechargeable flashlights do not have custom battery types. They use Lithium-Ion batteries like those listed above, and they have built-in chargers. Rechargeable flashlights can be slightly more expensive than other flashlight types, but you do not have to purchase a separate charger for your batteries.
Some cheaper rechargeable flashlights do not have internal smart chargers, so they can overcharge the batteries, which can destroy them. Some lights plug into the wall, some have cell phone chargers and use USB, and some have special charging stations.
Most modern rechargeable flashlights use LED (Light Emitting Diode) technology instead of older types of bulbs. LEDs take only a fraction of the amount of power, are lighter, have much longer run times, and are shock resistant. They also allow you to get lights with different color beams depending on what you are trying to do.
Rechargeable flashlight LEDs allow almost every aspect of the rechargeable light to be better.
Types of Batteries: Removable and Non-removeable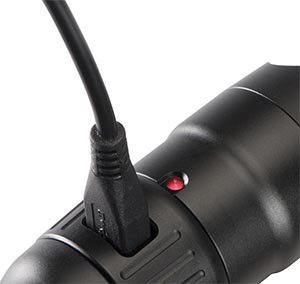 Before we get to the rechargeable flashlight reviews, we have to cover batteries. The only flashlights that we are covering here are rechargeable LED flashlights with internal chargers. Within the group of internally charging lights, you can get flashlights that have removable batteries or flashlights with built-in batteries that can not be removed.
For smaller flashlights, we think the best LED rechargeable flashlights give the option to remove the batteries, so we can charge them externally if we want and we can have multiple sets as backups.
Removable Batteries:
Replacement batteries are cheaper
Multiple sets means less waiting to recharge
Non-removable Batteries:
A battery designed specifically for that flashlight
Less moving parts
Can reduce size
Best Rechargeable Flashlights in 2022
Best Very Small Rechargeable Flashlight: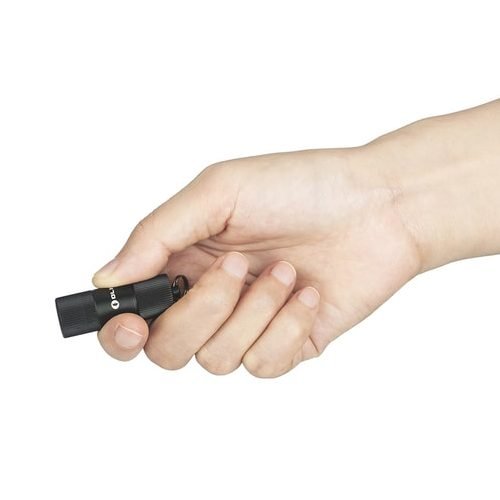 An upgraded version of the Olight i1R 2 EOS, this small light offers several improvements with the same reliable offered by other Olight lights. The most talked-about improvement is the light's ability to produce a maximum of 150 lumens thanks to the new Chip-Scale LED. A dual-mode pocket-sized light, the Olight i1R 2 EOS, offers two brightness levels with the lowest lumens being 5 lumens. Recharge the included Li-ion battery in just 75 minutes with no need to take the light apart.
The compact design of the Olight, which is slimmer than most pinky fingers, allows for the light to be carried without much notice. To operate, the light simply twist the head. A slight twist starts the Olight i1R 2 EOS in its lowest mode, while a bit further of a twist gives users maximum output. The i1R 2 EOS offers impact protection up to 1.5 meters and an IPX-8 rating for water resistance making it one of the more durable lights of its size.
Pros:
Rechargeable
Easy operation
Fast and easy charging
Cons:
Charging cable not included
Specs:
Weight: 0.46 oz. with battery
Dimensions: 1.73 inches long and 0.58-inch diameter
Lowest Setting: 5 lumens for 6 hours
Highest Setting: 150 lumens for 3 5 minutes
Olight Code:10%offCheck Amazon
Best Small Rechargeable Flashlight: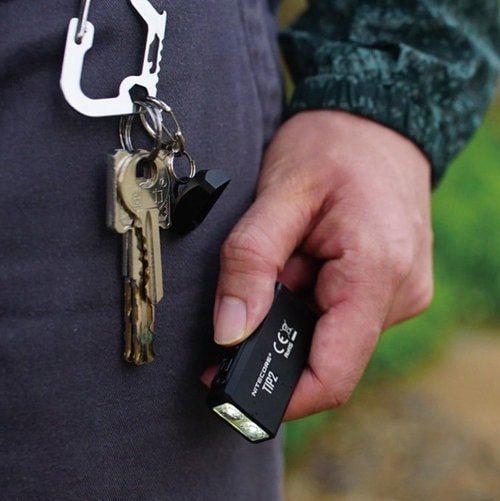 One of the greatest things with the Nitecore TIP 2 is the improvements Nitecore has made to it. Using a CREE XP-G3 S3 LED, the new and improved Nitecore TIP 2 is more powerful than previous models with its ability to emit 720 lumens with a maximum throw of 100 yards. This small, but powerful light is shorter than your average car key, so often goes unnoticed in pockets or purses. To maintain its IPX8 rating, the USB port is sealed with a magnetic port cover. Just be sure to close the cover after you are done recharging.
Powered by a single 18650 lithium ion battery the Olight S2R Baton II offers a faster chThe Nitecore TIP 2 utilizes an easy to use and find side switch to power the light and a separate side switch to select between the four brightness levels offered. When shipped, the light is set to a Default Mode, which turns the unit off after only 30 seconds. This conserves battery life but can be frustrating. Reprogram the light to Daily Mode upon first use to ensure it stays on as needed. The rechargeable battery lasts about 55 hours per charge, depending on the brightness level used.
Pros:
Easy to operate
Charging indicator
Magnetic tail cap
Cons:
Specs:
Weight: 1.35 oz. with batteries
Dimensions: 2.46 inches long and 1.06-inch diameter
Lowest Setting: 1 lumen for 55 hours
Highest Setting: 720 lumens for 15 minutes
Neals Gadgets 25% off "BTFNITECORE"Optics PlanetCheck Amazon
Best Rechargeable Keychain Flashlight: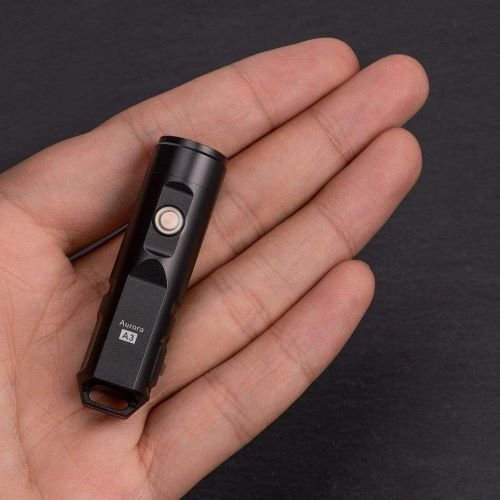 The RovyVon A3X is the new and improved version of lights being offered by RovyVon. One of the best improvements to the light's design is the push-button operation and its smaller size. The lightweight and slim design make the RovyVon A3X ideal for hooking onto a keychain where it's easy to carry entirely unnoticed.
Another upgrade is to the rechargeable Li-polymer battery that now lasts up to three times longer than other batteries used in RovyVon lights. On the lowest setting, the new battery lasts for 32 hours and only takes 90 minutes to recharge.
Using a Nichia 219C LED, a RovyVon A3X can emit a maximum of 450 lumens. This powerful burst of light only lasts about 90 seconds before the light steps down the brightness to prevent overheating. Users will enjoy the five settings offered by the RovyVon A3X, including four regular brightness levels and strobe. Memory mode allows the light to turn back on in the last regular setting used, as long as that setting was used for longer than three minutes. 
Pros:
Easy operation
Rechargeable
Battery indicator light
Memory mode
Cons:
Specs:
Weight: 0.69 oz with battery
Dimensions: 2.26 inches long and 0.61-inch diameter
Lowest Setting: 2 lumens for 32 hours
Highest Setting: 450 lumens for 1.5 min then 60 min at 100 lumens
Best Rechargeable Pocket/RCR123A/EDC Flashlight: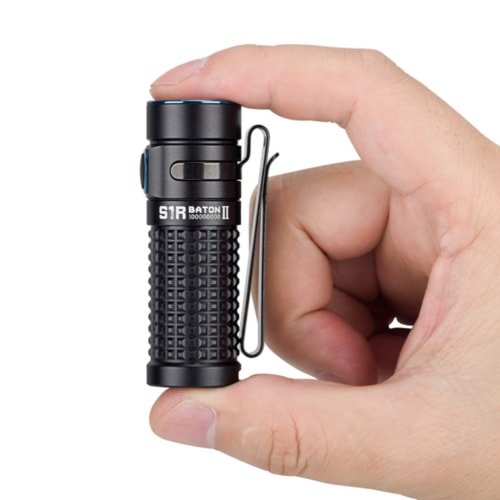 The Olight S1R II is the first rechargeable flashlight in Olight's new line powered by a single IMR16340 battery. The Olight SR1 II features a powerful CREE XM-L2 CW LED paired with a TIR reflector to provide a wide, yet defined beam that is ideal for close illumination. Although the light uses a single IMR16340 battery, it also accepts CR123A and RCR123A batteries. The built-in recharging system is only compatible with the original IMR16340 battery. Battery choice will affect lumen output.
Utilizing a side switch, the Olight S1R II offers users five different brightness levels to choose from, in addition to a strobe mode. Don't let the small size of this flashlight fool you, as it can emit up to 1,000 lumens for 90 seconds before it steps down to the next level of 300 lumens. The Olight S1R II features a true two-way pocket clip, which can rotate on the light's body to hold the light firmly in place in a variety of places. The power level indicator light offers three colors to indicate you as to the current battery power while the light is in use.
Pros:
Rechargeable
Multiple battery options
Lockout mode
Cons:
Very limited time on Turbo
Specs:
Weight:1.8 oz with battery
Dimensions: 2.48 inches long and 0.83-inch diameter
Lowest Setting: 0.5 lumens for 8 days
Highest Setting: 1000 lumens for 1.5 minutes
Olight Code:10%offCheck Amazon
Budget Rechargeable Small Flashlight: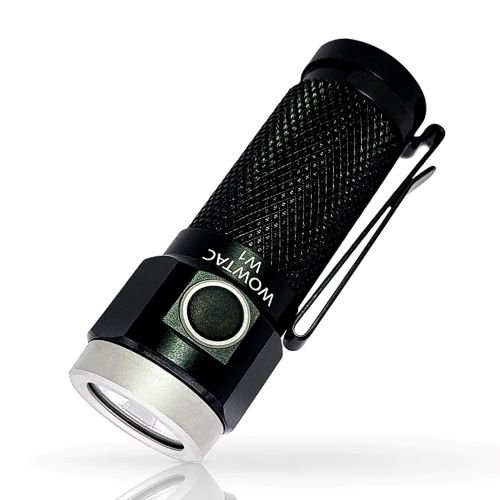 If you are looking for a small, rechargeable EDC style of light at an affordable price, look closer at the Wowtac W1. This little light pairs an XP-G2 LED with an orange peel reflector that produces a smooth and wide beam with a peak beam intensity of 4000 candelas, and a reach of up to 413 feet/ The LED is powerful enough to emit 562 lumens for one minute. After one minute, the light steps down to 275 lumens to prevent damage from overheating. The Wowtac W1 offers six brightness modes, including strobe.
This solidly built light work well indoors and outdoors and use a single 16340 rechargeable battery. Recharge this battery through the micro-USB port. The compact and lightweight design of the Wowtac W1 makes it the perfect choice for those who need a small light that they want to rely on. The included two-way pocket clip and magnetic tail cap provide users with multiple hands-free options. The light has a water resistant rating of IPX8 and impact resistance up to 1.5 meters to provide durability. 
Pros:
Charging indicator 
Rechargeable
Tail standing
Cons:
Specs:
Weight: 1.04 oz. w/out battery
Dimensions: 2.68 inches long and 0.96-inch diameter
Lowest Output: 0.5 lumens for 29 days
Highest Output: 562 lumens for 1 minute
Best 18650 Rechargeable Tactical Flashlight: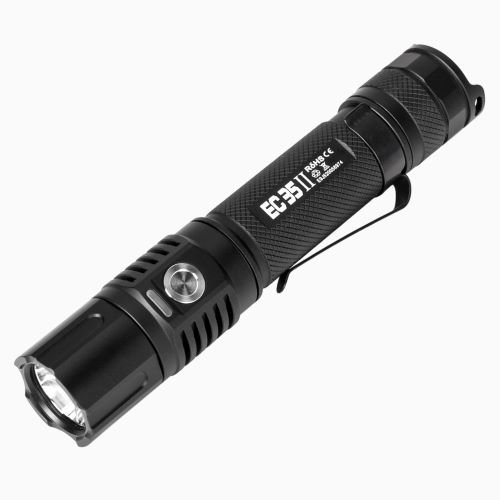 The Acebeam EC35 II is the second generation of the EC35 line of lights. This light offers a compact and lightweight design, allowing it to be used as an EDC type of light, but it is also powerful and bright enough to be considered a tactical light. The Acebeam EC35 II uses a Samsung LH351D LED that sits behind a clear mineral glass lens with an anti-reflective coating. The LED emits a maximum brightness of 1100 lumens with a peak beam intensity of 8100 candelas and a distance of 180 meters. The Type C charging offers to charge speeds up to three times faster than micro-USB.
The Acebeam EC35 II requires a single rechargeable 18650 Li-ion battery, but can also run off of two CR123A batteries. Runtimes and output levels are altered based on battery choice using. For this review, we focus on using the 18650 battery. The light offers dual switches in the form of a side switch and a tactical tail switch. The side switch powers the light and allows users to cycle through the five brightness levels, including Turbo and strobe. The tactical tail cap switch provides access to momentary on and instant turbo mode. Side switch won't work if the tactical tail cap switch is accessed first.
Pros:
Lockout mode
Rechargeable/battery options
Dual switches
Cons:
User Interface takes getting used too
Specs:
Weight: 2.99 oz. w/ battery
Dimensions: 5.46 inches long and 1.0-inch diameter
Lowest Output: 0.5 lumens for 75 days
Highest Output: 1100 lumens for 2 hours and 15 minutes
Killzone Lights 5% off "BTFlashlights"Check Amazon
Budget 18650 Rechargeable Flashlight: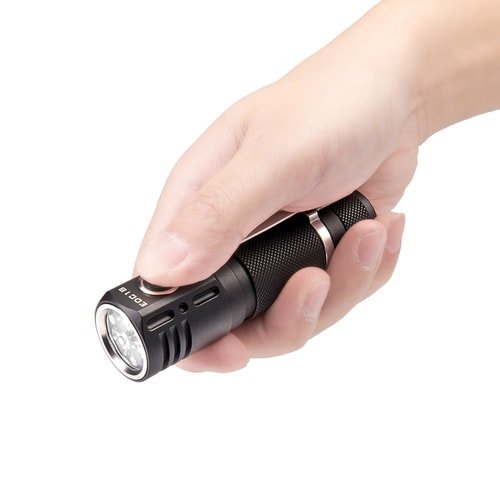 The compact Lumintop EDC 18 utilizes three CREE XPL_HI LEDs to emit a maximum of 2800 lumens of light. The three LEDs offer a cool white light and are paired with a TIR Optic Lens that offers a wide, smooth, and extremely bright beam. Like many other Lumintop lights, the Lumintop EDC 18 offers adjustable output modes, so users have the light they need when they need it. The firmware included with this model allows for smooth and step ramping. Other modes included are a muggle, lockout, Turbo, and momentary-on modes.
Included with your purchase of the Lumintop EDC 18 is a glow-in-the-dark diffuser that softens the beam and adds to your ability to find it in the dark. As long as the battery is charged and ready to go inside, the side switch has a backup light that is always on. The Lumintop EDC 18 is powered by a single 18650 flat top battery and comes with a battery check feature and special lighting modes like the bike flasher and lighting storm. The magnetic tail cap and included pocket clip provides users with the ability to use the light hands-free. 
Pros:
Durable
Ramping lumens
Magnetic tail cap
Cons:
Battery charger not included
Specs:
Weight: 2.7 oz. w/out battery
Dimensions: 3.69 inches long and 1.09-inch diameter
Maximum Output: 2800 Lumens
Neals Gadgets 15% off "BTFFW3A"Check Amazon
Best 21700 Rechargeable Flashlight: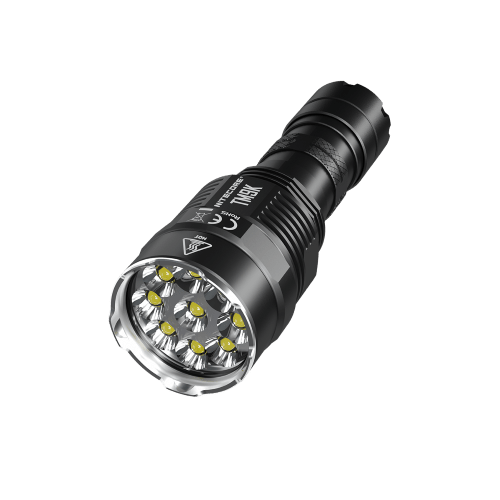 Don't let the compact design of the Nitecore TM9K fool you, as this small light is quite powerful. The Nitecore TM9K uses nine CREE XP-L HD V6 LEDs to provide an astounding 9500 lumens for a short period in Turbo and Strobe mode. In high mode, the light emits 1900 lumens with a peak beam intensity of 18,000 candelas and a throw of 268 meters. The Nitecore TM9K comes with a thermal protection function to prevent any damage from overheating to the light. When using Turbo or High for a prolonged period, the light automatically steps down to lower output levels.
The light provides a total of 5 brightness levels and the strobe mode with a user-friendly interface. The dual tail switch design is one of the best around as it features a TurboReady Mode Button that allows for output adjust6ment and instant access to strobe and turbo modes. The other button is the tactical tail switch and provides access to constant-on and momentary-on abilities. It is powered by a 21700 Li-Ion battery the Nitecore TM9K provides up to 60 hours on contact light when using the lowest output. Using a USB-C Rechargeable system, the battery reaches 80% capacity within 1 hour and 45 minutes.
Pros:
Power Indicator
Lockout function
Mode Memory
Cons:
Specs:
Weight: 7.68 oz w/out battery
Dimensions: 4.92 inches long and 1.57-inch diameter
Lowest Setting: 30 lumens for 60 hours
Highest Setting: 9500/1900 lumens for less than 1 minute/3 hour
Neals Gadgets 25% off "BTFNITECORE"Check Amazon
Budget 21700 Rechargeable Flashlight: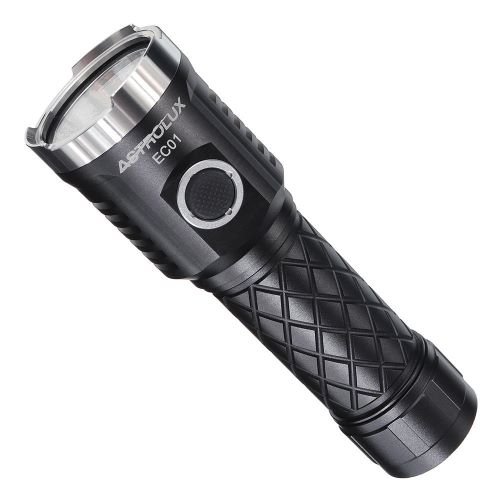 The Astrolux EC01 uses an XHP50.2 3V LED paired with a high transmitter glass lens to emit a maximum of 3500 lumens with the ability to illuminate up to 298 meters. This high-intensity light can produce a peak beam intensity of 22176 candelas. The firmware used on this light is free software known as Anduril. It gives the Astrolux EC01 smooth ramping ability, plus instant access to Turbo Mode. The firmware also allows for stepped ramping, momentary on, and muggle mode.
To power the Astrolux EC01 uses a single 21700 battery, unprotected cells work best. To charge the battery, use the integrated charger with the USB-C recharging. The light is controlled via an electronic side switch, which powers the light and provides access to the various modes, including extras such as candlelight, lightning storm, and beacon. With an IPX8 rating, the Astrolux EC01 can still work when submerged in up to 2 meters of water. 
Pros:
Multiple battery options
Temperature control
Affordable
Cons:
The port cover requires gentle hands
Specs:
Weight: 4.37 oz w/out battery
Dimensions: 4.72 inches long and 1.46-inch diameter
Lowest Setting: 1 lumen
Highest Setting: 3500 lumens
Best 26650 Rechargeable Flashlight:
The Thrunite TC20 uses a second-generation CREE XHP70 LED to emit a maximum of 3800 lumens in turbo mode. The maximum beam distance is 320 meters, with a beam intensity of 25580 candelas. This compact light offers users the choice of four basic brightness levels with Turbo and Strobe modes. The design of this light makes it an excellent choice for both indoor and outdoor use, making it an ideal option for an EDC light.
A side switch located on the body of the Thrunite TC20 allows for easy operation and provides complete control over the light and its various modes. This rechargeable light requires USB charging to recharge the high capacity Thrunite 26650 battery, which comes with the light. The indicator light will glow red while charging and will turn blue when done. Medium, low, and Firefly modes are available to use while charging the battery. The light is durable as it offers impact resistance up to 1.5 meters and an IPX8 rating.
Pros:
Durable
Memory mode
Charging Indicator
Cons:
Can grow hot to the touch quickly
Specs:
Weight: 5.22 oz. w/out battery
Dimensions: 4.68 inches long and 1.65-inch diameter
Lowest Setting: 0.5 lumens for 37 days
Highest Setting: 3800 lumens for 130 minutes
Budget 26650 Rechargeable Flashlight:
Users will enjoy the three different light colors provided by the Wurkkos WK30, as it allows the light to be used for a variety of purposes. The white light is ideal for everyday use and is provided by an LH351D LED. The white light emits a maximum of 1200 lumens with a throw of 131 yards. The red light is ideal for nighttime and uses an XPE LED to emit a maximum of 200 lumens of light with a throw of 85 yards. An LGUV emitter provides the UV light. The white light provides users with four brightness levels, while the red light offers three brightness levels, and UV offers two. 
The Wurkkos WC30 provides multiple light choices, but it also offers users the choice of batteries. This rechargeable light is compatible with 18650, 21700, and the 26650 batteries, but in an emergency, a CR123A battery can be used. The durable light is controlled by an anti-slip button located on the body of the light towards the head. Made from aerospace-grade aluminum alloy, the Wurkkos offers an IPX8 rating allowing it to be considered waterproof.  
Pros:
Memory mode
Emergency modes
Bright and powerful
Cons:
Specs:
Weight: 3.66 oz w/out battery
Dimensions: 4.48 inches long and 1.42-inch diameter
Lowest Setting: 5 lumens for 295 hours
Highest Setting: 1200 lumens for 5 minutes
Brightest Rechargeable Flashlight: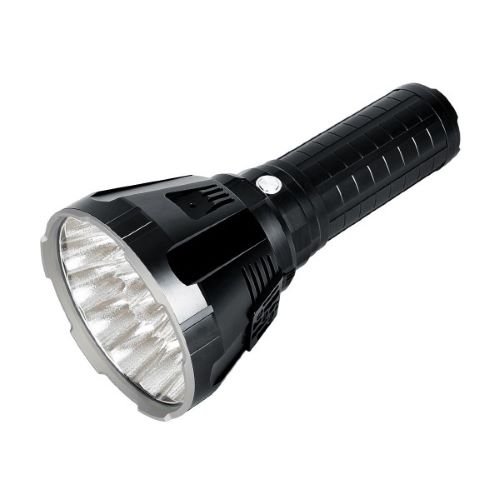 If you are looking for the brightest rechargeable flashlight, look no further than the Imalent MS18. It offers a blinding 100,000 lumens of light at its brightest settings for up to one minute before stepping down to prevent any overheating. The lowest amount of lumens this powerful light emits is a mere 700 lumens, so it's not the best choice if you need something that won't wake up the neighborhood. The Imalent MS18 uses 18 American CREE XHP70 second-generation LEDS to provide such bright light. To ensure the light doesn't break from overheating, the Imalent MS18 features a pipe cooling system and is made from a high-performance durable aluminum alloy.
Controlled by a power switch button, the Imalent MS18 offers eight brightness levels to choose from and is powered by eight 21700 batteries. The charging time to fully charge all eight batteries averages about 4 hours and 25 minutes. The Imalent MS18 offers an intelligent charging system for the battery pack, which contains a charging light that switches from red to green once fully charged. The Imalent MS18 light features an OLED screen for displaying pertinent information, including battery power level. All indicator lights shut off on their own after three hours of inactivity.
Pros:
Indicator lights
OLED screen
Bright and powerful
Rechargeable battery pack
Cons:
Specs:
Weight: 67.02 ounces with batteries
Dimensions: 10.4 inches long and 5.07 inch diameter
Lowest Setting: 700 lumens for 14 hours and 52 minutes
Highest Setting: 1000,000 lumens for 1 minute
Neals Gadgets 25% off "BTFIMALENT"
Best Rechargeable Headlamp: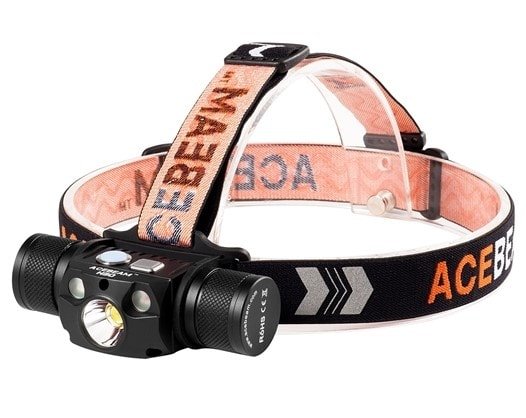 The Acebeam H30 offers users the choice of three different types of lights using separate LEDs. The white light uses a CREE XHP70.2, the red light is a CREE XPE2-R2 630nm, and the green light is a CREE XPE2-G3. Many users find the green and red light useful for map reading and hunting, while the white light provides general light for a variety of purposes. Users will enjoy the choice of six different brightness levels plus a strobe mode for the white light. For normal light, the Acebeam H30 emits a maximum of 4000 lumens for 90 seconds before stepping down to 1000 lumens.
Users have choices when it comes to powering the headlamp, as it accepts a 21700 5100mAh battery or a single 18650 battery. Runtime and output levels will vary based on the battery used. Controlling the headlamp is done by two switches located at the top of the light. The square one provides power and allows users to switch to certain modes, while the round switch provides access to everything else the light has to offer. The headlamp utilizes USB-C style recharging, so charges around three times faster than other rechargeable options. In an emergency, the headlamp also serves as a power bank to recharge other devices. 
Pros:
IPX8 rating
Multiple light options
Memorized modes
Cons:
Silicone mount is fragile
Specs:
Weight: 2.8 ounces w/out battery
Dimensions: 3.5 inches long
Lowest Setting: 3 lumens for 200 hours
Highest Setting: 4000 lumens for 1.5 minutes
Killzone Lights 5% off "BTFlashlights"Optics PlanetCheck Amazon
Small Rechargeable Headlamp:
For those of you looking for an ordinary headlamp on the smaller side, consider the Olight Array. This small headlamp is made from a lightweight anodized aluminum alloy, making it comfortable to wear for long periods. The super-compact design is adjustable with 180 degrees head rotation and waterproof with an IPX4 rating so it can be used indoors and outdoors. The headlamp emits a maximum of 400 lumens with a peak beam intensity of 1600 candelas and the ability to illuminate up to 80 meters. The Olight Array offers users four brightness levels, plus a beacon and SOS mode.
The Olight Array is powered by a 2000mAh 3.7V Li-poly battery that uses a magnetic recharging system. The upgraded cable is easy to use, so no more worries about wondering if its connected right. The built-in battery runs for up to 13 hours before requiring recharging. The smart battery indicator alerts you to the headlamps power status and will automatically switch over to a taillight mode, which blinks to alert you the battery is dying.
Pros:
Waterproof
Compact
Magnetic charging
Cons:
Specs:
Weight: 4.37 ounces w/out battery
Dimensions: 1.77 inches long and 0.91 inches in diameter
Lowest Setting: 50 lumens for 13 hours
Highest Setting: 400 lumens for 2 hours and 30 minutes
Olight Code:10%offCheck Amazon
Rechargeable Flashlight FAQs
What is the highest lumen rechargeable flashlight?
Right now in 2022 the highest lumen rechargeable flashlight is the Imalent MS18 which has a top output of 100,000 Lumens.
What's the service life of a rechargeable flashlight? How long do they last?
When talking about the service life of a flashlight there are two parts of the light that could go out. The LED and the battery. LEDs are labeled as good for 50,000 hours, this is 5 years and 255 days of continuous use. For Li-ion batteries, they are said to be able to handle 300 to 500 charge cycles. So if you recharge every week it will be good for over 5 and a half years.
What rechargeable flashlight do police and military use?
Most police officers wil have three different lights. They will have a "duty" light that is bigger and usually has the ability to plug into the car, the most popular choice for police departments right now is the Streamlight Stinger series. The second light will be a back-up or smaller light and this is usually up to the officer. Last they will have a pistol light on the end of their handgun.
What's the best way to keep your flashlight charged?
The best way is to use the brightness level that you need instead of always running on turbo. Next, we would recommend having the charging cable with you or carrying a power bank.
Where is the best place to buy a rechargeable flashlight?
As with most eCommerce products, Amazon is a good choice but we like dealing with manufacturers direct or with specialized flashlight online stores. If we can put more money in the hands of small businesses or direct to manufacturers we try.
Final Thoughts on the Best Rechargeable Flashlight in 2022
Rechargeable LED flashlights have really come along way, especially with the standardization of micro-USB for cell phones.
It seems that everybody has multiple micro-USB chargers lying around the house so losing your charger or having it break is not as big of a deal as it once was with rechargeables. From some of the smallest lights to the longest throw flashlights, they can all be rechargeable. Which is the best rechargeable flashlight for you? It depends on the size that you want.
Thank you for visiting Besttacticalflashlisghts.net. If you like any of the flashlights that you see in this article or in any of our other articles, please click one of the Buy Now buttons to make your purchase on Amazon.
As an Amazon affiliate we make a small commission off any purchase made from a click-through from our website, which is how we are able to provide you with these amazing informative articles. Clicking through from our website will not cause you to pay more on Amazon because the price is the same if you go to Amazon directly – the difference is the commission that we receive. Please take a look at all of our other articles on the best flashlights.