What To Look For When Buying the Best Keychain Flashlight
If you are going to have a flashlight on your keychain, you already know that a flashlight that is with you all of the time is an invaluable tool. The best keychain flashlight is a relative term – it really matters where you keep your keys and how much room you think you can take up with a flashlight. Since keychain flashlights are usually really small, they are not as powerful as some other every day carry (EDC) flashlights. With that said most flashlight manufacturers produce some sort of a keychain light.
Not Much Time? Here Is The Bullet List
**Below are our more detailed reviews. Click the links above to see current prices or read customer reviews on Amazon.
The two main varieties that you will find are the super small micro lights that run off of a watch battery and lights that run on a single AAA battery. There are keychain flashlights that use other battery types like AA or CR123A, but they get a little wider than most want to keep on their keys. A keychain flashlight needs to be very durable and reliable. If we have the added luxury of high lumens in a flashlight, it is nice, but the most important things are size, durability and reliability.
Our Choices For The Best Keychain Flashlights
Best Micro Flashlight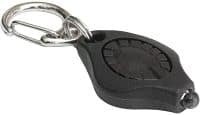 If you are looking for small powerful flashlights the LRI Photon Freedom should be high on your list. This light comes in at just 1.5 inches, making it one of the smallest lights on the market, but that doesn't stop it from doing its job. The LRI Photon Freedom comes with a quick release key ring, so you can access it whenever you need it. The Freedom also comes with a hands free clip that allows you to attach the light anywhere you need it for hands free operation, whether you are hiking at night or working on cars. A favorite of the EDC community since it is so versatile and small.
The light offers a steady 4.5 lumens for over 12 hours on a single battery, but the light also offers four different modes, as well as a Morse Code mode. Many of you might be worried about how durable such a small flashlight is, but with the LRI Photon Freedom there is nothing to worry about. The Freedom has an IPX rating of seven, plus it is extremely tough – so tough that it has been claimed to be virtually indestructible. The battery and switch contacts offer 24K gold plating allowing them to be super reliable, plus the body is glass-filled polyurethane with an unbreakable LED. We like these as backup survival flashlights, they can easily go in each bag or they can replace zipper pulls on bags or jackets.
Weight: 1.6 oz
Dimensions: 1.5 inches long and 1 inch diameter
Lowest Setting: Completely variable to zero
Highest Setting: 4.5 lumens for over 12 hours
Buy Now or Read More Reviews on Amazon
Micro Flashlight (Runner-Up)
The Nitecore Tube is one of the smallest flashlights with the most lumens as it can emit 45 lumens for the period of one hour and is small enough to fit on your keychain. While the Nitecore Tube is a bit stronger than the LRI Photon Freedom, it is also a little bigger, isn't quite as durable, and only has an IPX rating of six, which is why we choose it as the runner up despite it offering a brighter light. The Nitecore Tube is made from lightweight PC materials, which is why it weighs only 0.34 ounces and is why it is probably the lightest flashlight on the market.
The Nitecore Tube comes in five different colors and offers users the ability to control the light and all of its modes with a single fingertip. Users can use the power button to select between high and low output, as well as the variable brightness mode. Unlike other key chain style lights the Nitecore Tube offers users a USB rechargeable battery with a blue power indicator light that illuminates during charging and automatically shuts off once the battery is fully charged. Plus the intelligent protective circuit technology prevents the battery from continuously charging; once it reaches 100% power the battery will no longer charge.
Weight: 0.34 oz
Dimensions: 2.22 inches long and 0.85 inch diameter
Lowest Setting: 1 lumen for 48 hours
Highest Setting: 45 lumens for 1 hour
Buy Now or Read More Reviews on Amazon
AAA Flashlights
Flashlights that use AAA batteries are much bigger than the button cell flashlights above, but they have a much higher output. Since you have a higher output you are going to go through batteries much faster. If you want to invest a little into having the best rechargeable batteries the Eneloop AAA Ni-MH fit the bill. Our favorite charger for the Eneloops is the La Crosse BC-700 since it easy to use, high quality, and works for both AA and AAA batteries. For non-rechargeable batteries the Energizer L92 Lithium batteries are superior, they are lithium and not alkaline so they have more charge and a longer shelf life.
Best AAA Flashlight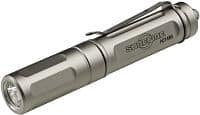 For those that are looking for the best AAA keychain flashlight the SureFire Titan Plus more than meets the bill. SureFire is known for the amazing durability and dependability of their tactical flashlights and pistol lights and this small light does not disappoint. The SureFire Titan Plus is an improvement to the original Titan, which was the first professional grade keychain flashlight made in the world. The SureFire Titan Plus expands upon the original design and adds a few improvements to the design as well. The Titan Plus offers users twice the output coming in at 300 lumens of white light, plus you have two other brightness levels to choose from. The Titan Plus is easy to use, switching between levels by simply twisting the head switch.
In terms of batteries the Titan Plus runs on a single AAA, which the light comes with a rechargeable NiMH battery that will last for up to seven hours before a recharge is necessary. Although it comes with a battery you might want to purchase an additional NiMH AAA battery to keep ready to go or you can carry some disposable AAA for back up because the Titan Plus is designed to accept both. The Titan Plus is a key chain light and to live up to its name it comes complete with a stainless steel split ring, but the ring itself is attached to a quick detach clip on the tail cap allowing you to simply pull the light off your key chain for easy access.
Weight: 2 oz.
Dimensions: 3.375 inches long and 0.58 inch diameter
Lowest Setting: 15 lumens for 7 hours
Highest Setting: 300 lumens for 1 hour
Buy Now or Read More Reviews on Amazon
AAA Flashlight (Runner-Up)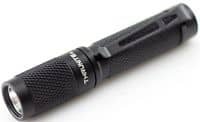 The Thrunite Ti3 comes in both cool and neutral white allowing you to select the light color that best suits your needs. The Ti3 features a CREE XP-G2 R5 LED that is powered by a single AAA battery. That single battery emits up to 120 lumens on both strobe mode and high mode. The Thrunite Ti3 also offers a low mode of 12 lumens and a firefly mode that puts out 0.04 lumens, which is perfect for those who are trying to keep their night vision intact. With keychain flashlights you want something that is simple to use, nothing that requires you to cycle through various options before you finally find what you are looking for.
The Thrunite Ti3 is offers a user friendly interface, simply twist the head to power the light on or off, as well as select between the various modes. The Ti3 starts up in firefly mode, but it also features a memory function that will allow you to access the last mode you used as long as you turn the light back on within 10 seconds of shutting it off. The light comes with a lobster claw clip to allow for key ring attachment, it also comes with a pocket clip that can be reversed so you can attach it to a hat or something similar.
Weight: 0.42 oz. w/out battery
Dimensions: 2.75 inches long and 0.55 inch diameter
Lowest Setting: 12 lumens for 6 hours
Highest Setting: 120 lumen for 30 minutes
Buy Now or Read More Reviews on Amazon
Best Rechargeable Keychain Flashlight
If you are looking for the smallest powerful flashlight the SureFire SideKick should be somewhere on the top of your list. This light is ultra-compact coming in it at just 2.5 inches long and only 0.58 inches wide, it can easily attach to any key ring for quick and instant access. The SureFire SideKick looks and feels just like your key fob, which makes it relatively simple and straight-forward to use. You can even purchase a heavy duty retractable cord to go along with your SideKick to give you even more freedom of use.
The high performance LED emits up a maximum of 300 lumens for up to 50 meters, plenty bright enough and with a far enough reach to light up the darkest paths. The low setting is more powerful than any smartphone flashlight offering five lumens, plus it won't drain the battery nearly as fast as the flashlight apps do on smart phones. The SideKick comes with a micro-USB port to allow for fast and easy recharging of the battery, giving you true portability with this handy keychain light.
Weight: 2 oz.
Dimensions: 2.5 inches long and 0.58 inches diameter
Lowest Setting: 5 lumens for 45 hours
Highest Setting: 300 lumens for 1.25 hours
Buy Now or Read More Reviews on Amazon
Rechargeable Keychain Flashlight (Runner-Up)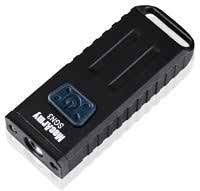 For those that are looking for a multifunctional flashlight the MecArmy SGN3 is an ideal choice. One of the things that makes this compact light really stand out is the fact that it offers more than just a single LED; it actually provides users with three LEDs. The main LED is a CREE XP-G2, while the sides are 3mm LEDs. The best part of having three LEDs in one light is the different options you have when it comes to modes. The main LED provides you with your normal brightness modes, low, medium and high, while the two smaller LEDs provide you with an emergency signal (red LED) and a UV light.
One of the biggest problems with USB rechargeable lights is the USB port is a weak point in terms of water, which can make the waterproof rating lower than you would like. The MecArmy SGN3 offers a waterproof micro USB port that allows you to recharge the battery with any USB port, including computers, in just 90 minutes. The SGN3 also features a charging indicator light that will illuminate red while charging and illuminate green once fully charged. The tail end of the light is specially designed for use with key rings.
Weight: 1.34 oz.
Dimensions: 2.32 inches long and 0.9 inch diameter
Lowest Setting: 5 lumens for 13 hours
Highest Setting: 160 lumens for 1 hour
Buy Now or Read More Reviews on Amazon
I hope that this has helped you find the best keychain flashlight for your needs. If you like any of the flashlights that you see in this article or in any of our other articles, please click one of the Buy Now buttons to make your purchase on Amazon. As an Amazon affiliate we make a small commission off any purchase made from a click through from our website, which is how we are able to provide you with these amazing informative articles. Clicking through from our website will not cause you to pay more on Amazon, as the price is the same if you go to Amazon directly – the difference is the commission that we receive. Please take a look at our other Best Flashlight articles. If you are new to flashlights and are not sure about some of the lingo here please visit our flashlight buyers guide.