Why an AAA Flashlight?
If you are looking for a new flashlight, maybe even one you can fit in your pocket, you have come to the right place! Here you will find information on the best AAA flashlight. We hope you enjoy our reviews and find them helpful as you navigate through all the available flashlights on the market.
With all of the new battery technologies out these days, I frequently get asked the following question: If other batteries will give me more lumens, last longer, and be lighter than standard size batteries, then why would I want a flashlight that uses AAA batteries? My answer every time is because AAA are easy to find. AAA batteries are easy to find in both disposable and rechargeable.
For some this is a really big reason they will only buy flashlights with standard size batteries. These are not usually the most high powered, the smallest or the lightest flashlights; However, if your batteries die, you will be able to buy more even from a gas station.
Not Much Time? Here Is The Bullet List
1 AAA
2 AAA
**Below are our more detailed reviews. Click the links above to see current prices or read customer reviews on Amazon.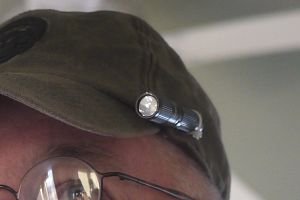 Easily Accessible
Another reason why you might want a flashlight that uses AAA batteries is that they are small and easy to carry everyday. Many of the single AAA flashlights offer keychain attachments and are very easy to carry with you everyday. As we always say, the best flashlight is the flashlight that you have on you when you need one. It is very easy to have an AAA flashlight all easy to reach places of your home, office, workshop, and vehicle. I have one in both nightstands in the bedroom, in the kitchen, and in all of the vehicle's glove boxes. We have other torches lying around but these are the go to light when the power goes out since we always know where they are.
Hi-CRI Flashlights
This year we decided to add a selection of Hi-CRI flashlights to our list since it seems to be a huge deciding factor for many buyers, including hardcore flashaholics and regular buyers. The term CRI stand for Color Rendering Index and has to do with how close the light that comes off of the LED is to natural light. The higher the the CRI number, the closer it is to natural or incandescent light – the light off of an incandescent bulb being 100. It is not often that you see such a split in buying habits in the flashlight market, but this is one. There are flashlight lovers that have decided to only buy Hi-CRI lights and have sold all of their other flashlights.
While at the same time there are people that do not really care about Hi-CRI. The downside to Hi-CRI emitters is that in general for the same amount of power, they can not produce the same level of output so the lumens are lower. You will have to decide which one you want. Most manufacturers have not switched to Hi-CRI LEDs since consumer buying habits still favor higher lumen output.
Types of Batteries
If you are also looking to buy some batteries, your options are rechargeable or primary (not rechargeable) AAA batteries. If you want to get rechargeable, the best are Eneloop AAA Ni-MH. If you are going to spend money on nice rechargeable batteries, you will need a good charger. Our favorite charger for Ni-MH batteries is the La Crosse BC-700. It is easy to use and can charge both AA and AAA batteries. If primary cells are what you want or you need some backups, the Energizer L92 Lithium batteries are the best. Lithium primary cells and Li-ion rechargeable cells are completely different types of batteries. The Energizer L92 batteries are better than alkaline batteries in every way except cost. They have a higher power output while still in a safe range. They also last longer and have a longer shelf life.
Another thing to consider with AAA flashlights is that many of them can use rechargeable Li-ion 10440 batteries and increase the output into the 200-300 lumen range. For you this may turn the best AAA flashlight into the best overall form factor flashlight period. Obviously this is not a manufacturer recommendation because your flashlight will get really hot really fast and could easily burn out. Putting these batteries in is doable and many of the flashaholics over at candlepowerforums are using their AAA flashlights this way. Check out others results with 10440 batteries before putting them in your flashlight.
Best Single AAA Flashlight
Twist Switch
The Surefire Titan Plus tops our list when it comes to the best AAA flashlight powered by a single battery. The Surefire Titan Plus is not a new flashlight – it is actually an improvement of the original Titan, which was named the first professional grade keychain flashlight. 
The Titan Plus offers the same small size as the original coming in at just a little over three inches and only weighing two ounces with the battery installed. The Plus might be a bit small in size, but it is one of the most powerful lights of its size because the single AAA battery can put out a maximum of 300 lumens for a period of one hour.
The Surefire Titan Plus offers users a twist switch, which not only powers the flashlight, but also controls the brightness levels. To access high or low levels simply twist the head until the desired brightness level is reached. The Titan Plus features a state of the art reflector designed to shape the light emitting from the flashlight into a wide MaxVision Beam. Powered by a single AAA battery, users have the option between rechargeable or disposable depending on what is most convenient at the time.
Weight: 2 oz.
Dimensions: 3.375 inches long and 0.58 inch diameter
Lowest Setting: 15 lumens for seven hours
Highest Setting: 300 lumens for one hour
Twist Switch (Runner-Up)
Now the Thrunite Ti3 is not the brightest single AAA flashlight by any means, after all it only offers 120 lumens maximum for a period of 30 minutes. However brightness is only part of what we look at when we are picking out the best flashlights, and the Thrunite Ti3 makes quite an impression when you look at everything that it has to offer. Like many other lights the Ti3 offers users the option of neutral white and cool white, which allows you to pick the light that will work best for your needs. Many people simply purchase one of each because of how reasonably priced the Ti3 actually is. As we already mentioned the CREE XP-G2 R5 LED is powered by a single AAA battery, but that one battery gives the beam a distance of 50 meters with an intensity of 625 candelas. What really makes the Ti3 one of the best is it's easy to use interface, which is a simple twist switch. The twist switch powers the light on and off as well as provides you with access to four different modes, including firefly and strobe. Accessing the different modes is as easy as turning the light on, then off, and then on again within two seconds. If you wish to access to memory function the light must be turned back on within 10 seconds, otherwise it will default back to the original start up mode rather than the last mode used.
Weight: 0.42 oz. without battery
Dimensions: 2.75 inches long and 0.55 inch diameter
Lowest Setting: 12 lumens for six hours
Highest Setting: 120 lumens for 30 minutes
Budget Twist Switch
If you are looking for one of the best lights on a budget look no further than the Olight i3e. In fact for its minimal price you can pick up more than one without coming close to breaking the bank. Before we go into detail about the Olight i3e, it is important to mention that not all colors are created equal. The i3e comes in a variety of colors, including red, green, purple, blue, black, and silver. The only main difference is that the silver i3e has a maximum output of 120 lumens; the other colors only offer 90 lumens. All the lights are powered by a single AAA battery and feature a LUXEON TX LED and a PMMA TIR lens that allows a maximum beam distance of 48 meters in the silver model and 44 meters for the others. The light offers a smooth body that won't rip or snag clothes. The i3e comes with an IPX-8 rating and an impact resistance distance of 1.2 meters.
Weight: 0.4 oz. without battery
Dimensions: 2.38 inches long and 0.55 inch diameter
Lowest Setting: 90 lumens for one hour
Highest Setting: 120 lumens for one hour
Clicky Switch
The Foursevens Preon P1 is a rather compact flashlight coming in at just a little over two inches and for its small size you might be surprised at just how bright the CREE XP-L actually is. Powered by a single AAA battery this light can put out a maximum of 100 lumens for a period of one hour. If you are looking for something that is longer lasting, you can opt for the low of five lumens for a period of 20 hours. Even better though is the Preon P1 offers you a simple to use two-mode interface, which to make it even better you can set your light up how you want it as it has five re-configurable user interfaces allowing you to keep it as simple as you need or as complex as you want. The Preon P1 offers your three basic brightness levels, plus gives you access to four special modes: Strobe, SOS, Beacon High, and Beacon Low. The body and bezel are made from a type III hard anodized aircraft grade aluminum. The optical grade glass lens features an anti-reflective coating with a textured reflector that provides a spot beam with a three meter diameter and a flood beam of one meter.
Weight: 0.62 oz. without battery
Dimensions: 3.35 inches long and 0.57 inch diameter
Lowest Setting: Five lumens for 20 hours
Highest Setting: 100 lumens for one hour
Clicky Switch (Runner-Up)
For those that are looking for a compact, portable keychain style flashlight that requires a single AAA battery (10440 is not supported), then the Lumintop Tool is a great choice for you. One of the best things about the Tool is that despite its small size, it is still quite powerful. The light can put out up to 110 lumens for a period of 30 minutes. The CREE XP-G2 R5 LED offers a maximum beam distance of 47 meters with an intensity of 553 candelas. The Lumintop Tool uses a clicky switch, but unlike other small lights this one is in the form of a tail cap switch rather than a side switch. The Tool offers users the option of three different brightness modes, all of which can be accessed via the tail cap switch. For those that prefer a twist operation, tightening or loosening the head will also allow you to switch between modes. Like many pocket sized lights, the Lumintop Tool is extremely durable with an impact resistant ability of 1.5 meters and an IPX rating of 8.
Weight: 0.53 oz. without battery
Dimensions: 3.2 inches long and 0.57 inch diameter
Lowest Setting: Five lumens for 60 hours
Highest Setting: 110 lumens for 30 minutes
Hi-CRI Flashlight
If you are looking for an amazing twist head AAA flashlight then the L3 Illumination 08 is an ideal choice. One thing that makes the light so desirable is its choice of body colors. Another feature is the choice between an XP-G2 R5, which is the cool white, or the Nichia 219 4500K 92CRI, which is the neutral white emitter. As a consumer you need to understand that the different emitters will affect the output of the L3 Illumination 08. The Illumination 08 can be powered by a single Ni-Mh or an alkaline AAA battery, but manufacturers do not suggest using 10440 batteries because of how quickly they heat up. The L3 Illumination 08 is made from aircraft-grade aluminum and offers a Type III hard-anodized anti-abrasive finish that adds to its overall durability, along with the toughened double ultra-clear glass lens and its IPX-8 rating. The 08 comes in a three mode or four mode version. The four mode version features the ever popular firefly mode in addition to the three basic modes, while the three mode version offers your basic high, medium, and low.
Weight: 0.7 ounces without batteries
Dimensions: 3.03 inches long and 0.67 inch diameter
Lowest Setting: Three lumens for 30 hours
Highest Setting: 90 lumens for 1.5 hours
Budget Hi-CRI Flashlight
The Manker E01 is a new flashlight designed and manufactured by a company new to the flashlight industry, but the company is quickly proving that it is a top contender. The E01 is one of the company's smaller lights as it comes in at 2.75 inches and is small enough to easily fit in a pocket or on a keychain. However like many other single AAA lights small doesn't mean dull. The E01 offers users a maximum of 102 lumens for a period of 30 minutes.
The light actually features four different modes: low, mid, high, and strobe. The small light is extremely durable, and it is fashioned from a military-standard type II hard anodized aluminum with an impact resistance of two meters, and an IPX-8 rating. In addition to being durable, the E01 offers users a user friendly interface – twisting the head powers the light as well as provides access to the different modes offered. The single AAA battery powers a NICHIA 219C that has a beam distance of 42 meters along with a maximum beam intensity of 450 candelas.
Weight: 0.52 oz. without battery
Dimensions: 2.75 inches long and 0.64 inch diameter
Lowest Setting: 0.14 lumens for 100 hours
Highest Setting: 102 lumens for 30 minutes
Best 2 AAA Flashlight
Overall
For those that are in the market for a more powerful, but still compact AAA flashlight the Foursevens Preon 2 is an ideal choice. Unlike the Preon 1 the Preon 2 requires 2 AAA batteries to power its CREE XP-L, but those batteries give the light a spot beam diameter of three meters and a flood beam diameter of one meter. Being that the Preon 2 requires two AAA rather than one it is also brighter than its predecessor, which the Preon 2 emits a maximum of 220 lumens for a period of one hour. The Foursevens Preon 2 features three different brightness levels, as well as four different special modes all of which are accessed via the tail cap clicky switch. Just like the Preon 1, the Preon 2 allows you to configure the light to be as simple as you need it to be or as complicated as you want it to be. You have the ability to choose between five configurable user interfaces to find the one that suits your needs best.
Weight: 0.81 oz without battery
Dimensions: 5.12 inches long and 0.57 inch diameter
Lowest Setting: 10 lumens for 20 hours
Highest Setting: 220 lumens for one hour
Runner-Up
The Thrunite Ti4T is an amazing penlight, we like it so much that we have named it in two of our best of articles. Perhaps the most outstanding feature of the Ti4T is how it starts in firefly mode, which is great for those who are using it in a professional setting. Every time you turn the Ti4T on you will be greeted with a mere 0.4 lumens. This feature is perfect because it allows users to perform a variety of tasks without the need for turning down the brightness. Turning up the brightness isn't something that bothers most users, but being blinded by 300 lumens when the light first turns on is not something most of us enjoy.
The Thrunite Ti4T is not as short as some lights, but it offers a very slim and lightweight design making it the perfect pocket light. The hard anodized body lends to the durability of the Ti4T, as well as its IPX-8 rating and it being impact resistant up to 6 ½ feet. The Thrunite Ti4T is easy to operate and allows users to change between modes in three different ways.
Weight: 0.77 oz. without batteries
Dimensions: 5.23 inches long and 0.5 inch diameter
Lowest Setting: 0.4 lumens for 137 hours
Highest Setting: 300 lumens for 51 minutes
Budget
For those of you that are looking for a light that is small enough to fit inside the palm of your hand, but that is also affordable the Nitecore MT06 is the best choice for you as it offers a low-profile pen design for a reasonable price. The CREE XQ-E R2 LED is powered by 2 AAA batteries, which is strong enough to emit 165 lumens for a period of 45 minutes before the batteries need to be changed. The LED used in the MT06 is better than in previous Nitecore models because it provides a more focused beam than other reflectors of the same size, plus it is actual a ¼ of the size of the CREE XP-G.
The Nitecore MT06 offers users two brightness modes making it one of the easiest flashlights to use and understand, you really can't get much simpler than two modes these days. Both modes are accessed via the tail cap switch, which allows users to use the light one handed. The MT06 also comes equipped with a pocket clip making the light even more portable than before, so you always have it when you need it.
Weight: 0.78 oz without batteries
Dimensions: 5.04 inches long and 0.5 inch diameter
Lowest Setting: 32 lumens for five hours and 15 minutes
Highest Setting: 165 lumens for 45 minutes
Best AAA Flashlight Conclusion
There are a lot of AAA flashlights available on the market, but we think these are the best AAA flashlights. If you need a flashlight with higher Lumens you should consider flashlights with CR123A or AA batteries. Thank you for reading our article on the best AAA flashlight. If you feel this article would help others in their search, please share this article on your social media such as Facebook and Twitter!
If you like any of the flashlights that you see in this article or in any of our other articles, please click one of the Buy Now buttons to make your purchase on Amazon. As an Amazon affiliate we make a small commission off any purchase made from a click through from our website, which is how we are able to provide you with these amazing informative articles. Clicking through from our website will not cause you to pay more on Amazon, as the price is the same if you go to Amazon directly – the difference is the commission that we receive. Please take a look at our other Best Flashlight articles. If you are new to flashlights and are not sure about some of the lingo here please visit our flashlight buyers guide.