If you are a flashlight enthusiast or if you are just getting started, you have heard the SureFire name at least once.
SureFire lights are one of the most popular in the industry because they are high-quality lights you can depend on when you need them most. They offer the top pistol lights on the market and some of the most durable combat lights.
Although SureFire didn't start out working on handheld lights, they have come a long way over the years and have made quite a name for themselves and their products. Check out our picks for the best Surefire flashlights in 2022.
Short On Time? Here Is The Bullet List
**Below are our more detailed reviews. Click the links above to see current prices or read customer reviews on Amazon.
How SureFire Got Started
SureFire's first focus was not on flashlights, as you might suspect. Back in 1969, when their story first began, SureFire was one of the laser industry leaders thanks to Dr. John Matthews, who started the Newport Corporation. In 1979, Dr. Matthews combined his passion for firearms and lasers to create the first laser sight for guns. This first laser sight was big and bulky, so Dr. Matthews knew he needed improvements if he wanted to stay in business.
To begin his journey Dr. Matthews and several other key members of the Newport technical staff bought out the laser section of Newport Corporation. They created a new company called Laser Products. Laser Products was were Dr. Matthews devoted all of his time and energy in developing the best laser sights for guns, this company would also become SureFire, LLC.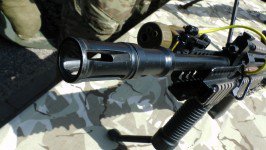 In 1984, Dr. Matthew's hard work was greatly rewarded when the Los Angeles SWAT team approached him about borrowing laser-sighted shotguns for the upcoming Olympic Games. To accommodate their needs, Dr. Matthews designed and manufactured the first weapon-mounted flashlight, which became the SureFire WeaponLight. SureFire is still a great flashlight for police.
What SureFire Offers its Customers
Over the years, SureFire quickly became an industry leader, although, in the beginning, the name you knew was Laser Products. As a consumer, when you purchased a Laser Product light, you knew you were getting a high-quality product that you could rely on. Laser Products decided early on that they needed to change their name to match the excellent products they were providing their customers, so SureFire was born.
In the beginning, SureFire was focused on delivering high-quality weapon-mounted lights. Although this was their primary focus, they realized they needed to offer more to expand their customer base. SureFire began developing many other high-quality lighting products, including headlamps, IR flashlights, muzzle brakes, knives, pens, suppressors, handheld lights, and much more to meet the ever-changing demands of their consumers. To further meet the requirements of their customers and to remain competitive as times and needs change, SureFire has turned its attention to other products, such as protective phone cases. They have government contracts and are looking to fill voids where they can.
One thing customers know is that no matter what they are after if they purchase a product from SureFire, it is high quality and reliable product. All of the products designed and manufactured by SureFire have undergone extreme testing. These products are tested in the harshest conditions possible to ensure they are going to work when the customers need them too. There is nothing worse than relying on a product only to have it fail when you need it most. Making SureFire on of the top brands for self defense.
SureFire also being a brand of such high quality and reputation has created a whole niche around it that focuses on replacement parts, repairs, and mods. Things like LED conversions for older incandescent bulbs and holsters and clips. They also have a great SureFire Warranty. SureFire is known more for durability than being the most powerful light but with some of these mods you can make it a closer comparison.
Best Surefire Flashlights in 2022
Best Overall Surefire Flashlight:
Although we are focusing on the SureFire G2X Pro, there are two other models to choose from in this series of lights. The other two options consumers have are the G2X Combat light and the G2X Tactical light. All of the lights offer the high quality you have come to expect from SureFire and are available in numerous body colors. The SureFire G2X Pro offers an indestructible LED emitter capable of regulating light output and maximize runtime.
The SureFire G2X Pro offers two output modes low and high with a maximum output of 600 lumens of bright white light. The high-efficiency LED is paired with a micro-textured reflector to produce a smooth and optimized beam. The light is controlled via a dual-output tail cap clicky style switch. To access momentary on lightly press the switch until the light turns on, for constant on a full click is required. The SureFire G2X Pro offers a lightweight design as it is made from a tough Nitrolon polymer. The construction of the body adds to the durability and light resistance.
Pros:
Reliable
Momentary on
Solid build
Cons:
Specs:
Weight: 4.4 oz w/batteries
Dimensions: 5.20 inches long and 1.25-inch diameter
Lowest Output: 15 lumens for 45 hours
Highest Output: 600 lumens for 2.25 hours
Check Amazon
Best Keychain SureFire Flashlight:
Coming in at just 2.5 inches long and about 0.5 inches wide, the SureFire Sidekick is the best choice when it comes to keychain style lights. The small and compact design makes the light no bigger than a key fob, so you don't notice its there in your pocket. Don't let its ultra-compact design fool you, as the Sidekick features a high-performance LED paired with a faceted reflector to emit a broad and smooth beam with a max lumen output of 300 lumens. The light uses MaxVision, which was created by SureFire, to optimize their flashlight's beams for the human eye.
Constructed from polymer, the lightweight body is also weather-resistant and comes complete with a split ring for easy and quick attachment to key rings or carabineer clips. The SureFire Sidekick utilizes a click-type switch located on the body of the light making the Sidekick easy to use. The switch powers the light, but also provides access to one of three brightness levels, simply press the switch repeatedly until you reach the level desired. Powered by an integral rechargeable li-ion battery, the Sidekick offers quick and easy charging through the micro-USB charging port.
Pros:
Rechargeable
Ultra-compact design
Bright
Cons:
Orange/yellow tint to the reflector
Specs:
Weight: 2 oz.
Dimensions: 2.5 inches long and 0.58 inches diameter
Lowest Setting: 5 lumens for 45 hours
Highest Setting: 300 lumens for 1.25 hours
Check Amazon
Best EDC SureFire Flashlight:
What some people fail to realize is that the SureFire EDCL1-T is an improved version of the SureFire EB1 Backup Light. The ED1 also happens to be Surefire most popular and best-selling light. One of the improvements made on the EDCL1-T is its indestructible LED, which is regulated to ensure maximum output and to enhance running time. The high-performance LED is used in conjunction with a TIR lens to provide an optimal beam of light with an excellent throw. The EDCL1-T's beam is optimized for everyday carry type of activities, but the light also works well in tactical situations.
The SureFire EDCL1-T offers two brightness levels with the maximum brightness being 500 lumens of bright white light using a single CR123A battery. The body of the EDCL1-T is constructed from high-strength aerospace aluminum and is coated with an MI-Spec hard-anodized finish. For a better and more secure grip, both the body and tail cap of the EDCL1-T offers knurling. The tail cap also features a clicky switch used to power the light and select the various output modes. Using the included clip, the SureFire EDCL1-T can be carried bezel up or down.
Pros:
Versatile light
Virtually indestructible
Great surround light
Cons:
Specs:
Weight: 3.3 oz w/out battery
Dimensions: 4.5 inches long and 1.125-inch diameter
Lowest Setting: 5 lumens for 45 hours
Highest Setting: 500 lumens for 1 hour
Check Amazon
Best Weapon Mount SureFire Flashlight: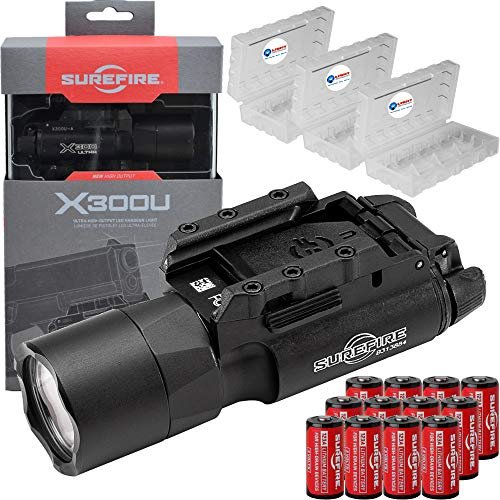 Known for manufacturing some of the best weapon-mounted lights, the SureFire X3000U-A Ultra doesn't disappoint. The X300U-A Ultra is an improved version of the best selling SureFire X300 Ultra. One of the most significant improvements in the light's ability to emit a maximum of 1,000 lumens and requires two CR123A batteries to do so. The SureFire X300U-A Ultra features a high-performance LED that works in conjunction with a TIR lens to produce a smooth beam and an excellent throw. The large center spot of the beam is ideal for peripheral illumination giving users the advantage of identifying threats from afar. With the 1,000 lumens of light, the threat's vision is also disrupted while the users are not.
The ambidextrous switch used to control the SureFire X300U-A Ultra is located toward the back of the light and is ideal for one-finger control. Flip the switch up or down for the constant on ability, while flipping the switch to the side provides users with access to the momentary on feature. With the SureFire X300U-A Ultra, there is a DG grip switch for pistols or a pressure activated XT07 tape switch for long guns. These switches are designed to allow you to use the light without changing your current grip on your weapon. The SureFire Rail-Lock system allows for an easy and quick attachment and detachment from Universal or Picatinny rails.
Pros:
Long guns and handguns
Ambidextrous switch
Remote activation
Cons:
Specs:
Weight: 4 oz. w/batteries
Dimensions: 3.6 inches long and 1.125-inch diameter
Output: 1000 lumens for 1.25 hours
Check Amazon
Best Surfire Flashlight Final Thoughts
Over the years, SureFire has built up its reputation in the flashlight industry. Known for one of the first, high-quality weapon-mounted lights, SureFire quickly made a name for themselves by taking their knowledge and applying it to other lightening products. To remain competitive in any industry, including the flashlight industry, you need to adapt your products to fit the needs of your customers, and that is precisely what SureFire continues to do. Maybe a little over doing it for camping but it will work when you need it.
Thank you for visiting BestTacticalFlashlights.net. If you like any of the flashlights that you see in this article, please click on one of the Buy Now buttons to make your purchase on Amazon. As an Amazon affiliate, we make a small commission off any purchase made from a click-through from our website, which is how we are able to provide you with these informative articles. You will not pay more on Amazon by clicking through our website because the price is the same as if you go to Amazon directly. Please take a look at our other flashlight reviews or our Main Flashlight Buyers Guides for all your flashlight needs.