If you're going to spend your money on a new flashlight, you likely want it to be a good one with decent features. This means choosing one of the best brands on the market to ensure you're getting the quality you're looking for.
Nitecore has made a name for themselves in the portable flashlight world as a leader in technological advancements, with a streamlined manufacturing process and decent prices that will fit in even the strictest budget. For more on what Nitecore has to offer in 2022, keep reading.
Short On Time? Here Is The Bullet List:
**Below are our more detailed reviews. Click the links above to see current prices or read customer reviews on Amazon.
Nitecore History
In 2001, this Chinese company was an OEM that manufactured parts and products for other brands. Though they weren't creating their own products, this type of work gave them the experience they needed to do so.
Three years later, Nitecore was established as part of the SYSMAX company. Then, in 2007, Nitecore broke away, becoming their own firm as a SYSMAX subsidiary. At this time, they introduced their first high-performance LED flashlights, taking the illumination world by storm.
Since then, Nitecore has focused on three main principles, practicality, creativity, and engineering perfection. This brand claims to have the most innovative designs, best performance, and best user experience in the flashlight industry. Their products are portable, with great output and performance. With 600 models under their belt, Nitecore has something for everyone.
Social Responsibility
Every company needs to make a profit to stay in business but many of them need to maintain some social responsibility as well, giving back to those in need. Nitecore is one of these companies. They contribute where and when they can with domestic and international efforts.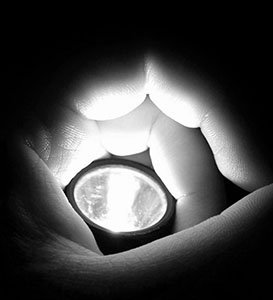 This company has donated some of their best flashlights to search and rescue missions in Southwest China, Lushan County, and Mexico after hurricanes and earthquakes ravaged these areas. They also sponsored various running events, cycling events, fishing events, and shooting competitions. Nitecore even donated flashlights to South Africa to help in their anti-poaching efforts.
What Does Nitecore Make?
When it comes to flashlights, Nitecore models are innovative, intuitive, and effective. This brand has a light for all types of applications, including outdoor sports like camping or hiking, as well as more professional use in law enforcement or tactical missions.
Nitecore has also paved the way for other brands in several areas. They were the first brand to make an AA-based flashlight that used Infinite Variable Brightness. The D10 was the first model in the world to feature a Smart Piston Drive System. Nitecore also came up with the first flashlight series to feature 3rd generation Smart Selector Ring technology.
Of course, as well as a flashlight for every occasion, Nitecore also gives you all the accessories you need to go with them. This includes batteries, chargers, filters, diffusers, gun mounts, lanyards, and so much more. They also have some other equipment for sale, like their Titanium Utility Knife, Titanium Pen, and an Outdoor Emergency Whistle. With so much to offer, it's no wonder Nitecore is such a highly rated brand.
Best Nitecore Products on the Market in 2022
Budget Nitecore Flashlight:
You don't need to spend a fortune to get a great EDC flashlight, as the Nitecore EC20 proves. It's built well, using aero-grade aluminum alloy with a HaIII military-grade hard-anodized finish. The lens is toughed ultra-clear mineral glass with an anti-reflective coating. This light is also waterproof and resists impacts.
There are 4 light outputs, as well as strobe, SOS, and beacon functions, all controlled with a single side switch. The highest turbo level boasts 960 lumens from the CREE XM-L2 LED. This level does get hot after a minute or two, though, so use it sparingly. The high-efficiency regulation circuit maintains every output level, even as the battery wears out.
You can use either a 18650 Li-ion battery or 2 CR123 Li-ion batteries in the EC20. An indicator light tells you how much power the battery has left. An intelligent memory function remembers the last light level you used. Other features include the reverse polarity protection, gold-plated circuits to prevent oxidation, and tail-stand capability that allows you to use this as a free-standing torch.
Pros:
Lightweight
Memory function
Durable materials
Decent price
Cons:
Gets hot on the highest setting
Specs:
Weight: 2.68 ounces without battery
Dimensions: 5.03 x 1 inches
Lowest Setting: 1 lumen for 520 hours
Highest Setting: 960 lumens for 1 hour 15 minutes
Check Amazon
Brightest Nitecore Flashlight:
If you're interested in the brightest flashlight Nitecore has to offer, look no further than the TM10K. It has a turbo mode that gives you 10,000-lumen bursts from the 6 CREE XHP35 HD LEDs. These bursts last for 7 seconds, then it needs to cool down until you can use it again.
Since the LEDs can get hot, they are embedded in a 4mm copper cooling RCB inside a compact and rigid unibody tube. Two thermal sensors also monitor the temperature. This is displayed on the OLED screen, as is the Turbo progress, battery voltage, remaining runtime, and the remaining power.
There are three switches, two on the side and one on the tail. The side buttons include an on/off switch and the mode adjustments, while the tailcap switch controls the 10,000-lumen burst.
Other handy features of the TM10K include the built-in 21700 rechargeable battery, the customizable high setting with a range of 400 to 2000 lumens, and the two lockout modes for half and full lockout functions. This flashlight is made of durable materials that are waterproof and impact-resistance. It includes a pocket clip and a holster, plus this light is compact enough to fit in a pocket.
Pros:
Very bright
Customizable high mode
Cooling design
OLED display
Cons:
Specs:
Weight: 8.69 ounces with battery
Dimensions: 4.33 x 1.61 inches
Lowest Setting: 3 lumens for 200 hours
Highest Setting: 10,000 lumens (burst output)
Check Amazon
Smallest Nitecore Flashlight:
The TUP is the smallest EDC flashlight that Nitecore has created so far. It is tiny and lightweight, perfect for slipping into your pocket. It also includes a clip for attaching it to your belt or hat brim and has a stainless steel ring on the end for use with a keychain.
Despite its small size, this handy flashlight is quite durable. It is constructed using aluminum alloy, with an HA III hard-anodized finish. It is impact resistant up to 1 meter. There is a Cree XP-L HD V6 LED that gives you five output levels, the highest of which is a bright 1000 lumens. The only weak point is the power and output buttons, which are plastic and a bit flimsy.
There are two modes to choose from. Daily Mode is best for outdoor use and long-term illumination. Demo Mode has an auto-shutoff after 30 seconds for short-term use and EDC. There are also two lockout functions, an intelligent memory function, and an OLED that displays the lumen level, runtime, and battery level.
The TUP has a built-in Li-ion battery that is rechargeable using the Micro-USB port. The Advanced Power Cut-off reduces parasitic drain. You can even use this light as it's being charged for added convenience.
Pros:
Compact
Rechargeable
Two lockout modes
OLED display
Cons:
Flimsy USB cover
Plastic buttons
Specs:
Weight: 1.87 ounces with battery
Dimensions: 2.76 x 1.16 inches
Lowest Setting: 1 lumen for 70 hours
Highest Setting: 1000 lumens for 15 minutes
Check Amazon
Best Professional Nitecore Flashlight:
Those in law enforcement or the military need some extra features that help them do their job safely. Of course, some of these features also make lights like the SRT7GT handy for hunters and civilians helping out with search and rescue missions.
This light is bright, using a CREE XP-L HI V3 LED to give you 1000 lumens of light, with a beam intensity of 50,900 cd and a distance of 450 meters. The white light also gives you an ultra-low setting of 0.1 lumens, a strobe, and an emergency beacon.
As well as the white light, there are also a few colored LEDs for various uses. The red light helps protect night vision for tactical situations. Green lights are great for looking at detailed documents or for hunting. The blue light lets you track blood or oil stains. There is also a UV light for medical use or checking out documents and currency. A police warning light alternates between red and blue. All modes are controlled using the third-generation Smart Selector ring.
There is a u-shaped tail design that reduces accidental activation of the on/off switch, plus is tailstand capable. The SRT7GT is well-built using high-quality, durable materials, plus is 1-meter impact resistant and waterproof. It also includes a power indicator, a spring-loaded impact absorption mechanism, and a two-way clip made of stainless steel with titanium plating.
Pros:
Multi-colored LEDs
Intuitive UI
Impact protection
Reversible clip
Cons:
Specs:
Weight: 6.1 ounces without battery
Dimensions: 6.22 x 1.57 inches
Lowest Setting: 0.1 lumens for 240 hours
Highest Setting: 1000 lumens for 1 hour 15 minutes
Check Amazon
Nitecore Flashlight Reviews
Nitecore VS "Other Brands"
Best Nightcore Flashlight Final Thoughts
With so many flashlight brands out there, it can be hard for a company to stay ahead of its competitors. Nitecore has made it its mission to consistently create durable products for every use imaginable, from a relaxing camping trip to a high-stress tactical mission. As well as a flashlight for every activity, they also have all the accessories you could imagine, making them a one-stop-shop for all of your illumination needs.
Thank you for visiting BestTacticalFlashlights.net. If you like any of the flashlights that you see in this article, please click on one of the Buy Now buttons to make your purchase on Amazon. As an Amazon affiliate, we make a small commission off any purchase made from a click-through from our website, which is how we are able to provide you with these informative articles. You will not pay more on Amazon by clicking through our website because the price is the same as if you go to Amazon directly. Please take a look at our other top light articles for all your flashlight needs. Or if you just want to know what the most powerful flashlights are right now check here.