Acebeam is putting out the L19 as a long-range hunting flashlight. First, we will talk about if it is good for this use case and then we will go over the specifics
Acebeam L19 Review TLDR
So if this is just too long to read and you just want our recommendation or not here you go.
The Acebeam L19 is a great light for what it is designed for. It is small and light and has no real shortcomings aside from not really putting out as many lumens as is claimed. But, since the point of this light is to have a long throw flashlight it definitely hits the advertised throw numbers.
If you need a thin beam of light just to see far you do not want the light to spill everywhere this is a great option. So for hunting, we would definitely recommend this light.
Buy The Acebeam L19 Now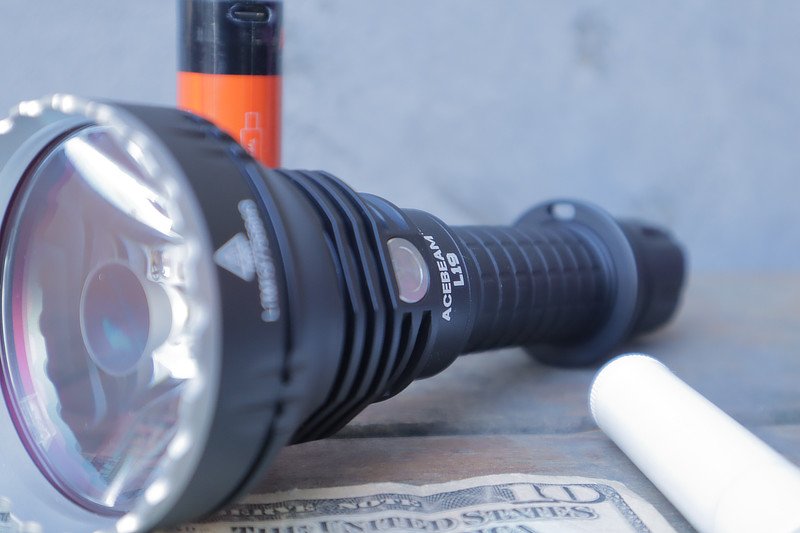 What We Like About the Acebeam L19
We really like the size of this light. It is in the form factor of a tactical flashlight but with a slightly bigger head. Now the magic comes in with the OSRAM LED that is designed for throw matched with the TIR lens to make sure no light is lost. Usually, you would need a much bigger reflector to get this amount of throw.
We also like the addition of the tactical ring in a hunting light since it makes it so much easier for one-handed use with the rear switch.
What We Don't Like About the Acebeam L19
We think that the light could have a little more visible spill to light up the area nearest to you but then that would take away from how far the light throws.
We like the quality of the stainless steel side switch but something should be done to make it easier to find and push in the dark. There is no raised area and it is super smooth. We had a slightly difficult time finding it in the dark and if you had gloves on hunting it would make it even harder.
Build Quality
The build quality is excellent like we expect from Acebeam with a beautiful finish.
All of the parts that need to screw together feel like they go together perfectly with no extra wiggle.
They thoughtfully recessed the tail switch enough so the light could do a tail stand.
Also the ample heatsinking made it so we never felt like the light got too hot. At 1600 lumens this was expected.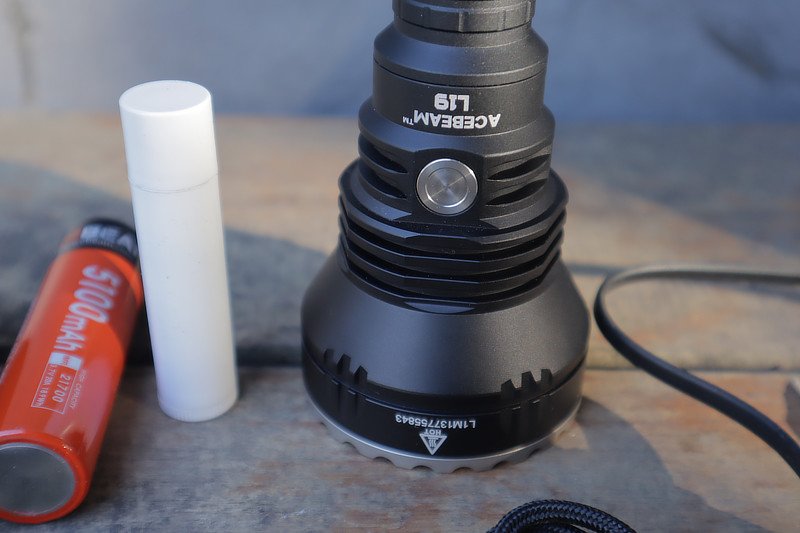 LED, Lens, Bezel, Reflector, Throw
The LED emitter is the OSRAM Olson KW CULPM1.TG is also known as the Boost HX. This LED is originally designed for automotive and it is a domeless LED that is intended to create an intense thin well focused spot beam of light.
The lens is similar to previous models of this light but a little bigger. The TIR lens designed to help with the efficiency of the light and make sure that all of the light is going where you want it to go.
The bezel on the Acebeam L19 is slightly crenulated (or jagged) which can help with a few things. If you need to use it as a striking device it will definitely increase impact damage. But, an unintended plus for us from these types of bezels is that if you put the light bezel down on a table you can create a little bit of a lantern effect in a pinch.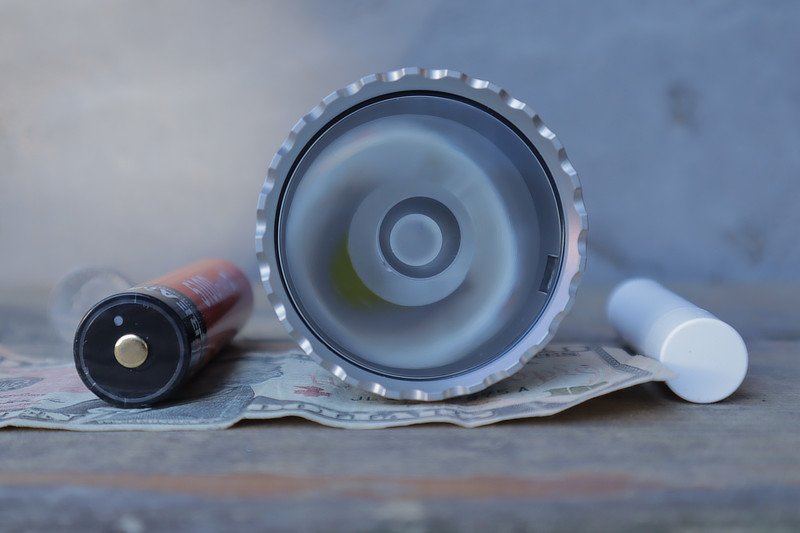 The throw on this little light is gigantic compared to its meager size. Chalk this up to the pairing of the Boost HX LED, the TIR Lens (Total Internal Reflection), and the nice reflector that is slightly bigger than the L18 but still pretty small for long range LED flashlight.
Basic Specs
Weight: 6.91 oz w/o battery
Length: 6.44 inches
Head Diameter: 2.36 inches
Body Diameter: 1 inch
Driver & User Interface and Modes
We like the easy user interface on the Acebeam L19, it is the same as the previous version of the L18 and it is also similar to Olight's easy interface. This light has dual switches to provide a more tactical use along with normal use.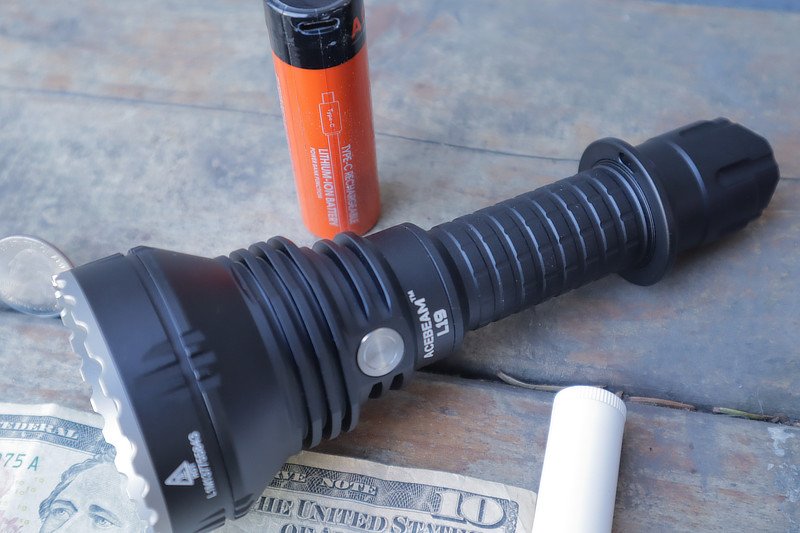 You can turn on the light with a press of the side button and it will turn on to the previous mode you left off since it has a mode memory function. Once the light is on if you hold down the side switch it will cycle through Low – Mid 1 – Mid 2 – High output.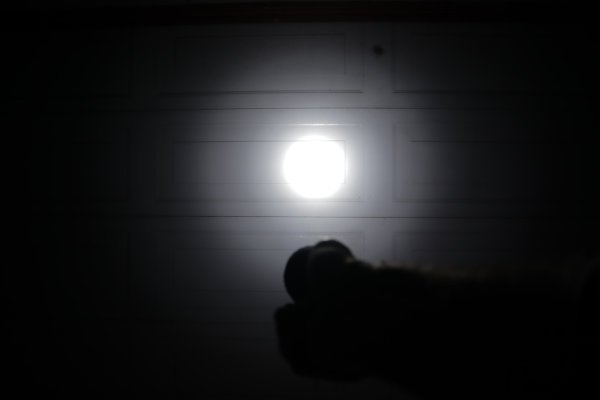 If you want to access moonlight then from off you will hold the side switch down. If you want to access turbo you can either double click the side switch or press the tailcap switch, this works if the light is on or off. One other way to access turbo is by just lightly pressing the tail cap switch, this gives you a momentary turbo. This momentary on capability is really nice for a quick burst.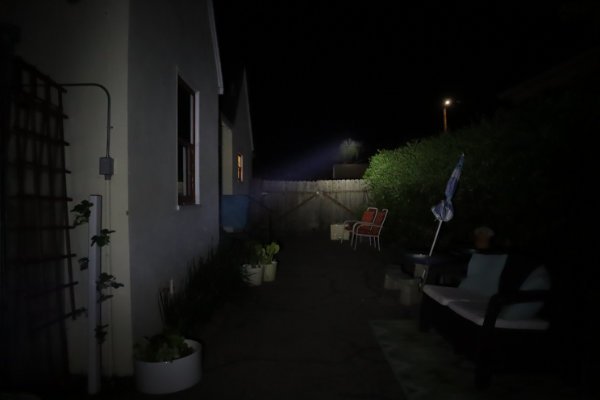 We really like the direct access to both Moonlight mode and Turbo since moonlight is our most used mode and the turbo is something that if you really need it you need right away. This is probably our favorite of all of the features.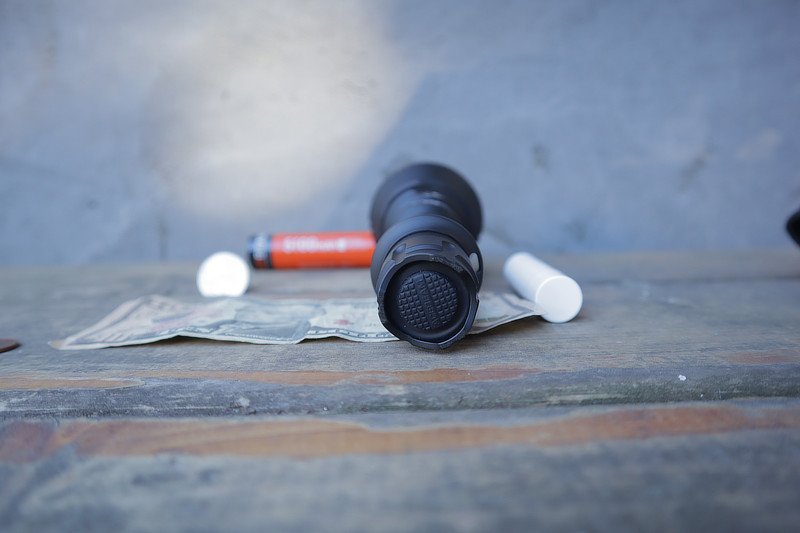 Last, if you want a tactical strobe you can triple-click the side switch.
Also not to be missed safety lockout. Acebeam has an electronic lockout mode if you hold down the side switch past moonlight. This is so you do not have accidental activation. You could also slightly unscrew the tail cap for a physical lockout.
As far as the driver is concerned they made a smart choice to go with one that had no PWM and had the ability to run off of lots of kinds of batteries a 21700, 18650, 2 CR123A, or 2 RCR123. We really like the flexibility to use more than one battery type in our lights, multi-fuel flashlights are the way to go. We would like to see Acebeam supply a battery tube so the smaller diameter batteries still fit snug.
Batteries & Charging
The battery that we got with the L19 was Acebeam's 21700 battery that can be charged directly into the battery with a USB-C port. We really like flashlights that are internally rechargeable so we do not have to mess with external chargers or batteries. Simplicity is really important to us.
The L19 does not have internal charging but you can purchase an Acebeam 21700 battery that you can directly recharge like what we got. If you had a couple of these batteries then it might actually be a pretty flexible middle ground since you can use the batteries as power banks also. This way you could charge your cell phone in a pinch.
We do really like that this light comes with a battery-level power indicator. Green is greater than 30%, Red is in-between 10% and 30% and flashing red is below 10%. This battery indicator light helps to know when you need to recharge or change batteries.
Retention and Carry
This is a pretty big light but not for how much throw it has. Other lights from Acebeam like the T27 or T28 are bigger even with less throw since they are completely depending on the size of the reflector for how far it can throw. This one uses a certain kind of LED and an Optic to help out.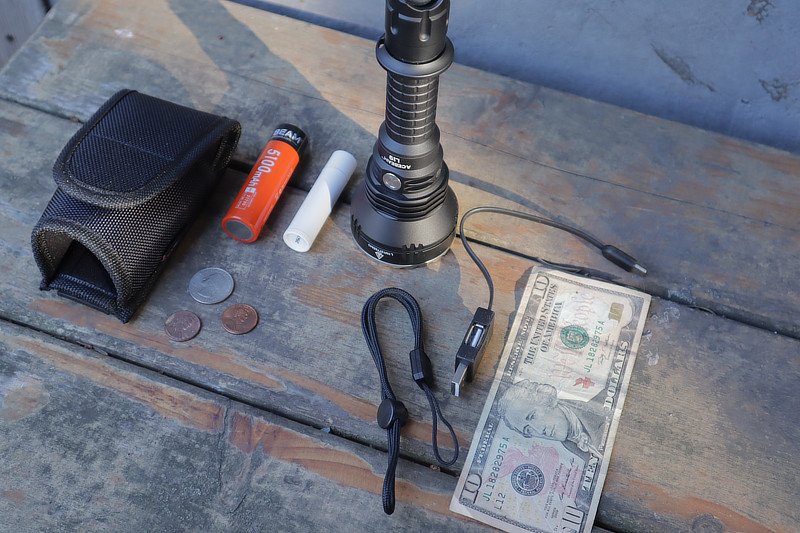 Since this light is not exactly pocket carry they do give you a belt holster that fits the light really nicely. One thing that we did notice is when you have the light in the holster since the L19 comes with a tactical ring it can snag a little so you might want to practice if you are using this in a security setting and speed is important.
We did not test it but Acebeam does offer a remote pressure switch for this light to make it a weapon light. So if you mount the light to your rifle you can use a small pressure pad to turn the light on.
Power and Runtime
Like I mentioned earlier our light came with a 21700 battery 5100mAh capacity cell that you have the option of purchasing but does not come with the light.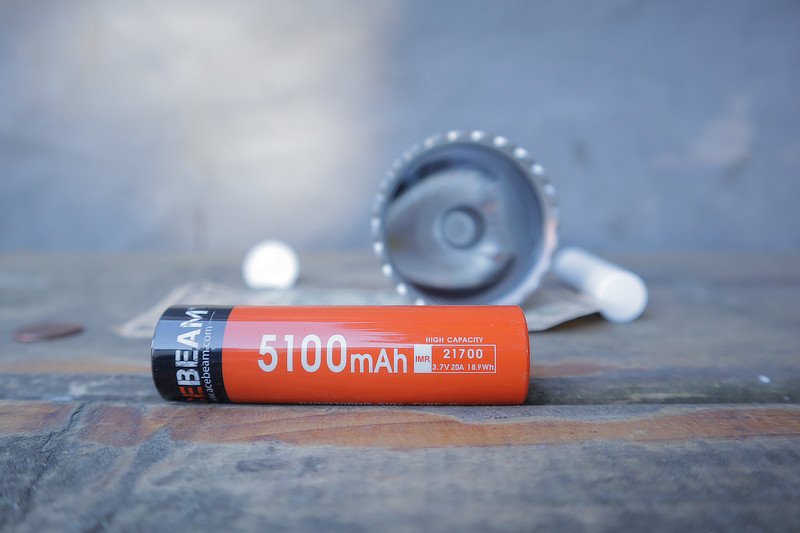 With our single 21700 lithium ion cell, we got nice runtimes and brightness levels.
The light is on turbo for around 7-8 minutes before it drops down to high. While it is on turbo there is a significantly steep drop off in brightness from the advertised amount of 1650 to around 1300 before dropping too high.
High is very stable and has consistent output during runtime for a pretty close amount of time to the advertised amount. 
Similar Lights
Some lights that are also going for long throw and use 21700 lights are the Olight Warrior X Turbo, Fenix HT18, and Acebeam's own T27 or T28.
The benefit that all of those light has over the L19 is that they are all internally rechargeable. Which is something that we really like.
But,
If internal recharging is taken away we really like the L19. It is smaller but has a longer beam throw. Also, this light comes with the option of a green LED which for things like hog and coyote hunting is preferred. None of the other similar lights offer this option.
Final Thoughts
Acebeam did a great job on this light in all respects.
First, this is intended to be an update to the L18. For that, they were about to keep the same size but by changing the LED and lens configuration they increased the throw by around 500 meters. We also like the smaller crenelated strike bezel since it spreads light more evenly with a headstand and you lose less light overall. There is a big difference in price here but if you need the extra 500 meter throw it is worth it.
Second, this light is supposed to be a hunting light with a long throw. The tight focused beam is great for getting the light right on your target instead of letting the whole area know you are there. Remember that animals see differently than us so they can not see the side of the beam as much as we can. Also just like the L18 the fact that they offer a green option is great for certain hunters.
Third, this light is supposed to have a great throw in a small package. Aside from LEP lights, they are one of the champs in the throw compared to the size department.
Would we recommend this light? Yes for sure. For the purpose that Acebeam made this light, it is really great. This would be a great flashlight for law enforcement, search and rescue, and a bunch of other things.
A few things that we would like changed but are not bad.
We really like internal charging while still keeping the ability to use different batteries. We would also change the side switch to be easier to find by feel. And last, a cell tube so it makes it easier to use other battery sizes since 21700 and 18650 are not the same.
This review was sponsored by Acebeam and they provided the flashlight and battery to test.
Thanks for visiting the site, many of the links are affiliate links which means we get a small commission if you purchase the light after going through our link. All of this is at no extra cost to you. If you are looking for other flashlight reviews check out this page.