Why A Penlight?
The best penlight could come in handy for many reasons. The people that need a penlight the most are probably doctors and nurses because they use them to check people's pupils during physicals. Some penlights have very high lumens, so doctors and nurses will need to use low brightness to avoid blinding the patients. Another reason to have a penlight is that it can be great for self-defense and having a flashlight is always a good idea if you are walking around a night. Most of the manufacturers of quality penlights are also manufacture tactical flashlights. Many penlights are really durable and tough, so they can be use as a weapon (kobutan) similar to a tactical pen – but with the added benefit of a blinding light.
Not Much Time? Here Is The Bullet List
**Below are our more detailed reviews. Click the links above to see current prices or read customer reviews on Amazon.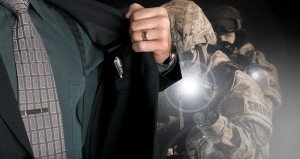 A tactical flashlight pen will not be as bright as many of the other tactical flashlights on this site, but they have the added benefit of being easy to conceal since they are as small and look like pens. Penlights are great options as EDC flashlights since they will easily fit in shirt, pants, or even suit pockets. Most penlights use AAA batteries because of the thickness and they will not be able to have the same lumens or battery life as larger, more specialized batteries or even AA battery flashlights. If you are looking for AAA batteries we like the rechargeable Eneloop AAA Ni-MH with the La Crosse BC-700 Charger. For non-rechargeable batteries the Energizer L92 Lithium batteries are the best.
What Do Nurses Use A Penlight For?
There are a few things that doctors and nurses check for when they shine a penlight in your eye. The first thing that they check for is if the pupils react to the light. If they do not react to the light, it could mean that there has been some sort of brain injury. The second thing they check for is to see if the pupils act as one, that is if both eyes react the same way even if the light is in only one eye. Your eyes should act as one, if not then the nurse needs to do more tests. Lastly nurses look at the color of the whites of the eye and the condition of the blood vessels. There are penlights here that can be used in the medical profession, but we have another article on the best medical penlight if you specifically want a light for the medical field.
The Best Penlight
Best Penlight for Professionals: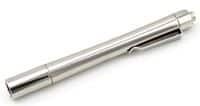 The Thrunite TI4T is hands down the best penlight for professionals on the market. One of the most outstanding features of the Thrunite TI4T is the fact it starts up in firefly mode each and every time you turn it on. Starting at such a low lumen makes it the perfect tool for professionals, such as doctors, nurses and dentists because they can use it for a variety of tasks without having to turn down the settings. Professionals also enjoy the TI4T because its compact and lightweight, which makes it easy to carry and handle for a variety of tasks. Just because this penlight starts in firefly mode does not mean it can not really pump out the lumens though. The Ti4T is equipped with a Cree XP-L V6 emitter and can produce up to 300 lumens. The Thrunite TI4T is one of the most durable penlights on the market, it comes with an IPX-8 rating and thanks to its titanium alloy body it can withstand impacts of up to 6 ½ feet. The TI4T is easy to operate, and the stainless steel pocket clip makes it easy to securely store the light wherever you want. As an added bonus you can choose one of three different methods to change between modes.
Weight: 0.77 oz. w/out batteries
Dimensions: 5.23 inches long and 0.5 inch diameter
Lowest Setting: 0.4 lumens for 137 hours
Highest Setting: 300 lumens for 51 minutes
Buy Now or Read More Reviews on Amazon
Best Penlight for Professionals (Runner Up):

The Brite-Strike EPLI was made by Brite-Strike technologies to become the conference room equivalent of the Tactical Blue Dot, and we have to say it has done the job quite well. The Brite-Strike EPLI is powered by two AAA batteries that allow the light to put out as much as 160 lumens for 30 minutes or 80 lumens for up to six hours. The beauty of the 160 lumens is the color is quite close to natural daylight making it an excellent choice in professional settings. The low setting of 80 lumens provides enough light to allow you to easily read fine print in a low light room, but the best surprise is the strobe mode that allows this penlight to be used to help disorient a potential attacker. The Brite-Strike EPLI doesn't look much like a penlight; it's made from aircraft grade aluminum that has a graphite anodized finish, while the bezel is brass and polished stainless steel. Many people, upon first glance, mistake the EPLI for a writing utensil rather than a flashlight. They also sell three different color filters that will fit over the top. Red is for night vision, green is for map reading, and blue is for forensics or hunting (makes blood stand out).
Weight: 2.4 oz
Dimensions: 5.125 inches long and 1 inch diameter
Lowest Setting: 80 lumens for 6 hours
Highest Setting: 160 lumens for 30 minutes
Buy Now or Read More Reviews on Amazon
Best Penlight for Tactical Use:
If you are looking for the best tactical penlight you need to check out the EagleTac PN20A2. The PN20A2 might look like a normal everyday carry type of pen light, but it is built to fulfill tactical jobs. The EagleTac PN20A2 is contains a CREE XP-G2 S2 LED that emits anywhere from 28 to 179 lumens, all being powered by 2 AAA batteries. The 179 lumens is more than enough to blind or disorient a potential attacker, but the penlight can also make a handy striking tool thanks to the knurling, as well as the shape. The EagleTac PN20A2 is designed for everyday use, which is why its user interface is so easy to use. To adjust the lumen output simply turn the head of the light, the rest of the light is controlled by the tactical tail switch. Even better is the fact that you can select the output level before you turn the light on. For those that wish to stow the light in a pocket, the PN20A2 comes with a stainless steel pocket clip that is 100% removable. EagleTac has done a great job with this tactical flashlight pen, in fact in our article on the top throwing lights this flashlight won the top spot for 2 x AAA.
 Weight: 1.1 oz. w/out batteries
 Dimensions: 5.3 inches long and 0.5 inch diameter
 Lowest Setting: 28 lumens for 6 hours
 Highest Setting: 179 lumens for 40 minutes
Buy Now or Read More Reviews on Amazon
Best Penlight for Budget Minded: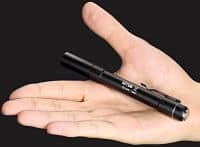 The Nitecore MT06 offers people a low profile pen design that fits easily in the palm of your hand for a price that won't hurt your wallet. The CREE XQ-E R2 LED provides a more focused beam than other reflectors of the same size and the best part is that it is only ¼ of the size of the CREE XP-G. The LED is powered by 2 AAA batteries that are strong enough to emit 165 lumens for around 45 minutes. The MT06 only comes with two brightness modes, low and high, both of which are accessed via the tail switch. The tail switch gives users the option of being able to use the light with just one hand. The stainless steel pocket clip makes the MT06 quite portable, which means you will always have it when you need it most.
Weight: 0.78 oz. w/out batteries
Dimensions: 5.04 inches long and 0.5 inch diameter
Lowest Setting: 32 lumens for 5 hours and 15 minutes
Highest Setting: 165 lumens for 45 minutes
Buy Now or Read More Reviews on Amazon
Best Penlight for Slim Fit: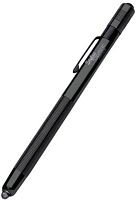 If you are looking for a compact pen style light that is comfortable to carry with you everywhere you go, the Streamlight Stylus is the ideal choice and the body comes in six different color options. The Stylus offers a slimmer diameter than other penlights on the market, which makes it even less noticeable in your shirt pocket. Despite its slimmer design the Streamlight Stylus offers users a high-intensity LED that can last for up to 100,000 hours. The LED in the Stylus comes in a variety of options, so you can pick the one suited best for the task at hand. Arctic white is the best choice for everyday lighting needs, while red is preferred for signaling and blue and ultraviolet are best suited for automotive or forensic work. The Stylus is powered by 3 AAA batteries, which come included with the light and will last upwards of 60 hours while they emit a steady amount of lumens, how many lumens depends on what lighting you are currently using. Check out our review here. 
Weight: 1.1 oz. w/out batteries
Dimensions: 6.21 inches long and 0.375 inch diameter
Lowest Setting: 2 lumens for 60 hours
Highest Setting: 10 lumens for 60 hours
Buy Now or Read More Reviews on Amazon
Best penlight for Unique Design:
The FourSevens Bolt Mini is the perfect light for people who are looking for a penlight that doesn't look like a penlight. This flashlight is a three-way collaboration between Fellhoelter a bolt action pen maker, Tuff-Writer who is known for their tactical pens, and lastly FourSevens who is known for pushing the limits in flashlight performance and design. The Bolt Mini has a truly innovative user-interface to go along with its unique body design. Majority of penlights use a push button interface, but the FourSevens Bolt Mini uses a sliding bolt mechanism to enable you to change modes and power the light. The best part about the sliding bolt is the swiping motion that so many of us are familiar with. The Bolt Mini uses a CREE XP-L HD that offers users three different brightness levels and four different output modes, all of which are powered by a single AAA battery. If that isn't enough the Bolt Mini is the first of the bolt action lights that allows you to reconfigure the modes to fit your needs rather than what the manufacturer recommends.
Weight: 1.13 oz.
Dimensions: 4.98 inches long and 0.51 inch diameter
Lowest Setting: 5 lumens for 20 hours
Highest Setting: 100 lumens for 1 hour
Buy Now or Read More Reviews on Amazon
Best Penlight Conclusion
There are many different uses for penlights. If you are looking for a flashlight to carry with you everywhere or use in a professional situation, penlights are a very nice choice. As you can see there are flashlights that use batteries aside from the standard AAA but unless you are specifically trying to find something super slim, we recommend the AAA lights.
If you like any of the flashlights that you see in this article or in any of our other articles, please click one of the Buy Now buttons to make your purchase on Amazon. As an Amazon affiliate we make a small commission off any purchase made from a click through from our website, which is how we are able to provide you with these amazing informative articles. Clicking through from our website will not cause you to pay more on Amazon, as the price is the same if you go to Amazon directly – the difference is the commission that we receive. Please take a look at our other Best Flashlight articles. If you are new to flashlights and are not sure about some of the lingo here please visit our flashlight buyers guide.