There are dozens of flashlight manufactures on the market, so it's hard to know which brand is the right one to choose. Olight has been in business for almost 14 years, so they have established themselves as a top contender in the illumination world. They are known for their high-quality products that are designed to fit in any category. Whether you like outdoor activities or need a tactical light for professional use, Olight has a model for you. To see the best Olight flashlight has to offer in 2022, keep reading.
Short On Time? Here Is The Bullet List:
**Below are our more detailed reviews. Click the links above to see current prices or read customer reviews on Amazon.
Olight History
Olight is a Chinese flashlight brand that was founded in 2006. They started out making flashlights, headlamps, camping lights, and other products for outdoor activities and flashlight enthusiasts.
It wasn't long before they turned their attention to tactical lights designed for law enforcement, military, and other government agencies. These high-end tactical flashlights have raised Olight's status as one of the best brands in Europe, allowing them to expand their business to a variety of offshore markets, though their main headquarters has remained in China.
Since the beginning, Olight has had one goal, which is to put their flashlights in as many hands as possible. They take pride in their products, focusing on details like runtime, brightness, ergonomics, size, and weight, so each flashlight can help improve the lives of their users. They even boast that they use their own products every day to prove that their lights are truly the best ones out there.
What Does Olight Manufacture?
Though Olight started out with outdoor models and collectibles for flashlight enthusiasts, they have made a name for themselves in the tactical market. This started with their M series, which pushed the limits by upgrading features like the light output and build quality.
Despite Olight's success with this series, they weren't satisfied with what they had. They designed their SR line next, using new innovations to create a more powerful searchlight, like their X6 Marauder. They also went in a new direction, creating their ultra-compact S Baton series.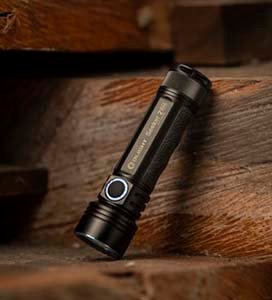 As well as expanding their flashlight lines, Olight also tried out different batteries, adding models that are powered using standard AAs and AAAs, CR123As, and rechargeable battery packs. This helps them compete with other brands on the market and stay ahead of the game.
Unlike other Chinese brands that send their designs to a large manufacturing facility to build, Olight designs, tests, and makes all of the lights that bear their name themselves. This allows them to maintain the unique look and style of their flashlights.
Olight Warranty
Olight stands by their product, which is why they use them themselves. They also want their lights to work for you and their warranty proves it. If any Olight product fails within 30 days of purchasing it, it can be returned to the retailer you bought it from for free repairs or replacement.
Within 5 years, any defective product can be sent to Olight for free repairs and replacement. After 5 years you can still get it repaired or replaced by Olight, though there will be fees attached, depending on the product.
There are exceptions to this rule. For instance, the X9R Marauder has a 10-year warranty, which gives you double the coverage of most of the flashlights they make.
Of course, these warranties only cover defects in the materials or workmanship. Any issues that arise due to improper use or normal wear and tear do not fall under the warranty.
Best Olight Flashlights on the Market
Best Budget Olight Flashlight:
The I3E EOS is one of the smallest flashlights that Olight has for sale. It uses only a single AAA battery to run, though you can also use a 900 mAh NiMH battery to give it a longer runtime. This is one of the top olight keychain flashlights.
Despite its compact size, the I3E is built well, using aircraft-grade aluminum with a Milspec Type 3 coating to prevent scratches and an IPX8 waterproof rating. There is a PMMA TIR lens that focuses the light for a 44-meter throw and a Philips Luxeon TX LED for high performance for up to 60,000 hours. You can also get this model as an Olight UV flashlight.
There is only one output level for this light, which is activated with a simple head twist. This may lead to a loose head that falls off in your pocket, so be sure to check it now and then to ensure it's secure, especially if using the keyhole ring on the tail.
Pros:
Great low price
Compact size
Waterproof
Cons:
Specs:
Weight: 0.68 ounces
Dimensions: 2.38 x 0.55 inches
Lowest Setting: N/A
Highest Setting: 90 lumens for 70 minutes
Check Amazon
Smallest Olight Flashlight:
This is the smallest flashlight in Olight's Baton series, though it still gives you everything you need in a great EDC flashlight. It has a uni-body made of aluminum alloy, with finely braided knurling for a solid grip. The tailcap is magnetic, though it isn't strong enough to hold onto all types of metal. The dual-direction clip and lanyard hole give you multiple carry options. This small light is also available in different versions of Olight Titanium, rainbow, bead blasted, and polished.
The S1 Mini has 5 output levels and a strobe, with a max of 600 lumens from the Cree XM-L2 LED. A side switch lets you quickly choose the level you need. Included with this flashlight is a 650mAh RCR123A rechargeable battery. It also comes with a micro-USB charging cable that plugs directly into the battery. A side switch indicator light tells you when it needs a charge.
There is also an HCRI version available, which has a lower max output of 450 lumens, though it does use a Cree XP-G3 CW LED that offers more accurate color representation.
Pros:
Compact size
5 output levels
Low battery indicator
Cons:
Specs:
Weight: 1.52 ounces
Dimensions: 2.13 x 0.83 inches
Lowest Setting: 0.5 lumens for 15 days
Highest Setting: 600 lumens for 55 minutes
Check Amazon
Brightest Olight Flashlight:
Not only is the X9R Marauder the flashlight with the most lumens ever produced by Olight, but it is also the largest and most expensive at 0.00. It comes in carrying case that is dustproof, waterproof, and shockproof. It also includes a shoulder strap to make it easy to carry this 4-pound beast around.
This flashlight has 8 output levels, the highest of which produces 25,000 lumens for 3 minutes before dropping down to 6400 lumens to prevent overheating. It uses 6 Cree XHP70.2 LED lights for this amount of brightness.
A rechargeable battery pack made of 8 18650 high-discharge batteries gives you long runtimes on the lower outputs. A battery protection board balances the power in each battery cell to improve its performance and increase its longevity. Wall and car adapters are both included, so you can charge the X9R almost anywhere.
A side switch lets you quickly choose your output. There are 8 blue indicators on each side of the switch to tell you which level you're on and how much battery power you have left. Proximity sensors lower the output when the flashlight head nears an object. This light also has an ergonomic design with milled finger grooves to make it comfortable in your hand.
Pros:
8 output levels
Multiple accessories included
Overheat protection
Rechargeable
Cons:
Specs:
Weight: 65.43 ounces
Dimensions: 12.6 x 3.94 inches
Lowest Setting: 200 lumens for 27 hours
Highest Setting: 25,000 lumens for 3 minutes
Check Amazon
Best Rechargeable Olight Flashlight:
It's a lot cheaper to recharge a flashlight than to constantly buy replacement batteries. The S30R Baton III comes with Olight's custom 3500mAh 18650 high-performance rechargeable battery. It includes a USB magnetic desktop charger that links with the magnetic tailcap of the flashlight for a stable hold while it charges. The S30R is also compatible with Olight's magnetic charging cables that you can use anywhere, so you're flashlight will always be powered up and ready to go when you need it.
There is a Cree XM-L2 LED that provides this flashlight with 5 output levels, ranging from turbo to moonlight. An industrial silicone side switch lets you quickly cycle through these levels to the one you need. The highest level gives you 1050 lumens of light for 2 minutes, then steps down to 500 lumens to keep the flashlight from overheating.
Another great feature is the thermal management program, which reduces heat to prevent damage to the flashlight and your hands as you hold it. Lockout mode prevents you from accidentally turning this light on, plus it has an indicator to show when this mode is engaged. The smooth aluminum reflector improves the beam focus. The hardened glass lens is coated to give you a better light transmission rate.
Pros:
Slim design
Multiple charging options
Lockout function
Heat protection
Cons:
Charger is only compatible with the included battery
Specs:
Weight: 3.88 ounces
Dimensions: 4.48 x 0.99 inches
Lowest Setting: 0.5 for 100 days
Highest Setting: 1050 lumens for 2 minutes
Check Amazon
Best Olight Flashlights Final Thoughts
With their years of experience and attention to detail, Olight has proven themselves to be a top contender in many categories. They have several flashlight options to choose from, ranging from compact EDCs to heavy-duty tactical models and everything in between, so you can always find the high-quality model to meet your needs and your budget.
Thank you for visiting BestTacticalFlashlights.net. If you like any of the flashlights that you see in this article, please click on one of the Buy Now buttons to make your purchase on Amazon. As an Amazon affiliate, we make a small commission off any purchase made from a click-through from our website, which is how we are able to provide you with these informative articles. You will not pay more on Amazon by clicking through our website because the price is the same as if you go to Amazon directly. Please take a look at our other flashlight reviews or our Best Flashlight Buyers Guides for all your flashlight needs.