Does your flashlight always seem to come up missing only to find it in your children's bedroom? Are you tired of your kid using your flashlight? If this is something that you are currently dealing with the answer is simple, get your kid their own flashlight. Giving your kid their own torch not only keeps them from using yours, it also provides them with hours of fun. If you decide to get your child their own make sure you get them the best flashlight for kids in 2022.
Short On Time? Here Is The Bullet List:
Flashlights
Headlamps
**Below are our more detailed reviews. Click the links above to see current prices or read customer reviews on Amazon.
How Can Kids Use Flashlights
Shadow Puppets
Nobody is ever too old for shadow puppets. Giving your kids torches gives you the opportunity to teach them about shadow puppets. The best part about shadow puppets is the hours of quiet entertainment it provides at home or away.
Shadow puppets require children to lay a flashlight on a table or other uplifted object so the light is pointing at a wall. Children (or adults) then place their hands in a variety of positions to make different animals or people on the wall. Don't want to use your hands? Cut out different animals, people, or objects and glue them on popsicle sticks. Use your imagination to create an amazing puppet show.
Learn Morse Code
Morse code is always a useful thing to know. Using a flashlight even makes it fun to learn. Plus once they have mastered Morse Code your kids can use it to send secret messages to each other or anybody else who knows it.
Print off an International Morse Code sheet for your children to use while they are learning. Even cheap lights with a simple on and off switch can be used for sending dots and dashes.
Storytelling
Who needs ghost stories around the campfire when you have a blanket fort and a flashlight? The idea of storytelling with a flashlight is similar to ghost stories around the campfire as everybody is sitting in a circle. The person holding the flashlight is the one telling the story. What they do with the flashlight will depend on the story being told.
A favorite is placing the flashlight under the chin to light up the story teller's face. Flashlights can also be used to highlight objects of interest during the course of the story.
Dance Party
One of the greatest ways to burn off energy is via a dance party. Plain dance parties get boring, so spice it up by turning it into a flashlight dance party. One of the great things about flashlight dance parties is they can be done indoors or outside. All you need to have a successful dance party is some great music and flashlights. Give each kid a light, turn on the radio, and let them dance the night away.
Stargazing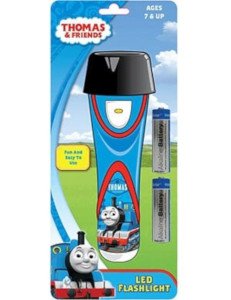 Flashlights are a great way to teach your children about the different constellations. Stargazing in the city limits is nearly impossible because of the ambient light. Before heading out to the mountains you can create constellation cards to teach your children what to look for when you stargaze while camping.
Creating the constellations requires you to draw the constellation on black construction paper. Use a hole punch to make holes where the stars would be. In a dark room shine the flashlight on the paper making sure the light is aimed at a wall. The light should only come through the holes. The constellation shape should then show up on the blank wall. This allows your child to see what each constellation looks like making it easier to find them in the sky on a clear night.
Flashlight Tag
Who doesn't enjoy a good game of tag? Flashlight tag combines the classic game of tag with hide and seek to create a game played at night in the cover of darkness. Another great thing about flashlight tag is it is a fun game for all ages, adults and children alike can play together.
How flashlight tag works is the person who is it holds the flashlight. The rest of the players then go hide in the darkness. Using the flashlight the person who is it goes around trying to find everyone. Upon finding somebody the person who is it shines the light on them and they are now out. The last person found takes over as the person who is it and another game is started.
Check out this article to see some more flashlight games.
Obstacle Course
Almost everybody loves an obstacle course. Think American Ninja Warrior and Wipe Out. Using a flashlight adds a new twist to an obstacle course as that means the course must be maneuvered in the dark with minimal light. This obstacle course is best set up indoors using blankets, pillows, chairs, and other objects.
Use the various objects to create an obstacle course that your children must get through using only a flashlight. Use masking tape, such as blue painter's tape, to mark the course so they know where to go next.
Best Kid Flashlights on the Market in 2022
Best Toddler Flashlight:
The Melissa & Doug Sunny Patch Giddy Buggy Flashlight is the best light for toddlers for a variety of reasons. One of the biggest reasons why this light is so popular among parents with toddlers is its easy grip handle. The easy grip handle offers toddler hands a solid grip with plenty of room for toddler's hands. The on and off switch is located on the top of the grip. Having the power switch in such a central location makes it easier for young children to manipulate. The switch itself is larger and easy to manipulate with a single finger.
The Melissa & Doug Sunny Patch Giddy Buggy Flashlight looks just like a ladybug, feet included. The light comes with 6 ladybug legs that allow the light to rest steadily on flat surfaces. The light provides a spotlight type beam that is suitable for both indoors and outdoors. The best part about the Melissa & Doug light is the numerous designs to choose from making it suitable for any young child.
Pros:
Easy grip handle

Numerous designs

Durable
Cons:
Batteries can be hard to install
Best Flashlight on a Rope:
All kids end up losing or misplacing things that they own, including flashlights. One of the best ways to prevent the flashlight from getting lost or misplaced is choosing one on a rope. One of the best choices for kids is the Plastic Transparent Flashlights on a Rope. These lights come in packs of 12, so you will have plenty on hand in case one gets lost or misplaced.
The Plastic Transparent Flashlights feature a transparent body made from plastic. The plastic is manufactured in assorted colors with matching ropes. The lights come prepackaged and you do not have a choice on color selection. The lights run on a single "AAA" battery and measure about three inches long. The short length makes them a perfect fit for smaller hands. Even with batteries installed the light is not too heavy for kids to continue wearing around their neck.
Pros:
Colorful

Rope feature

Great party favor
Cons:
Best Toy Flashlight:
If you are looking for a flashlight that is considered a toy but offers a rugged and durable design, look no further than the Backyard Safari Flashlight. The light offers a green and gray color scheme that is sure to spark your child's imagination. This light belongs to a line of toys geared for backyard safari adventures. With the Backyard Safari Flashlight, you never have to worry about battery drain as the light only comes on when the button is depressed. Once children let go of the button the light turns off.
Adults use flashlights for spotting animals in the dark, now your kids can easily follow suit. The bright white LEDs are powerful enough to spot animals hiding in the bushes or even your lawn.  The rugged light is 1.5 inches in diameter and 5 inches long making it the perfect size for kid's hands. The hanging loop allows for the attachment of a carabineer clip to hang the light from a cargo vest or a belt loop. The Backyard Safari Light utilizes 2 ordinary AAA batteries for power and comes included with the light.
Pros:
Rugged design

Comes with batteries

Bright light
Cons:
Slide forward hard to operate
Best Outdoor Flashlight for Kids:
If your children spend any time camping in the outdoors they need a light that can withstand the trip. They need something that is portable, but something that won't break when dropped in water. For kids that spend a lot of time outdoors camping, hiking, etc. the Dorcy 45-2521 is the ideal light. The Dorcy light is not only waterproof up to about 1 foot deep it will also float rather than sink.
With the Dorcy 41-2521, you will find that at 150 lumens the light is bright enough to handle any outdoor task. The light runs on 3 AA batteries, which come included with the light. The batteries will last for 17 hours before needing to be replaced. If the 150 lumens is too bright for your child you can opt for the Dorcy 41-2510. The 2510 only emits a maximum of 55 lumens.
Pros:
Cons:
Batteries don't last very long
Specs:
Dimensions: 6.5 inches long and 2.5 inches wide
Weight: 4 ounces w/out batteries
Output: 150 lumens
Runtime: 17 hours
Best Mini Flashlight for Kids:
Not everybody, including kids, enjoys a full sized flashlight. Sometimes you need a mini one to get the job done. Plus mini flashlights often fit into kid sized hands better than ordinary flashlights. If you are looking for the best mini light for kids look no further than the Ultrafire SK68 Kids Mini Flashlight. Despite its small size, it has more than enough power to get the job done.
The Ultrafire SK68 is constructed from an aluminum alloy adding to its solid construction. The body of the light offers a skid-proof design allowing for better grip, which is important with kids. The light can be powered by a single battery and users have the choice between an ordinary AA or a rechargeable 14500. The focus adjustable white light offers three different output modes that are accessed via the tail cap switch.
Pros:
3 output modes

Water resistant

Tailcap switch
Cons:
Does not come with battery
Specs:
Dimensions: 3.93 inches with a 1.18-inch diameter
Weight: 2.32 oz. without batteries
Best Kids Headlamp:
If you are looking for a headlamp that will be used by kids you want something lightweight and easy to use. The Princeton Tec Byte LED Headlamp is a compact headlamp that is ideal for kids. There are several reasons as to why the Princeton Tec Byte is the best choice for kids, but the biggest reasons why is because of how much it has to offer. The headlamp offers single button operation and comes equipped with a lockout mode.
The adjustable Princeton Tec Byte is a high-quality headlamp that is made in the USA. The headlamp is ideal for camping, hiking, and many other outdoor activities, but also works quite well for nighttime reading. The Princeton Tec Byte offers two separate LEDs: white and red. The red LED is ideal for up close tasks and offers 35 lumens of light. The white LED offers two brightness levels, high and low. Powered by 2 AAA batteries the Princeton Tec Byte emits 50 lumens of bright white light for up to 80 hours.
Pros:
Lockout mode

Two color LEDs

Single button operation
Cons:
Uncomfortable for extended periods of time
Specs:
Dimensions: 2.5 inches by 1-inch diameter
Weight: 2.26 oz w/batteries
Output: 50 lumens white and 35 lumens red
Runtime: 80 hours
Best Budget Kids Headlamp:
The Foxelli Rechargeable Headlamp is a great budget option for your little ones that want to be out and about. The best thing about this headlamp is that it is USB rechargeable so you do not have to worry about batteries like you have to do with every other kid toy in the world. Simply plug it in to any micro-USB that you have around the house.
The headlamp is ideal for camping, hiking, and many other outdoor activities, but also works quite well for nighttime reading. The Foxelli offers two separate LEDs: white and red. Both also have a strobe option. The white LED offers two brightness levels, high and low. The USB rechargeable Foxelli emits up to 160 lumens of bright white light and on its lowest it will stay on for over 30 hours.
Pros:
Red light and strobe

Two color LEDs
Cons:
Could be a little more waterproof
Specs:
Weight: 2.4 oz w/batteries
Output: 160 lumens white
Best Flashlight For Kids Final Thoughts
The best flashlight for kids is going to vary based on certain factors. The best light for a toddler isn't going to be the best light for an older child. Each of the lights in the above categories is the best for a specific reason. To choose the best light for your kid you need to consider their age and abilities, as well as what they will be using the flashlight for. Now that you know about some of the different lights, go on out and purchase one today.
Thank you for visiting BestTacticalFlashlights.net. If you like any of the flashlights that you see in this article, please click on one of the Buy Now buttons to make your purchase on Amazon.
As an Amazon affiliate, we make a small commission off any purchase made from a click through from our website, which is how we are able to provide you with these informative articles. You will not pay more on Amazon by clicking through our website because the price is the same as if you go to Amazon directly. Please take a look at our other Flashlight Buyers Guides for all your flashlight needs.