How many times have you read news stories about backpackers who went missing and were later found dead? Chances are you hear them all too often. The sad part about these stories is that most of these deaths could have been prevented if only the backpacker was prepared to head out on an adventure. Rather than becoming a headline, I want you to take a minute to read through this in-depth backpack tent camping checklist. Reading through this list will ensure you have everything you need to survive in the wilderness during your next backpacking trip.
Essential Camping Checklist
Before you start thinking of gear, food, and first aid, you need to jot down some important information, especially if you are going to be camping alone. This information should be listed at the top of any camping checklist and should be left with somebody back home, in your car, and in your pack. Here is what needs to be included at the top of your list:
Name, phone number, and address
Campsite information – name, number, and location
Ranger Station/Campground Office – name, address, and phone number
Known allergies and medical conditions
List of current medications, including anything over-the-counter, vitamins, or supplements
Blood type
Emergency contact information – name and phone number
Description of the clothing you will be wearing
Must-Have Backpacker Gear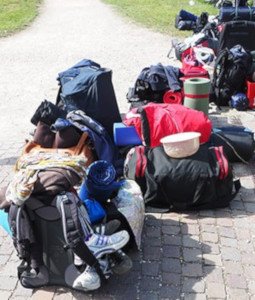 #1 – Pack: Without a pack, you cannot go backpacking successfully. Packs are used to transport all of your other gear.
#2 – Pack Cover: You want to use a cover of some sort to keep your pack dry in case of bad weather. Manufacturers sell covers, but trash bags also work well.
#3 – Shelter: Tarps and tents are the most common shelters backpackers use to sleep in. You need a lightweight, compact shelter that can store inside of your pack.
#4 – Tarp/Tent Footprint: Used underneath the tent to insulate the tent and protect it from a wet or damp ground.
#5 – Rainfly: Extends to the ground on all sides of your tent to help you stay dry.
#6 – Sleeping System: A sleeping bag keeps you warm and comfortable while sleeping at night. You want one that is going to do its job, but that will fit inside your pack.
#7 – Compression Sack: Designed to compress your sleeping bag to a smaller size to enable it to fit inside your pack. If made with waterproof material, it will also protect your sleeping bag from rain.
#8 – Sleeping Pad: Provides cushioned comfort for sleeping, but also helps keep you warm at night as it insulates your body from the ground.
#9 – Headlamp/Flashlight: A small, durable flashlight is necessary to provide light and can easily fit inside your pack. Headlamps provide a hands-free option. Performance and weight are the top considerations when choosing what to bring. If you need help looking for a flashlight check out our flashlight buyer's guides.
#10 – Trekking Poles: These can be used on long hikes, but can also be used to hold up a tarp or tent fly.
#11 – Dry Bags: Necessary to keep items dry, including clothing, electronics, money, etc.
Cooking Essentials
#1 – Stove and Fuel: If you want a hot meal you need a single burner stove with a fuel source.
#2 – Matches and Lighter: Always bring waterproof matches and a reliable lighter. These will come in handy if the igniter on the stove fails or you simply need to start a fire.
#3 – Spork: This provides you with a fork and spoon in one and is the only utensil you well really need while backpacking.
#4 – Mug: Mugs allow you to drink a hot beverage, but can also be used to make soups or stews. Space saver mugs are the best option for backpacking.
#5 – Pot: A 3-quart pot is big enough for all of your cooking needs. Backpackers prefer titanium as its lightweight makes it easy to carry. Black or blackened pots absorb heat faster than others.
#6 – Windscreen: Protects the flames on the stove from sudden gusts of wind for a more efficient cooking process.
#7 – Plate: A single plate with upturned edges is all you need to eat off of, as it also works as a bowl.
#8 – Multi-Tool: Swiss Army Knives or Leatherman's are something you always want to have around, they are compact, lightweight, and provide you with a variety of tools that can be used for different tasks.
#9 – Dish soap: Dishes have to be washed in between meals and you can't do that without dish soap. Some dish soap can also work as shampoo and body wash.
#10 – Sponge: You can also use a bandana or washrag, but you need something to scrub the dishes with. Bandanas or washcloths can be used to filter out coffee grounds and food from dishwater so you can properly dispose of the water.
#11 – Garbage bags: These are needed to haul garbage out with you. You can bring heavy garbage bags with drawstrings or smaller Ziploc style bags or even grocery store bags.
#12 – Hydration Reservoir/Water Bottle: You need a way to stay hydrated, so using a refillable bottle or pack is your best option. They are also easy to hook to your pack while hiking.
#13 – Water Treatment: You need a way to make the water from rivers and streams safe to drink. You can bring a water filter device or purification tablets.
Camping Food Checklist
#1 – Breakfast:
Whole grain cereals: Can be packed in sealed bags and mixed with powdered milk for a filling breakfast.
Instant Oatmeal Packets: The packets themselves work as a bowl. All you need to do is add hot water and stir. Compact and lightweight makes for easy packing.
Breakfast Bars: Small and compact and can be eaten while on the go.
Grits: Simple to make and provides a nice change from instant oatmeal.
Freeze Dried Meals: Easy and light enough to pack around, provides a needed change to a breakfast menu.
Powdered Meals: You can find complete meal replacements and protein shakes everywhere. You want one that offers plenty of nutrition, isn't highly processed, and tastes good.
#2 – Snacks:
Trail Mix: Nutrient-rich snack that combines nuts, seeds, and dried fruit for a pick me up when you are feeling low on energy.
Beef Jerky: Doesn't require any refrigeration and can be eaten on the go.
Nuts and Seeds: Provide some much-needed calories for your backpacking adventures, plus they are nutrient dense. You can choose from a wide variety of nuts and seeds to keep things interesting.
Cliff Bars/Granola Bars: These are easy to pack and eat on the go. Find ones that are not highly processed and contain natural ingredients.
Dried Fruit: Provides dense sugar and a great alternative to candy. Fresh fruit is not recommended as it is bulky and fragile. Dried can easily fit into sealed bags.
Peanut Butter: A snack that can be eaten with just about anything. It is packed with protein, fat, sodium, and calories.
Honey: Natural sweetener, but also a great snack.
#3 – Lunch:
Meat: Salami and tuna require no cooking making them easy to eat on the trail. They are also high in sodium and protein, plus they taste good.
Cheese: You want the harder cheeses as they are more shelf stable. These are an excellent choice as they provide a lot of fat and calories for backpackers.
Tortillas: Bread is bulky and gets smashed. Tortillas are flat, so they won't get damaged and are easy to pack.
Crackers: Very high in sodium and carbohydrates and go great with meat and cheese. Can be hung on the outside of a pack to prevent them from smashing.
Ready to Eat Meals: These need no explanation and are a favorite among backpackers. Simply open and eat and are a very balanced meal option.
#4 – Dinner:
Freeze Dried Meals: These serve as their own containers. You add hot water, stir, seal, and then eat. There are plenty of options to choose from, as well as brands.
Lentils: These take a little longer to cook than other meal options, but they are packed with iron, fiber, protein, and calories.
Dried Vegetables: Use to add to any meal option for extra vitamins and minerals your body needs.
Instant Mashed Potatoes: Serves as an excellent meal base, plus they are packed full of carbohydrates and sodium making them an excellent backpacking food.
Couscous: Not the most filling meal, but only takes 5 minutes to cook and is high in fiber.
Ramen/Instant Noodles: Filled with carbohydrates these seasoned noodles are preferred over pasta as they don't require as much clean up.
Instant Rice: Another great base for a meal, you can add to it to enhance flavors.
#5 – Drinks:
Powder Mixes: Come in a variety of flavors, are packed full of vitamins and minerals. They are a great way to enhance your hydration and replace lost electrolytes.
Tabs: These come in small containers and allow you to drop the tab directly into your water. Provide the same benefits as powdered mixes.
Coffee/Tea/Cider/Hot Chocolate: Bring any kind of hot beverage that you prefer. It is a great way to warm up in the morning or at night.
Backpack Safety Gear
#1 – First Aid Kit: What you carry in your first aid will depend on you as a backpacker. At the very least it should contain an over-the-counter painkiller, elastic bandage, and the basics you will need to treat any kind of bleeding wound.
#2 – Map and Compass: These are needed for in case you get lost hiking in the woods. The most basic compass will be able to point you in the direction you wish to be heading.
#3 – Sunscreen: The sun's rays can be brutal, you need to protect your skin from the burning rays at all times.
#4 – Bug Spray: Biting and annoying insects are part of the backpacking experience. Using a spray can help repel the worst ones and keep you from being attacked.
#5 – Thin Rope: Can be used for all sorts of purposes, such as repairing shoelaces, tying stuff together, hanging things out to dry. It is always better to have it and not need it.
#6 – Folding Saw: You never know when you will need to cut up wood for some kindling or cut through some rope. A folding saw sometimes works better than a pocket knife and is compact enough to fit in a small pocket of your pack.
#7 – Bear Repellent Spray: Nobody wants bears to come into their camp, so it is better to have it with you to prevent bears.
#8 – Hand Sanitizer: You might not always have water and soap available to wash your hands. This works great to clean your hands before rendering first aid.
#9 – Hand Warmers: These are great to have for emergencies, plus can be used inside of shoes or sleeping bags to help keep you warm in freezing temperatures.
#10 – Fire Starter: Sometimes these work better than using kindling and matches. You can make your own with a toilet paper roll filled with lint soaked in fabric softener.
Complete Clothing List
#1 – Pants: You want pants that you can wear on their own or with layers, depending on the season. You want a lightweight, breathable fabric.
#2 – Shirts: Long and short sleeve will be needed. Again you want lightweight, breathable fabric that can be layered.
#3 – Long Underwear Set: These are great for wearing underneath your top layer of clothes and provide added insulation.
#4 – Hiking Shoes: Before heading out, treat your shoes with a water repellent solution and allow ample time to dry. Shoes should be comfortable and broken in.
#5 – Socks: Cushioned hiking socks will provide the most comfort while backpacking, plus will help protect against blisters. Carry an extra pair with you inside a sealed bag to ensure they stay dry.
#6 – Underwear: We had to include it on the list. You would be amazed at how often they are overlooked. Extra pairs can be kept in sealed bags.
#7 – Jacket: You want to bring a lightweight jacket that will protect you from the rain and the wind. If you are going in colder temperatures bring along a down or insulated jacket for warmth.
#8 – Gloves and Hat: Needed to protect your head from the sun, as well as to provide you with warmth. Gloves will keep hands warm and dry in various weather conditions.
#9 – Toiletries: Can't forget the basics like shampoo, conditioner, body wash, toothbrush, toothpaste, and daily medications.
#10 – Towel and Washcloth: Without a towel and washcloth, you won't be able to wash yourself up after a long day of hiking.
Optional Backpacking Items
#1 – GPS Unit: A handheld GPS unit is preferred over your Smartphone as it will work without an internet connection. If you use your Smartphone instead make sure the maps are fully updated and stored for offline access.
#2 – Spare Batteries: You never know when you will need them. You want spare batteries for any device you have, flashlight, headlamp, GPS, etc.
#3 – Solar Charger: You won't have access to electricity, but need a way to recharge your devices. The portable solar charger draws energy from the sun allowing you to charge your devices as needed.
#4 – Repair/Sewing Kit: You just never know when something is going to break or tear. If it does you would rather have a repair/sewing kit to fix it so you are not left without a much-needed item.
#5 Sunglasses: Not everybody wears them, but they are great to protect your eyes from the blinding sun, wind, and rain.
#6 – Duct Tape: Works as a repair tool, but can also be used to cover blisters. Can be used to patch holes, hang water bottles, and secure broken seams.
#7 – Zip Ties: Just another lightweight piece of equipment you can use for a variety of tasks.
Backpack Tent Camping Checklist Final Thoughts
Thank you for visiting besttacticalflashlights.net. I really hope that you enjoyed reading this article as much as I enjoyed putting it together. As an avid outdoorsman, I felt that it was important to put together a full backpack camping checklist. All too often you hear about people going out for a quick trip only for it to end up going quite badly. Backpackers get lost in the wilderness and never make it home and many times it is preventable. Having a complete backpackers camping list can make all of the difference in the world if you run into any kind of emergency while backpacking.
Please take a moment to share what you think about this list or mention any items that you think I forgot in the comments below. If you enjoyed this article and feel that others will find it useful please take a moment to share it with others.