Why A Medical Penlight Instead of a Flashlight?
The Look: For most of the tests that a doctor, a nurse, or an EMT would perform, any flashlight would work. Since doctors and nurses are in a professional setting and usually want to have something that does not look like the typical tactical flashlight, medical penlights are a top choice. The best medical penlights look professional rather than rugged and are usually available in colors other than black. For those looking for pediatric penlights you can find penlights in many colors and some of the disposable penlight packs even come in a rainbow pack. There are also pens with lights available, but they do not usually have as good of a flashlight.
Not Much Time? Here Is The Bullet List
**Below are our more detailed reviews. Click the links above to see current prices or read customer reviews on Amazon.
The Size: Penlights are a good size for the medical professional since they are easy to fit in a pocket or have attached to a clip board.
The Low Lumen Setting: Many non-medical flashlights do not have a setting low enough for the everyday checkup. It is nice to have a very low lumen setting so patients do not feel like they are being blinded. With that said, the downfall of most of the cheaper medical diagnostic penlights is that they only have a low setting, so they are almost useless in most other circumstances. If you do not care about a low lumen setting, check out our best penlight article.
The Pupil Gauge: Many doctors, nurses, or EMTs probably do not need a pupil gauge, but it might be nice to have. Many lights that are dedicated medical penlights have a pupil gauge printed on the side of them. For those of you that are not sure what this is for, I will explain a little later.
Uses For A Medical Penlight
The Pupil Test: The reason why doctors, nurses, and EMTs carry flashlights is to do a pupil test. So, what can the pupil test tell us? First, doctors look to see if your eyes constrict if a light is shown in the them. The doctors or nurses will keep track of how much constriction you have with a pupil chart. Second, does the swinging flashlight test, moving the flashlight from eye to eye every few seconds to check that both eyes, have the same response and that your eyes both react regardless of which eye has the flashlight in it. This is called the consensual constriction test. A light test can also be used to diagnose and discern the severity of a concussion and is often used with patients that are passed out to check reflex and brain function.
Looking through drawers/cabinets/closets: Doctors and nurses have to keep track of so much stuff that they are often looking through drawers, cabinets, and closets to find what they need. It is important to have a small flashlight handy for these small tasks.
Going into patients rooms without turning on the lights: Doctors and nurses are constantly going through patients rooms in the middle of the night while patients are sleeping. A nice respectful doctor or nurse would use a flashlight to get around instead of turning on the lights at 3 a.m. A little bit of courtesy goes a long way with patients that are already having a bad day.
The Best Medical Penlights on the Market
Best Penlight Overall:
One of the biggest problems in regards to penlights is the way they look. The majority of them look like tactical lights rather than a light used by a medical professional. With its titanium alloy body that features a polished finish, the Thrunite TI4T is probably the most professional looking penlight currently on the market. Like all other Thrunite lights the TI4T is constructed with top quality products to ensure it is durable enough to merit its IPX-8 rating. The TI4T features on OP reflector, which provides professionals with the perfect flood of light for a variety of tasks.
The TI4T uses a CREE XP-L  V6 LED, which comes in cool or neutral white, and is designed to last for more than 20 years before it will need to be replaced. The light can emit a maximum of 300 lumens for a period of 51 minutes off of two AAA batteries. Unlike other penlights, the TI4T doesn't start in high mode – instead the designers configured the light to begin in Firefly mode. This makes it a great choice for medical professionals because the 0.4 lumens allow the light to be used for a variety of medical tasks.
The TI4T offers a user friendly interface. Powering the light on or off is done via the tail switch. Changing between the various modes can be done in one or two ways but both require the light to be turned on. Modes can be cycled through by twisting the head of the light from loose to tight. The easiest way to cycle through the modes requires you to halfway press the tail switch. If you hear the click of the tail switch, you have pressed too far.
Specifications:
Weight: 1.09 ounces without batteries
Dimensions: 5.23 inches long and 0.55 inches diameter
Lowest setting: 0.4 lumens for 137 hours
Highest setting: 300 lumens for 51 minutes
Best Medical Penlight:
This is widely considered the best medical pen light and is probably the most widely used by doctors and nurses that do not want to use the super cheap or disposable penlights. The Welch Allyn PenLite has specific design modifications that make is a great penlight for the medical field. The first is that it has an incandescent bulb which many believe gives a better tissue color rendition which could be important to doctors and nurses. Welch Allyn's fix to the most reported problem with penlights is the design of the on/off switch. They designed the switch so it needs to be pulled or pushed out from the end of the pen so it is impossible for it to be turned on while in your pocket.

Buy Now or Read More Reviews on Amazon
Best EMT Penlight: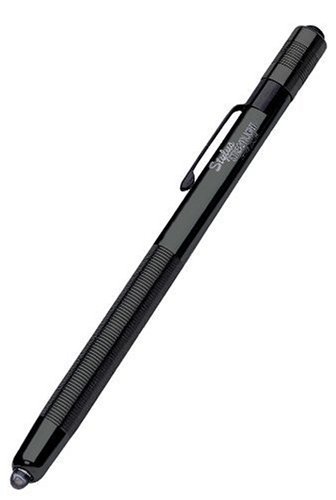 Unlike doctors and nurses, EMTs are in and out of vehicles and have different needs in a penlight. The Streamlight Stylus is a super light and small LED flashlight, about the same size as a standard pen. If you are not familiar with Streamlight, they are one of the top manufacturers of flashlights in the world. They focus mainly on tactical flashlights so they are dependable and reliable. This light is almost indestructible and will always work. The LED can come across a bright to some patients but you can move the light in from the side to see when their pupils react. Also, there are some tests or conditions that require a much brighter light in order to get a pupil reaction. This light is thinner than all of the others because it uses AAAA batteries. These may be hard to find in most stores but they can be ordered online, or in a pinch if you take apart a 9v battery there are 6 AAAA batteries inside.
Weight: 1.1 Oz. without Batteries
Dimensions: 6.2 inches long and 0.37 inch diameter
Single Setting: 11 Lumens for 24 hours
Buy Now or Read More Reviews on Amazon
Best Disposable Penlights (Bulk):
Working in emergency medicine, you need a light that is going to work when you need it. The last thing you want to worry about is having to carry around extra batteries, which is where the Dixie EMS Disposable Penlight comes in. Once the batteries die, which take a surprisingly long time, you simply dispose of the light and replace it with a new one. Being that they are meant to be disposable they are sold in packs of six, so you always have extras on hand. Multiple lights also allow you to keep them in numerous locations for easy access.One downfall to the penlight is the accidental activation from carrying them clipped in pockets. To prevent this from occurring, the Dixie EMS Disposable uses a clip switch plastic sleeve on each disposable light. The Dixie EMS Disposable doesn't power on like other lights. In order to use the light, you must push the button down and hold it down. Once you let go of the button, the light will turn off.
The Dixie EMS Disposable doesn't use LEDs, but it is still plenty bright enough. Most users describe the light as a warm whitish-yellow light that compares to what the old mini maglites used to emit. The light is perfect for assessing a patient's pupils, and a pupil gauge is imprinted directly onto each penlight to make the job easier.
Specifications:
Dimensions: Five inches long and 0.5 inches diameter
Settings: Only one setting
Best Nursing Penlight With Pupil Gauge:
As a medical professional sometimes you need a penlight that offers a bit extra, which describes the Escolite Penlight with Pupil Gauge and Stylus perfectly. The Escolite Penlight functions as both a light and a stylus allowing you to check on a patient and immediately update their records without having to put the pen away. The stylus end can be used on any type of electronics and provides the same amount of response as your finger, but without the smudges and grease left behind on the screens. The lights even come with four additional rubber caps for quick and easy replacement.The Escolite Penlight features a very nice design. The light is lightweight enough that you can easily carry it around with you no matter where you go. The clip located on the light ensures the light can be carried in a bag or a pocket without fear of it falling out. The warm light penlight comes in a variety of colors, but each light features a pupil gauge on the side for easy comparison.
The light is turned on via a click switch that is located underneath the rubber stylus. The light is bright enough to be used as a compact flashlight but soft enough not to disturb sleeping patients. The warm light is powered by two AAA batteries that come with the light upon purchase.
Specifications:
Dimensions: 5.5 inches long and 0.49 inches diameter
Setting: None
Medical Penlight Conclusion
The best medical penlight is definitely something that will be up for discussion since there are so many different scenarios and some people would prefer something that they don't mind losing or throwing away if it gets contaminated. I really hope that we were able to help you in your search for the best penlight for doctors, nurses, or EMTs. These professionals work in a different type of tactical environment than most but just as critical for survival.
If you are looking to buy the best medical penlight, please click through on one for the links above and go through to the amazon for sale pages and help out our site. We are part of the Amazon Affiliate program and we get a small commission from Amazon with no extra cost to you for purchases made through one of our links. If you liked this article please give us some social love via facebook, twitter, pinterest, etc… and check out some of our other "Best Of" articles.
Thank you for visiting besttacticalflashlights.net. If you like any of the flashlights that you see in this article or in any of our other articles, please click one of the Buy Now buttons to make your purchase on Amazon. As an Amazon affiliate we make a small commission off any purchase made from a click through from our website, which is how we are able to provide you with these amazing informative articles. Clicking through from our website will not cause you to pay more on Amazon, as the price is the same if you go to Amazon directly – the difference is the commission that we receive. Please take a look at our other Best Flashlight articles.