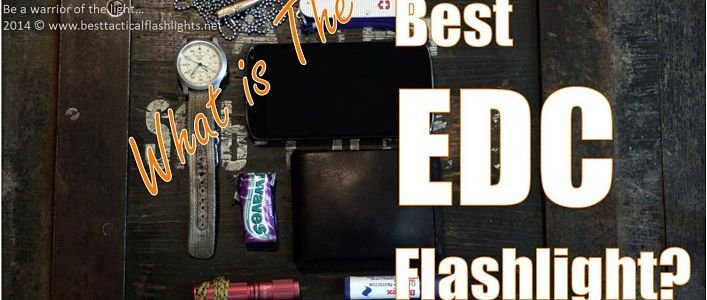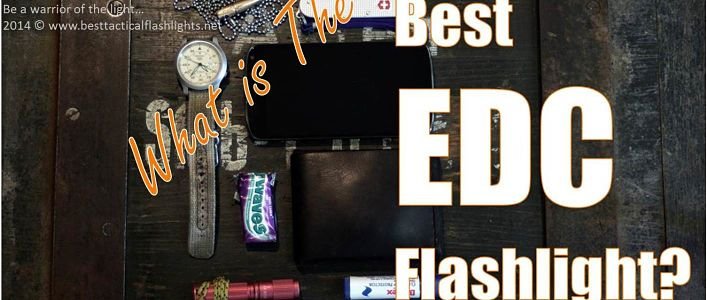 What Makes The Best EDC Flashlight?
The term EDC stands for Every Day Carry. When we are looking for the best EDC flashlight, we have multiple things to consider. A flashlight is a very useful tool. They can be useful to find things in a dark room or they can be a powerful tool in self-defense. What is important to remember is that a flashlight that you do not have with you is a flashlight that is not useful at all. In order to have this flashlight with you at all times it needs to fit into your style and not slow you down. Size is very important, the smaller the light the easier it will be to keep with you at all times but the less useful it will be as a striking device in self-defense. The flashlight has to be durable, you want this flashlight to work when you need it. Lastly, lumen output is something that you will want to consider.
Not Much Time? Here Is The Bullet List
Button Cell
Single AAA
Single AA 
Under 3 Inches (Mini)
Under 4 Inches (Small)
4-6 Inches (Medium)
**Below are our more detailed reviews. Click the links above to see current prices or read customer reviews on Amazon.
What You Want in the Best EDC Flashlight
Size of the EDC Flashlight
Size is probably the most important factor in a EDC flashlight. You need to first consider how you are going to carry the flashlight. Are you going to keep it in your pocket, on your belt, in a holster, or in a purse? There are nice flashlights that fit on a keychain, flashlights that are the shape of pens, and there are larger lights that come with pocket clips. The size of the flashlight is mostly dependent on what battery the flashlight uses. Some micro flashlights use watch type batteries but most flashlights use larger batteries like AA, AAA, CR123A or CR2 batteries.
There are benefits to each battery type, it is easy to find the standard size batteries in rechargeable options but the specialized batteries offer higher performance. As far as self-defense goes the amount of light is very important. If you can see everything in your environment and you can blind an attacker, you will have a have a great advantage over any attacker. The second use of a flashlight in self-defense is as a striking tool – slightly larger flashlights will work better for this.
We will section off EDC flashlights based on length:
Micro EDC flashlights are under 2 inches
Mini EDC flashlights are under 3 inches
Small EDC flashlights are under 4 inches
Medium EDC flashlights are between 4 and 6 inches
You need to first decide what size will be the best EDC flashlight for you.
Durability of the EDC Flashlight
If you are carrying a flashlight with you everyday, it will have to survive a beating. This is the reason you do not want a cheap flashlight. You want a flashlight that can take a beating everyday and still work when you need it, a flashlight that you could count on in a survival situation. Materials are important along with things like being shock resistant, waterproof, and having a lens that is shatterproof and scratch resistant.
Material of EDC Flashlight
The most commonly used material for tactical flashlights is anodized aluminum, specifically Type III hard anodized. Other commonly used materials are titanium and stainless steel which are both more expensive than anodized aluminum. All three of these materials are very strong and durable. Titanium has the best weight to strength ratio, being as strong as steel but 45% lighter and twice as strong as aluminum while only being 60% heavier. Stainless steel is very strong but it is also the heaviest. Aluminum is a nice middle ground of weight, durability and cost.
Shock Resistance of EDC Flashlight
Part of the ANSI FL1 standards includes impact resistance. This measurement is the height in meters that the flashlight could be dropped from onto cured concrete and still work perfectly without any cracks or breaks. Being shock resistant also focuses on the type of light emitter that is used. LED lights have taken over the flashlight market largely because they are cheap, have a longer lifespan, and are shock resistant. Incandescent bulbs were expensive, hard to replace, and not shock resistant.
Water Resistance of EDC Flashlight
Another one of the ANSI FL1 standards is being waterproof, this is the IPX rating. The three IPX Ratings that frequently show up on flashlight are IPX4, IPX7, and IPX8. IPX4 means that the flashlight is splash resistant. IPX4 is probably fine if you are in an urban environment and this is just in your pocket, just don't forget it in the wash. IPX7 means that the flashlight can be submerged up to one meter for 30 minutes. Lastly IPX8 means that the flashlight can be submerged below one meter (manufacturer states) continuously.
Lumens of EDC Flashlight
The most important part about a flashlight is obviously the light that comes out of it. You want a light that will give you a tactical advantage in a self-defense situation and one that will be able to throw the light a far distance in a dark parking lot or alley. A minimum of 60 Lumens is recommended to be able to disorient an attacker but 120 Lumens is needed to temporarily blind someone.
Best EDC Flashlight
Best EDC Flashlight – Keychain Flashlight: Button Cell & AAA
Keychain flashlights come in two main forms, the first is the flat single led version that uses a watch type battery which is called a button cell. The second uses a single AAA battery and has a keychain loop on the end of the body. Due to power output of the watch batteries they do not get very bright but they have extreme portability and durability so they deserve to be mentioned.
Best Button Cell EDC Flashlight
The LRI Photon Freedom is an amazing example of the best EDC LED flashlight for a variety of different reasons. As an EDC light is one you can carry with you for everyday use, the LRI Photon Freedom definitely meets the bill, as it is small enough and light enough to be carried around on your keychain. The light even comes with a key ring to make securing the light a simple process.  In addition to its perfect size, the LRI Photon Freedom makes one of the best EDC LED lights because of how useful it is. The light is easy to operate because it requires users to simply push one-button to access everything the light has to offer, which includes Morse code mode and four different safety modes.
The light for its size offers one of the brightest LED's around at 4.5 lumens and using a lithium battery you can easily get 12 hours of run time in the coldest temperatures. The LRI Photon Freedom comes with a hands-free clip, as well as a necklace clip for those who do not wish to carry it on their keychain, although the key ring offers a quick release feature. Consumers can choose between 10 different LED beam colors, as well as three different body styles making the light customizable.
Weight: 0.24 oz w/out key ring
Dimensions: 1.57 inches long and 0.95 inches wide
Output: 4.5 lumens for over 12 hours
Best Button Cell EDC Flashlight (Runner-Up)
The Nitecore Tube is made from highly durable polycarbonate materials and is available in five different colors: olive, transparent, pink, black and blue. Coming in at just 2.2 inches long and weighing a mere 0.34 ounces with the battery, the Nitecore Tube is small and sleek enough to fit in the palm of your hand plus it offers one hand control with the touch of a button. Touching the button only once puts you in low mode, which puts out one lumen for up to 48-hours on a single rechargeable battery. Pushing the button twice quickly allows the light to emit 45 lumens for a period of one hour. The button also allows you to change the brightness mode, as well as activate the momentary on/off feature.
As a rechargeable light, the Nitecore Tube uses a simple USB charging cord and features a blue power indicator light. The light will remain on during the charging process and will automatically shut off once the battery is fully charged. Not all lights help with your peripheral vision because the beam angle is simply not wide enough, the Nitecore Tube offers a 100 degree beam angle.
Weight: 0.34 oz
Dimensions: 2.2 inches long and 0.83 inches wide
Lowest Setting: 1 lumen for 48 hours
Highest Setting: 45 lumens for 1 hour
Best AAA EDC Flashlight
The SureFire Titan Plus comes in at just over three inches and weighs a mere two ounces with the single AAA battery installed, but don't let its small size fool you. Also on our list of top AAA flashlights the SureFire Titan Plus is an improvement on the original Titan, which was the first keychain flashlight deemed to be professional; grade. The Titan Plus has added several things to its original design to allow the Plus to earn the title of best EDC flashlight AAA. The Titan Plus offers twice the lumens than the original Titan coming in at a maximum 300 lumens all powered from a single AAA battery.
The SureFire Titan Plus offers two other brightness levels, which can be accessed by twisting the head switch. In fact, the entire light is operated via the head switch. No matter what setting you choose the reflector is designed to shape the light into a wide MaxVision Beam. The body of the compact light is made from nickel-plated brass that is engineered to resist corrosion and scratching. The Titan Plus requires only a single AAA battery, but accepts either rechargeable or disposable batteries offering you the option of whatever is most convenient at the time.
Weight: 2 oz.
Dimensions: 3.375 inches long and 0.58 inch diameter
Lowest Setting: 15 lumens for 7 hours
Highest Setting: 300 lumens for 1 hour
Best AAA EDC Flashlight (Runner-Up)
The Thrunite Ti3 is this year's winner for the best runner up AAA EDC flashlight for a variety of reasons. One of the best things about this light is it comes in both cool white and neutral white, so you can select the light that works best for your needs. Another great feature is how reasonably priced they are, so you can purchase one of each and carry one with you and keep one in the car. The Thrunite Ti3 powers its CREE XP-G2 R5 LED with a single AAA battery. With that single battery powering the LED you can expect a beam distance of 50 meters with an intensity of 625 candelas. The Ti3 is one of the easiest EDC lights to use as it features a simple twist switch.
The light offers users four different modes, including firefly and strobe mode. Firefly mode is excellent if you are trying not to wreck your night vision as it puts out a low 0.04 lumens for 115 hours before you need to change the battery. Strobe mode puts out the maximum 120 lumens, but will run for an hour rather than the 30 minutes you get on high. Switching between modes is as simple as turning the flashlight on with the twist switch, then turn it off and turn it back on within 2 seconds. The Thrunite Ti3 comes with a memory function, but to recall the last mode used the light needs to be powered back on within 10 seconds of being shut off. Made out of aircraft-grade aluminum and coming with both a pocket clip it is easy to keep on you.
Weight: 0.42 oz w/out battery
Dimensions: 2.75 inches long and 0.55 inch diameter
Lowest Setting: 12 lumens for 6 hours
Highest Setting: 120 lumens for 30 minutes
Best AA EDC Flashlight
The Zebralight SC5 offers a CREE XM-L2 cool or neutral white LED that is powered by a single AA battery. The SC5 can accommodate a NiMH, alkaline, or lithium battery, although the manufacturer strongly recommends using an Eneloop or Eneloop Pro. While this is certainly the best AA EDC flashlight, AA batteries are not included with the light. The beam provided by the LED offers an 80 degree spill with a 10 degree hot spot, which is more than adequate to help light up your peripheral vision.
The compact light comes in at a little above three inches, which is still small enough to easily fit in the palm of your hand making it an excellent choice for an EDC light. Users are given three main levels of brightness, while each main level can then be divided into two other levels, but if that wasn't enough the second lower level can be divided even further. With all of the different brightness level choices, the Zebralight SC5 is not something to pass up if you are in the market for a new AA light. The SC5 even steps down the brightness levels automatically based on current battery power, allowing you ample time to switch out the batteries before it goes dark. The user interface is easy to use and provides you with almost instant access to beacon mode, as well as the various brightness levels through an electronic soft-touch switch.
Weight: 2.0 oz.
Dimensions: 3.2 inches long and 1.0 inch diameter
Lowest Setting: 3.2 lumens for 4 days
Highest Setting: 325 lumens for 0.8 hours
Best AA EDC Flashlight (Runner-Up)
The Sunwayman V11R offers users a CREE XM-L2 Led that will last for up to 50,000 hours and is fully powered by a single AA battery. Users can opt for a single 16340 or a CR123A to power the light or they can purchase a AA extender that will allow them to use a single 14500. The V11R offers a user friendly interface that is designed to provide you with quick and easy access to the various modes and brightness levels.
The V11R comes with a metal and rubber tail cap, and users can switch them out based on personal preference. For the momentary on feature simply depress the tail cap switch, releasing it will power off the light. The tail cap switch is clicky switch, but for the momentary on feature it is utterly silent as you do not depress the switch all the way. If you wish to fully power on the light, press the tail cap switch until a click is heard. The VR11 features a digital sensor magnetic control system for the brightness levels. To switch between them simply rotate the rotator ring from left to right. The compact light also features a turbo mode that can emit up to 570 lumens, but it is not recommended to use this mode for more than three minutes as it can allow the light to overheat.
Weight: 1.72 oz. w/out batteries
Dimensions: 3.3 inches long and 0.91 inch diameter
Lowest Setting: 1 lumen for 35 hours
Highest Setting: 216 lumens for 1.5 hours
Best Mini EDC Flashlight
The Olight S1 uses a CREE XM-L2 CW LED that is powered by a single CR123A or a RCR123A battery. The battery is powerful enough to put out 500 lumens for a period of five minutes. The S1 comes with three basic modes and two specialty modes. The three basic modes offer users the choice between 8, 80, and 500 lumens, while the specialty modes give users a 10Hz strobe mode and a 0.5 lumen moonlight mode.
The Olight S1 contains a very strong magnet located in the tail cap, which allows you to secure the flashlight to a metal surface and work hands free without worrying about the light being knocked over. Being able to emit 500 lumens for 5 minutes can easily cause the flashlight to overheat, so to prevent this from happening the Olight S1 employs a thermal management safety program that drops the output by 50% once the flashlight has been on for a constant minute, if you are using Turbo mode you will be able to use it for only 1.5 minutes.
Weight: 1.6 oz.
Dimensions: 2.4 inches long and 0.83 inches diameter
Lowest Setting: 0.5 lumens for 600 hours
Highest Setting: 500 lumens for 5 minutes
Best Mini EDC Flashlight (Runner-Up)
Coming in at just under three inches long the Eagletac D25C is one of the best EDC gear lights on the market, plus weighing only one ounce without batteries it will never grow too heavy to carry around. The D25C gives users the option to choose between 3 different LEDs, the CREE XM-L2, the Cree XP-G2, or the Nichia 219 so you can get the maximum output based on your needs. The XM-L2 offers a maximum of 453 lumens, while the XP-G2 offers a maximum of 408 lumens, lastly the Nichia 219 tops out at 300 lumens but with a much better CRI(Color Rendering Index). The mini light is powered by a single CR123A battery, but on that single battery you can get over 150 hours on low and almost an hour on turbo mode.
The D25C has four brightness levels, as well as seven hidden auxiliary modes. The user interface is extremely easy to use as it is a simple switch button to power the light on or off and select between output levels, while loosen the head allows you to choose between the hidden modes. What makes this light ideal for EDC gear is the turbo boost mode, which gives you 20% more power for about 200 seconds when you first access turbo mode.
Weight: 1 oz.
Dimensions: 2.9 inches long and 0.78 inches diameter
Lowest Setting: 1 lumen for 150 hours
Highest Setting: 453 lumens for 0.9 hours
Best Small EDC Flashlight
When it comes to small, but powerful flashlights the Zebralight SC600 MK III is the best choice out there. While the light itself is only a little under four inches long it can emit a maximum of 1300 lumens for around two hours. Now putting out that much power overheating is a big concern, but to prevent that from happening the SC600 MK III uses a PID thermal regulated output for the two highest output levels. The SC600 MK III offers three main brightness levels, but each of those levels can be separated into two sub-levels and the second sub-level can be further separated to even more brightness levels. All of this is powered by a single 18650 battery with an electronic soft-touch switch.
The CREE XHP35 is a cool white LED with a 80 degree spill and a 10 degree hot spot. The SC600 MK III comes with a battery indicator light that will flash a specific number of times to alert you to the battery power levels, all it takes is four short clicks to start. The light will also automatically step down from certain levels when the power is running low to help conserve battery life.
Weight: 2.35 oz w/out battery
Dimensions: 3.8 inches long and 1.2 inch diameter
Lowest Setting:  3.8 lumens for 18 days
Highest Setting: 1300 lumens for 2 hours
Best Small EDC Flashlight (Runner-Up)
The Nitecore EA11 certainly lives up to the Nitecore brand, thanks to its innovative features and its durable construction. One of the great things about the EA11 is that it is compatible with a variety of different battery types, which makes it easier for you when you are on the go. The Nitecore EA11 is compatible with a an ordinary AA battery or a IMR14500 battery. The ordinary AA should only be used in an emergency, as the maximum output and run time of the light is drastically reduced. With the IMR14500 you are looking at a maximum output of 900 lumens for 30 minutes, while the AA will only give you 160 lumens for about 45 minutes. Regardless of what battery you use the EA11 uses a CREE XM-L2 U2 LED with a 190 meter throw and 9000 candela intensity.  
In addition to the five regular brightness modes, the EA11 comes with three special modes that are ideal for emergencies. The EA11 is one of the easiest lights to use thanks to its dual-switch interface. The light is powered off and on by one switch, while the other allows you to switch between brightness levels. The Nitecore EA11 offers users red light illuminations which serves 3 unique purposes, preserve night vision, use as a signal light, and use to locate the EA11 in the dark when it is not powered on.
Weight: 1.87 oz.
Dimensions: 3.62 inches long and 1 inch diameter
Lowest Setting: 1 lumen for 12 hours
Highest Setting: 900 lumens for 30 minutes
Best Medium EDC Flashlight
The Surefire P2X Fury is one of Surefire's most popular LED lights and for a very good reason. The P2X Fury uses Surefire's IntelliBeam Technology to automatically adjust how much light your flashlight is emitting based on your environment. The technology will adjust your light anywhere between 15 to 600 lumens based on current surroundings. This mode must be accessed in order to be used, which accessing it is as simply as clicking the tail cap switch. Accessing tactical mode or the ability to put out 600 lumens all at once is a little more involved, but involves turning off the light and turning it back on within one second of turning it off.
In addition to powering the light, the tail cap switch is also used to activate the lock out feature of the Fury, which is ideal for preventing accidental activation when you are not using the light. The SureFire P2X is powered by 2 123A batteries, which are included with your initial purchase,. The batteries that come with the light have a 10 year shelf life. There are 2 other very similar models that offer different features the SureFire P2X Fury with IntelliBeam is a variable output light that automatically adjusts light output from 15 to 600 lumens depending on the environment. The Surefire P2X Fury Tactical is the same as the standard Fury but on single output.
Weight: 6.2 oz
Dimensions: 5.80 inches long and 1 inch diameter
Lowest Setting: 15 lumens for 46 hours
Highest Setting: 600 lumens for 1.5 hours
Best Medium EDC Flashlight (Runner-Up)
At just 5.5 inches long the Fenix PD35 TAC is the perfect size for an EDC light, as it is small enough to fit in your pocket and light enough that you won't even notice you are carrying it around. The CREE XP-L V5 LED has a lifespan of about 50,000 and is protected by a toughened ultra-clear glass lens complete with an anti-reflective coating. The PD35 TAC is powered by a single 18650 rechargeable Li-Ion battery or two 3V CR123A lithium batteries, but in either case the LED is powerful enough to emit a maximum 1000 lumens, making it one of the brightest pocket sized EDC lights on the market. And with the low voltage indicator feature you will always know when your batteries are starting to run out, so you can replace them before you are left in the dark.
The PD35 TAC is modeled after the PD35, but it exceeds the original in tactical employment, as well as performance. The PD35 TAC offers 5 brightness levels in outdoor mode, plus an additional 3 brightness levels in tactical mode. With the PD35 TAC you can opt for tactical or outdoor mode. If choosing tactical it will automatically turn off the side switch and you will need to control the light via the tail cap switch. In outdoor mode the side switch will be used to control the modes, while the tail cap switch will simply be used for the momentary on and off feature.
Weight: 3 oz. w/out batteries
Dimensions: 5.5 inches long and 1 inch diameter
Lowest Setting:  8 lumens for 140 hours
Highest Setting: 1000 lumens for 1 hour and 10 minutes
Batteries For The Best EDC Flashlight
We have done lots of research to find the best batteries for your EDC flashlights. Not all batteries are created equal. Getting a high quality battery can dramatically increase your runtime and brightness. Below are the top batteries by type, all you need to do is decide if you want to use rechargeable batteries or primary (non-rechargeable) batteries.
AAA & AA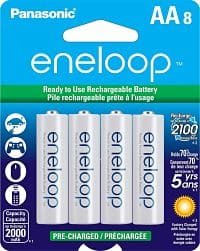 A real favorite among the flashlight crowd, both at candlepowerforum and budgetlightforum, is the Eneloop Ni-MH AA and Eneloop Ni-MH AAA rechargeable batteries. The eneloop batteries have a low self discharge, have an above average voltage under load, and can withstand battery neglect better than other brands. If you are going to spend money on a good flashlight and batteries then you should also get a good charger to take care of those batteries. Our favorite for Ni-MH is the La Crosse BC-700. For primary batteries the best are the Energizer L91(AA) and L92(AAA) Lithium batteries. These are not Li-ion rechargeable batteries! The Energizer batteries have a longer run time and more output than standard alkaline batteries, the only downside is that they are more expensive.
CR123A
CR123A are tiny Lithium batteries. These batteries put out 3 Volts as opposed to the 1.2-1.7 volts of the standard sized batteries. Flashlights that are specifically designed to handle Lithium batteries can run the LED bulb to much higher lumens. The key to CR123A batteries is to get the from a US manufacturer, all of the US manufacturers are producing batteries that are very similar in quality. Our favorites are the Streamlight CR123A batteries since they are from a high quality flashlight manufacturer and they have a reputation to uphold i the flashlight community.
The Best EDC Flashlight Conclusion
I hope that you were able to find all of the information that you needed to choose the best EDC flashlight for you. EDC is really dependent on what you are willing to actually carry with you everyday. The best flashlight is the one that you have with you all of the time.
If you like any of the flashlights that you see in this article or in any of our other articles, please click one of the Buy Now buttons to make your purchase on Amazon. As an Amazon affiliate we make a small commission off any purchase made from a click through from our website, which is how we are able to provide you with these amazing informative articles. Clicking through from our website will not cause you to pay more on Amazon, as the price is the same if you go to Amazon directly – the difference is the commission that we receive. Please take a look at our other Best Flashlight articles. If you are new to flashlights and are not sure about some of the lingo here please visit our flashlight buyers guide.